Subscribe to our blog: RSS | Atom

Penang Island


After two and a half years of almost continuous travel, I have returned home at last. Old this news might be to some of you, but for the rest, I have returned, a storm-washed Odysseus of sorts, some months hence; and I touch on it only in passing before proceeding, now, to fill the long silence since my last entry, which unfolded in the capital of Malaysia, far-flung Kuala Lumpur.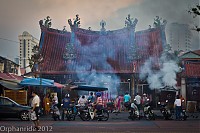 From that city I traveled northward by rail to tiny Butterworth Station, where one alights for the ferry to Georgetown on Penang Island, former capital of British Malay. I would stop there for a day or two on my northward journey into neighboring Thailand where Andrew was preparing his expedition and across China.
As I was awaiting the arrival of the boat there in Butterworth, an elderly Chinese gentleman initiated conversation with me in English (it is a former British colony, after all), and we, taking a liking to one another, determined to cycle into town together, in company. Although he lived on the mainland, he told me, he often took the boat across to pray in one of the many temples on Penang Island — "and today is Wesak day," he added, "a celebration of Buddha's birthday".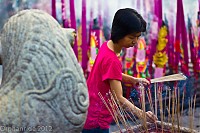 Hundreds of motorcyclists soon arrived for their daily commute (Georgetown is second in size and importance only to Kuala Lumpur), and we were off. Upon disembarking, the faded colonial splendor of Georgetown rose up to meet us. Past the old clock tower we rode, and on until we reached the smoke-wreathed Kuan Yin Temple, where Buddhists gather to pray to the Goddess of Mercy. It's a beautiful structure, and the oldest of such temples in Malaysia, built by Chinese emigrants in the 1800s.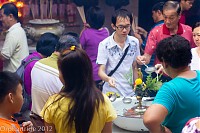 After buying a packet of joss sticks from one of several booths near the temple entrance, my comrade Mr. Goh invited me to look around while he prayed. Two large stone furnaces smoked near the entrance, where joss paper was burnt for the deceased. A forest of giant, brightly colored joss sticks smoldered near the entrance; smaller ones were placed, bristling, before ferocious-looking guardian statues. As I stepped over the threshold,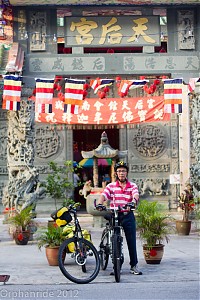 I could barely breathe for the quantity of rich, blue smoke. All was alight in offerings for the dead. Bright colors glowed through the smoke – mostly candles, but shining fabrics and metal, too. Further inside, devotees ladled water over a tiny golden statuette for good luck.
Mr. Goh's ritual was nearing an end as I emerged from the dim, glowing atmosphere of the temple into broad day again, and we cycled off in search of breakfast. I was his guest as he showed me the city, and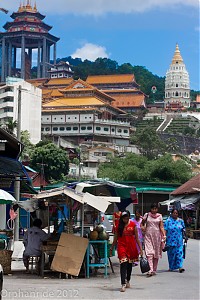 introduced me to some of its culinary delights, such as nasi lemak, hokkien mee, colored glutinous rice desserts, and Malaysian kopi. He did his utmost to help me find suitable lodging for the night, too. Then we shook hands, and he set off for the ferry again.
Penang, I found, was a lovely place. It possessed a fascinating cultural diversity: Indian, Chinese and Malay were the dominant ethnic groups, but countless others filled the nooks and crannies around town.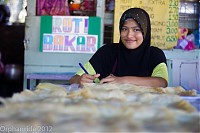 Outside of Georgetown fruit is cultivated, and the island is known far and wide for its excellent durian – a delicious, custardy fruit with an highly offensive odor. The periphery road around the island – wee 80km cycle — spends much of its length under the towering durian trees, and eventually culminates in a long, fast downhill toward Georgetown, past a magnificent Buddhist temple and monastery complex.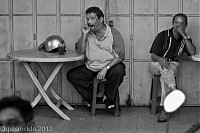 I stopped in to take a peek, and took a few pictures, too.
I spent another day, while I was waiting for my Thai visa to finish processing, climbing Penang hill with some new friends, and savoring the natural beauty, before I was off to the train station for the train to Bangkok and Chiang Mai, to see Andrew before he set off on his long overland trip to Kashgar, in far Western China, where we had begun our adventure into Pakistan on the Karakoram Highway nine months Prior. Another departure and a new beginning… It begins to feel as though I've been cycling forever: I begin to grow weary…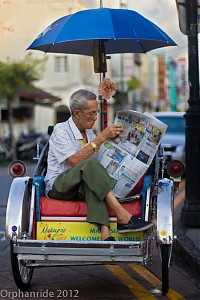 Post a comment:
Commenting is closed for this article.