Subscribe to our blog: RSS | Atom

Reflections Upon Arizona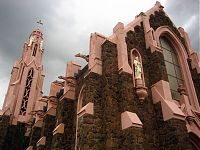 As I post this well-belated update it is a sultry June afternoon in eastern Kansas. The story of the capers and plights of the brothers continue, point for point. Read on, dear reader, read on: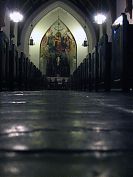 Departing our lovely room at the Holiday Inn Express in Kingman, we chose to take Route 66 that parallels I40 in a wide ark towards Flagstaff. As we slowly gained elevation over the course of 75 miles the air grew noticeably cooler. Stopping at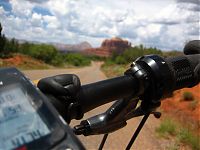 little convenience shacks packed with Route 66 memorabilia we often came across French motor bikers clad in leather and flames and giving their hogs a rest. This leads me to believe that there must be some obscure fascination with American Biker-Gang Culture in France, of all places. Then again, they might have been from the Great White North.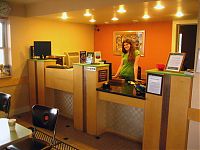 We arrived in Flagstaff the next day. After camping in an open space within a group of oak trees between the highway and railroad tracks, and the trains all night with their lights and thunderous whistles, we got up and departed on I40 for Flagstaff, not too well rested. Climbing up to 7300 feet from Seligman, the highway was busy but the air was noticeably cooler and the landscape greener and covered in pine trees. The
King's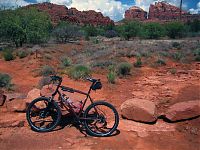 House Hotel in Flagstaff
put us up for the night. It was so very appreciated to have a warm bed and shower in the midst of the high-altitude thunderstorms! We also splurged on a juicy burger and pitcher of fine American
IPA
from a brew house in this funky, little mountain-college town.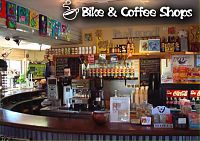 Rhet Lloyd and family had extended an invite to stay in Sedona after we had solicited them through WarmShowers.org. Also, the Sedona Bike & Bean coffee/bike shop offered to let us stay for two nights in the studio attached to the shop. They normally rent the studio out to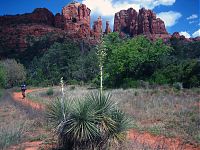 visitors of Oak Creek Village and the location is perfect for jumping on to the Sedona singletrack network. You can rent bikes there, too. One-stop shopping! Our second day in Sedona was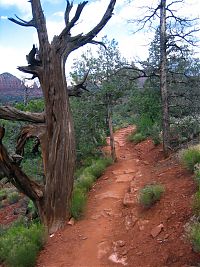 spent watching the Giro d'Italia online, working on this here blog, bike repair work and a late-afternoon trail ride. I must admit, I had been anticipating a good mountain bike ride for many weeks!
Pixies and fairies wizzed around and encircled our helmets as we flew over the crimson-crusted earth on our spoked steeds.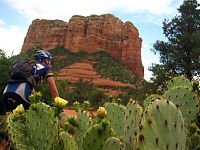 So, we got off to a late start in the cloudy, threatening (but cool) afternoon weather, hooting and whizzing over the winding, red rollercoaster-singletrack. The trails were lined with prickly pears, crystals and magnets, and I could feel them oozing energy into my legs as I topped 50 miles per hour through the turns. Faeries and nymphs twittered around my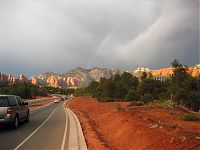 head. For an instant, I peered up to the top of one of the red and green, monolithic rock formations and spotted a minotaur! But, just as I released my camera to get a picture he pranced away, out of site. That's when I crashed and impaled my posterior on a large crystal. For some curious reason or another the wound gave me no pain whatsoever. I pulled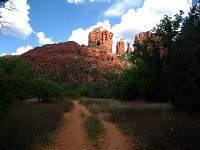 the crystal out and the wound healed immediately! The crystal was glowing and I realized that I had levitated a few inches from the trail so I chucked it into my jersey pocket and began riding, still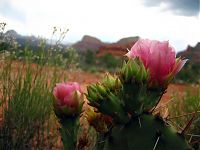 hovering above the trail by a few inches through shimmering faerie dust, vortexes and magnets galore. I highly recommend levitating as you mountain bike since it saves wear on the tires and is an unparalleled thrill. But you can only do it in Sedona. Because Sedona is magical!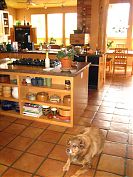 But seriously, the riding is super fun there. We packed up in the unusually drizzly, Seattle-esque weather the next morning for a stay with the Lloyd Family. They have a fantastic home built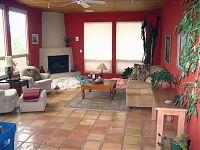 with a "passive-solar" design that has very little energy loss. I'll let the pictures speak for themselves! Our stomachs were kept full with very healthy and nourishing food and we learned a lot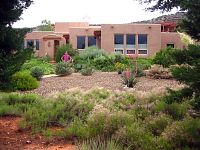 of interesting facts about the area. Randall and I went on a ride with the local cycling club the next morning which consisted of Rhet, the two of us, Tom, and another gentleman of whose name
escapes my memory at this moment. Tom offered to let us hitch a ride to Phoenix for a fundraising opportunity at Our Lady of Sorrows Retreat Center which turned out to be a real success! Also, Ultimate Bikes of Sedona tuned up our wheels as a favor and helped us out with some spare parts for the road.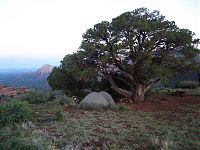 After this very memorable stay in the hands-down most scenic place in Arizona we continued on to Flagstaff. Being Memorial Day we had been advised by more than one cyclist to take Schnebly Hill Road out to Highway 17 rather than Highway 89 through the canyon. It was reputed to be less trafficked and just as scenic. And it lived up to it's reputation. However, it was ommited that the road, while unpaved, was one of the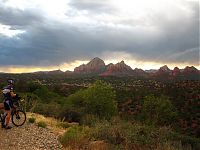 roughest roads known to mankind, and not only that, but a steep grade that climbed over 2000 feet! We got a late start after an afternoon singletrack ride. This one was less magical but equally scenic, winding around Cathedral Rock (the single most photographed place in Arizona) and partially along the bubbling Oak Creek. I digress. Schnebly hill we began to climb around 6:30 PM. So the evening views from the edge were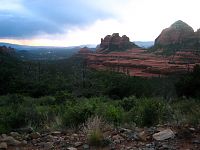 breathtaking. That is, when I could take my eyes off the road without having to worry about getting caught in an uphill rock garden. We were tired enough at the top to give up on going any further in the direction of Flagstaff so we camped on the edge of the cliff overlooking the whole Sedona area with all of its lights and unearthly red outcroppings of rocks and castle-like pillars covered in greenery.
However, it was ommited that the road, while unpaved, was one of the roughest roads known to mankind, and not only that, but a steep grade that climbed over 2000 feet!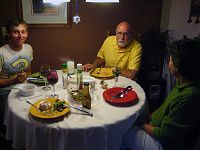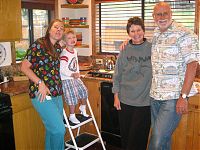 We had planned to ride straight up to the Grand Canyon that day but a chance meeting with Brian Blue changed that. Somehow we had gotten things mixed up with our home-stay contacts and the Blue Household had been lost in the email inbox. So, we stayed a night with the Blues just south of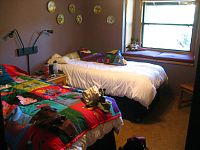 Flagstaff and were treated with a wonderful supper of stuffed chicken and salads, and some good laughs. Brian's quick wit kept us on our toes!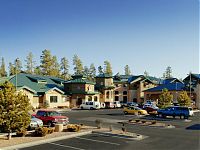 An uneventful 75 mile ride took us up to 8000 feet the next day and then dropped us near the edge of the Grand Canyon. We stopped into the Grand Hotel in Tusayan and the kind manager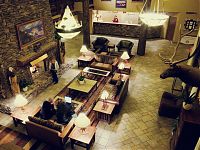 was generous enough to donate the 3rd Wonder of the World. We spun down the road the lies on the rim of the canyon and crawls with tourists, mostly French it seemed to me. Okay, I have seen the Grand Canyon. I can now cross that off the list.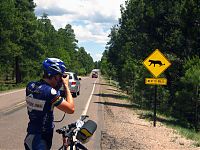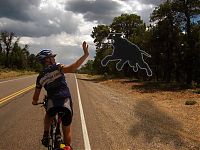 A little down the road a sign appeared that indicated to beware of black panthers for the next "10 Miles." And, sure enough, Randall was attacked by a panther not too long afterward. But he survived without a scratch. The method he used to narrowly escape death-by-Grand-Canyon-Panther I will leave for him to relate. It had something to do with using a bicycle cable-lock as a whip and noose.
Apparently the rim of the Grand Canyon has a large panther population. Who would have thought?
The parks department has decided to reintroduce the panther to get back at Man for banishing it from it's natural habitat (and concurrently destroying Mother Earth, allegedly).
…Most of this mumbling is just desert-parched humor, of course!
Comments:
Post a comment:
Commenting is closed for this article.