Subscribe to our blog: RSS | Atom

Ride with us! Bellingham & Whidbey leg info

3 DAYS REMAIN
All are welcome to join us as we begin to pedal into the vast beyond!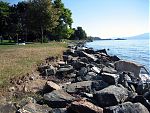 The Bellingham Leg
When: 8am, Friday, the 3rd of April
Where: Boulevard Park
Cost: Priceless.
When: 10am, Saturday, the 4th of April
Where: Useless Bay Coffee Company, Langley
Cost: Have some coffee! Maybe a snack, too?
Post a comment:
Commenting is closed for this article.