Subscribe to our blog: RSS | Atom

Route 66 and the Mojave: America's Dull Preface to Sedona
Arizona. Huh.
And the same to Rt. 66. My first impression was bleak: desolate desert ad nauseam, "mining towns that refuse to die," an interminable, ill-kept road, and far
too many run-down pit-stops where "Les Poseur" European Harley gangs (mostly French) snap pictures of the faded memorabilia. I confess, it did grow on me, but only upon hearing that it has a definite end. Thank goodness.
It's so very bleak, in fact, that while we were beating the heat at a rest stop at midday, no less than 6 gigantic buses containing European tourists (again, mostly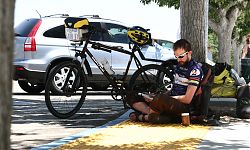 French) arrived and disgorged their smartly-dressed, camera-toting contents, which immediately upon disembarking began snapping pictures of the semi-trucks parked close by. At least they're colorful, I suppose. truck drivers were more than happy to pose for them, and one or two tourists were lucky enough to catch a glimpse of the inside of the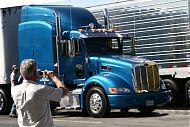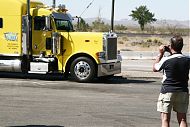 cab. Whoohoo!
It was a welcome chance to practice our French, however. Although we weren't stiff competition for the gleaming, monstrous metal cars, they eventually lost interest and went for the bathrooms, the drinking fountains, or the next most interesting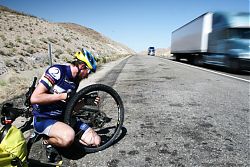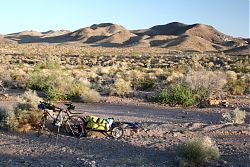 features in that very bleak landscape; that is, us.
We tend to attract a fair amount of attention wherever we go, which has led me to the conclusion that we ought to start poaching tourist attractions as attractions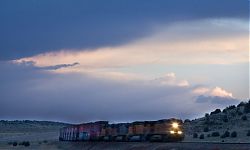 ourselves. We go, we pose, we get the attention we want and the contacts we need. After all, the people who travel to the big destinations have two necessary characteristics: natural curiosity and deep pockets.
The Route 66 segment was notable for two things: wild burros and 150 degree F. saur kraut enjoyed with some Polish dogs in the same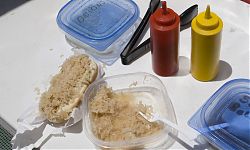 town. Oh, and a pleasant dip in the Colorado River.
But I digress.
Eventually we made it to Flagstaff (we were struck by an abrupt climate change as we climbed towards 6800 feet of elevation!—bleak desert suddenly gave way to high(er) altitude pine forest where we caught sight of fleeing deer and reposing elk).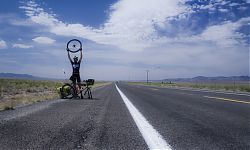 The low point of the day, aside from being in the saddle for 8 hours, was a narrow brush with a semi truck. Riding serenely along, our relative peace and revery were suddenly blasted as a truck came barreling across the shoulder's rumble strip and missed our handlebars by inches. We were a little shaken, but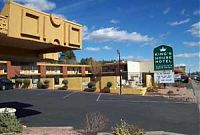 it probably wasn't as close as it felt.
That night we intended to stay with someone from Warmshowers.org, a web-based reciprocal hospitality organization specifically for bicycle tourists, but I confused contacts, so the one we were set up to stay with, we found, actually lived 40 miles south in Sedona. Regardless, we secured a complimentary room in the King's House Hotel for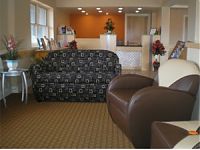 the night. We soon found ourselves at a local brewery and indulged in some juicy burgers and a cold pitcher of hand-crafted IPA. Mmm…
Next post will feature photos from our mountain biking excursions and our misadventures in and around Sedona—don't miss it!
In other news, we have decided against taking the Southern route, and now intend to ride North and East, through Colorado, Kansas, Iowa, Minnesota, Illinois, etc.
Also, a brand-spankin' new flier is now available for download, and quite suitable for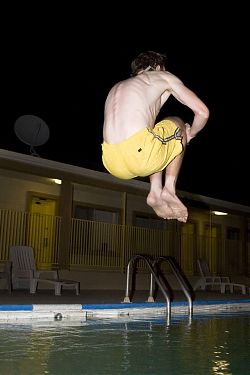 wallpapering your bathroom or even your entire house with. Print it, share it, send it, or just enjoy it.
Also, a shout out to Stromboli's Pizza of Kingman for donating a delicious pizza to the cause— keep the cyclists fat, not fast! as we like to say.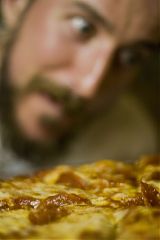 Comments:
Post a comment:
Commenting is closed for this article.