Subscribe to our blog: RSS | Atom

Saharan Hurricane
I now write from a shed in an orchard of olive trees near the Cinque Terre on the Italian Riviera as it rains on this cool, early springtime day. I slept comfortably in my dry abode on the trailer of a small tractor because the ground is uneven in this hillside she, to say the least.
Now, back to Morocco.
February, 2010:
The hasty and the tardy meet at the ferry.
-An Arabian Proverb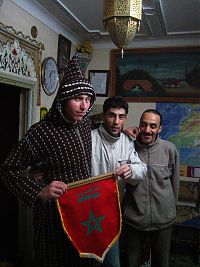 Our host, Fouad, was to attend a wedding (one of Morocco's most important cultural events) over the weekend so we departed his flat to find a hotel in the medina. I had caught the flu and Randall was still down and out so we were in the mood to hibernate for a couple of days before continuing the ride. It took two hours of traversing narrow alleyways, some choked with the smell of putrefying flesh (often from the medina's famous tannery), dodging touts, hustlers and aggressive cab drivers. "Hello my friend! Where are you going?" means "Welcome to Fes," I think. We finally found a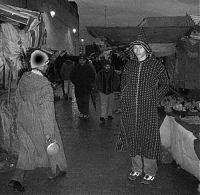 little guest house in the kasbah. It was petite and unassuming but the shower was hot at least.
Our stay in the Fes medina was altogether a bad experience due to the fact that it was impossible not to be constantly accosted by some sort of salesman. Two minutes was the maximum interval of peace we enjoyed while traversing the medina. Often eyes alone, turned in the wrong direction, were enough to pick up a persistent tail whose cab or shop was always waiting. I must admit that this aggressive behavior so tried my patience that I became rude on more than one occasion.
Every pedal stroke was a sheer exercise of the will, and my brain felt as if full of oatmeal.
In a day's window of good weather we pressed on to the small, relaxed city of Taza, 120 kilometers to the east, and stayed with Luis (a Portuguese superhighway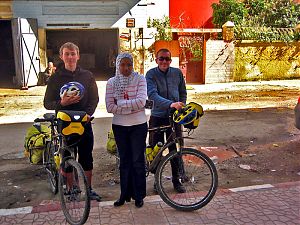 construction manager) and Latifa in their palatial flat. It was the single most difficult day of the trip for me, as the terrain was slightly mountainous and the flu lingered on in my chest. My legs were leaden that day and required constant stretching. Every pedal stroke was a sheer exercise of the will, and my brain felt as if full of oatmeal. I was practically dead upon arrival. Fortunately, we were well taken care of, and after two nights of rest were again ready to take on the roads. Latifa was a sweet-heart and spoke french perfectly so we were able to communicate to some extent. She took us on a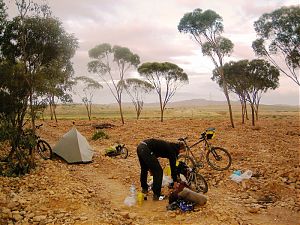 tour of the city and kept us very comfortable. We wished to stay longer but were blessed with a day of strong, irresistable tailwinds that sent us flying along the road to Guercif at an average pace of 45 km/hr (about 30 mph).
We found a place to camp in an olive grove passed the night unmolested. The next day was summer-warm, sunny and breezy. Cruising northward through fertile olive orchards and the dry, lonely foothills (of the Rif Mountains was a pleasure for the eyes. Sunset found us in calm coastal city of Nador, our last stop in Morocco: A gentle goodbye to some, a gentle welcome to others.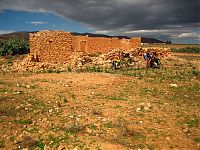 We stocked up on dates, figs, olives, and tasty Moroccan bread the next morning before our short, quick ride north to the town of Mellila. Mellila is a Spanish city and one of only two European towns on the African continent. As a result, there was a slow and seedy border crossing to cope with. We were searched more than once, but arrived at the ferry with not a minute to spare and in six hours were back in Continental Europe.
One can still find evidence of the town's origens as a farming community in the terraces and rock retainer walls…
Almeria was our landing point in Andalucia, and then we were off again to cycle through the Cabo de Gata Natural Park. The weather was gorgeous for the next few days. We bicycled with a French/Spanish couple to the remote hippie commune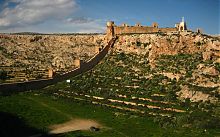 of San Pedro, a lush little slice of coastal paradise only accessible by two very rough tracks and encircled by small, rugged mountains. One can still find evidence of the town's origens as a farming community in the terraces and rock retainer walls that line the feet of the hills. On either side of the town was an old guard tower that overlooked the profoundly blue-turquoise Mediterranean.
We were not the only visitors – there were quite a few tents dotting the little valley on the water. Some people lived there year-round; fresh water was readily available via mountain springs and some residents had small wind turbines with which to acquire electricity.
Since neither Randall nor I were keen on backtracking out of San Pedro we decided to attempt the trail leading out to the northeast. What a mistake! It was really only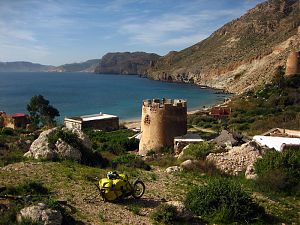 built for hikers. We hiked our bikes and trailers, one at a time, up the rugged, steep switchbacks and over the top of the mountain, and descending to the dirt road only minute sections of trail were cyclable, making for a 5 km trip that lasted for six back-breaking hours in the glaring sun. I was completely spent. That night a we camped on the top of a small knoll overlooking the water, and a hurricane – hot and heavy winds stampeding up from the Sahara – practically tore our tents to shreds before we moved them to a more sheltered place. Strong gusts still kept us awake for much of the night, shaking our little shelters.
Comments:
Post a comment:
Commenting is closed for this article.