Subscribe to our blog: RSS | Atom

Santiago de Compostela and the road to Portugal

This was written in Sintra, Portugal. Here lies the continuation of my narrative of the final leg of our pilgrimage to Santiago in early December, 2009.
Galicia has a reputation for being wet. Well, let me tell ya! The fine, insipid coastal precipitation was not unlike that of western Washington or Oregon. What a contrast these green hills teaming with life to the barren landscapes of the Castile! Another long climb from Ponferrada brought me up well above the snowline and the rain-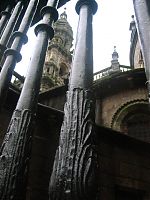 mixed wind soaked me to the bone near the very top, where pilgrims I occasionally passed, ponchos frantically flapping in the harsh wind, were battered with rain but trod away steadily in anticipation of the warm albergue shower. After a hair-raising but visually awesome descent into the province of Galicia (I had nearly been knocked off the road and into the great, yawning valley more than once) I finally arrived in Sarria, drenched to the very bone and ravenous with appetite, and mounted the stairs to the albergue. All of the tile floors were heated warm to the touch and my numb feet quickly were resurrected. When Randall finally arrived we could easily discern from the wobbly look of his tortured rear wheel that it would need some serious work…probably another rebuild! So, I left him there in Sarria following another day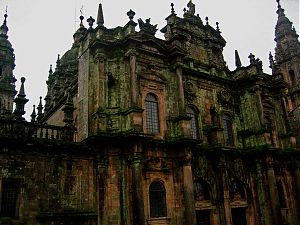 of rest to haggle jovially (and to no avail) with the Jewish bike shop owner and made my way to Palaz del Rey where I spent a night, then back into the cool, damp December to stay at Monte do Gozo a new-ish albergue that beds up to 800 pilgrims and lies on a hilltop overlooking the city of Santiago. It should be noted that upon entering Galicia the change in climate was so drastic that I abandoned hope of cycling on the pilgrim path and stuck to the paved roadway for the most part. The unpaved path was so wet, muddy, rocky and steep that much of it was far to unpleasant to ride in the rain. At one point it followed an ancient Roman road that had become a flowing stream and I had to push my bicycle and trailer up it, shoes and socks absolutely saturated.
…it might be useful in your travels to come!
Now, I cannot continue without a mention of the amazing magician-mime we befriended on the aforementioned rest day in Sarria. Kaki the clown was from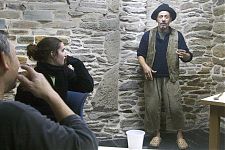 Paris. I first encountered his broad, confident grin in the dorm of the albergue when I was shaking my disoriented head from after an afternoon siesta. "Nice rest, eh!" he greeted in perfect English. That whole evening was spent in hilarity and awe as he entertained the pilgrims with a magic show and some miming, every bit some of the best art of that nature that I have ever witnessed! And some of the others expressed similar sentiments. Not only that, but Kaki gave Randall and I an exclusive lesson in some basic slight-of-hand, adding that "it might be useful in your travels to come!" and we concurred most gratefully. I caught most of his show on video so you may have a taste of it in the future…
…my toes prune-up in the retrospect of Galicia!
I distinctly remember the green of Santiago. The city was so very wet and saturated, the buildings like gray sponges rising from the streets, the older of them were mottled with various mosses and small plants. I visited the cathedral to conclude the pilgrimage in the traditional fashion, watched the worlds largest censer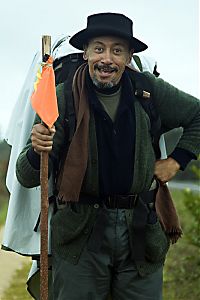 swing over the altar and paid homage to the tomb of Saint James, and then Randall and I, reunited, set our bearings to the south. A heavy, drenching rain hammered us and the wind was opposed to any attempt at progress; but we strove forth, manfully, into the deluge and came to our damp stone refuge a wee time after nightfall. Again we were assaulted by rains all the next day (my toes prune-up in the retrospect of Galicia!) but had another warm shelter to look forward to in Cangas, only 80 or so kilometers from the boarder of Portugal. Iago, a Spanish touring cyclist with a high caliber of hospitality and generosity put us up in his warm office, where our many water-saturated articles of clothing finally had a chance to fully dry themselves. In addition to donating all kinds of wisdom for the road ahead, along with an ample supply of interesting tidbits about Galician culture, he took us out for a typical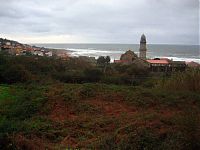 Galician meal that night: Pulpo Empanada (a thin sort of baked pie-like pastry with octopus tentacles); perfectly-prepared plates heaped with crispy-tender, hot calamari which we dowsed with fresh lemons; and a scrambled egg-with-prawns and cheese dish; all to be washed down by a light, crisp Spanish lager. And we reached for the good things that lay before us. What a treat it was!
Post a comment:
Commenting is closed for this article.