Subscribe to our blog: RSS | Atom

Smörgåsbord Send-Off...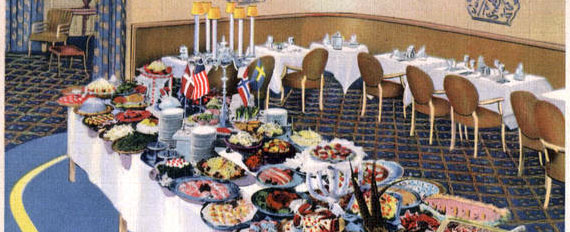 6 days and counting!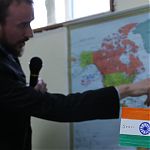 Sunday 22 March witnessed yet another tearful send-off, this time from our church in Edmonds. We thank the Ladies Leese—Liz, Katie, Maria, and Emma—as well as Luana and our sponsor, A Touch of Dutch, for a delicious Norwegian Smörgåsbord cooked in our honor.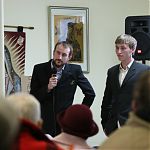 Think meatballs, homemade gravy, lingonberries, potatoes, krumkake, lefse, kransekake, cardamom buns, and open-faced sandwiches of every variety and description. All that lacked to make the luncheon a perfectly authentic Scandinavian feast was, of course, the aquavit. Nonetheless, a single, solitary meatball is all that remained of the repast, and over $1300 was raised for the orphanage!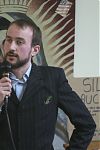 An official Blessing of the Bikes followed the meal (it is interesting to note that the blessing, though specifically designated for vehicles, actually uses the Latin word "carrus," which means "chariot." Thus our bikes are henceforth the Chariots of Doom, or the Gliding Carri, or something like that). After the blessing, we were ceremoniously presented with St. Christopher medals (the patron saint of travelers) which we will mount somewhere on our bicycles.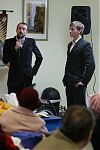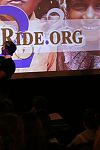 Relevant news: Andrew and I gave our presentation at the Pickford Theater on 18 March. Thanks again, Pickford, for generously donating 20% of the night's proceeds to the cause! The silhouette at left is of His Pulchritude (Randall) by the way.
Photos courtesy of Michael Leese
Post a comment:
Commenting is closed for this article.