Subscribe to our blog: RSS | Atom

Southbound in the Land of Smiles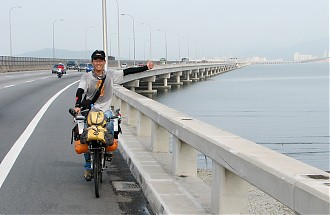 I was fully prepared to discredit such a slogan as "The Land of Smiles" as the merest marketing department propaganda; however, with experience, I found the slogan to ring true. The Thais struck me as being remarkably friendly, and – those outside the tourist centers, at least – welcome guests to their country, their town, their land, their dwelling, their hut, invariably,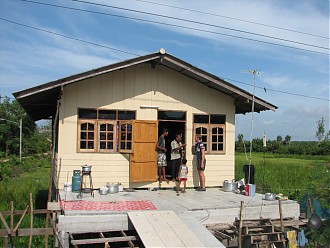 with a pleasant smile. Sometimes an invitation to eat ensued, and maybe even to stay the night – one I was never loth to turn down, and, I confess, sometimes maneuvered for in my conversation (comfortable vagabonding has its own set of skills, of course). Their sober company was a welcome change from the many Vodka-swilling Central Asians of still-recent memory, and I had many opportunities to stay with them as I cycled south from Chiang Mai to Bangkok.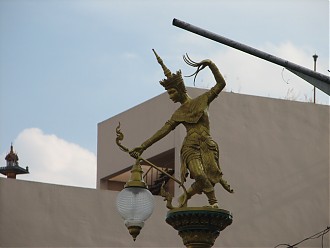 Almost every night I found a host, although the setting varied tremendously. One night was spent in the home of a wealthy Thai woman who'd married a Swiss gentleman: she had hailed me from the roadside as I pedaled by, and it wasn't long before my stay was arranged. The next night I slept in a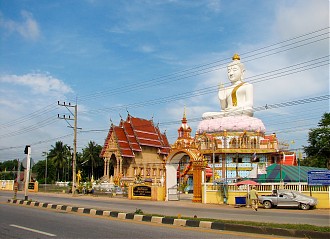 video store belonging to a young brother and sister: they ran a little soup cart out front, in the middle of the jungle, it seemed, on a serpentine highway, and took me in for the night after feeding me. Next day I descended through lush, green rainforest that spread across the rolling hills like thick enamel, into a small village. While I sought out a Thai massage joint in a little village at the end of the day, I fortuitously met with a middle-aged couple who, having hosted a Rotary Exchange student from
the U.S., were pleased to have another. It began with an invitation to have a pre-massage shower at their place, but they shortly invited me to stay the night; and I had my massage, too; after which, my masseuse loaded me up with mangos, lychees and mangosteen, which I shared with my hosts.
Part of the way was spent cycling with a Canadian/Bulgarian couple who Andrew and I had met at separate times through our mutual Thai friend, Sawang, himself a round-the-world cyclist; it was pleasant to have the company. We stayed in frenetic, rather unpleasant Bangkok for a few days before we parted ways: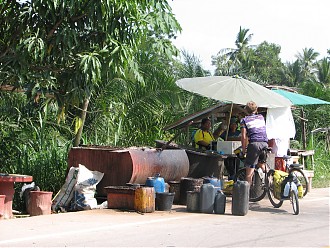 I left for Malaysia, to the south.
It was lovely riding, though fraught with headwinds, along the Thai coast. In the small towns that one travels through periodically, lodging can be found at a tremendous value. Consistently clean, crisp linen, pleasant décor, and friendly proprietors quickly brought Thailand to the top of the list in this category. Even with willing hospitality, one needs time to oneself occasionally.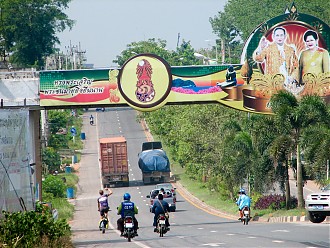 My typical routine was to wake very early and stop at one of the early-morning markets (more of a bazaar, really), where a variety of sticky-rice concoctions were available for a few baht (read: dimes and nickels), along with my favorite breakfast of barbequed pork. Thai iced tea and coffee were also readily available, and a very pleasant way to begin one's day of riding. Conventional, Western-style coffee shops are springing up all over the country, now, too, and made for pleasant, air-conditioned rest stops throughout the day. I can't recall camping a single time in Thailand: there was no need.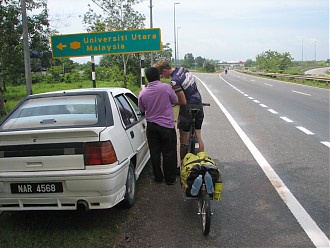 As I was cycling south, I met a Chinese cyclist named Li Ming. He was traveling in the opposite direction when we saw each other. We both stopped, and he took a picture of me, smiled, and waved. I crossed the road to chat with him, and found he could only speak a few words of English, and only then with a strong accent. But, with the aid of a map, we made known to one another what we were doing, whereupon Li Ming abruptly turned his bike around, and said: "Now, I go with you!" And he proposed we ride through Malaysia, maybe as far as Singapore, together, whence he would to Malaysia go.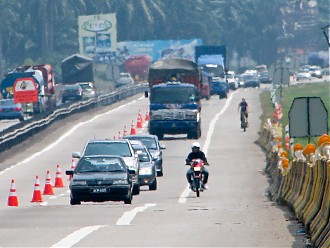 We had a fast descent down through some jungle-clad hills, and stayed in an unused building next to a little convenience store. Some of the locals had a big dinner at a table there while we showered, but we were only half-heartedly invited, and we had food, so we ate apart.
We crossed the border a few days later, and carried on at a blistering pace back to Penang Island, where we stayed for a couple of days. From there we cycled into the enchanting Cameron Highlands, and on to Kuala Lumpur. There we met up with our Canadian/Bulgarian friends again, and helped them prepare their bicycles for the airport. It was glitch-free riding.
Singapore was next, after visiting Malacca, and Muar after a near, high-speed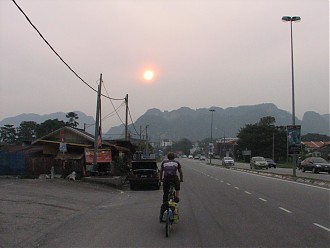 collision with an automobile, and long miles searching for the causeway in southern Malaysia. As it would happen, Singapore would prove to be one of the biggest highlights yet…
All photos: taken by Li Ming
Comments:
What a great experience you had in Thailand. What's the difference between Thai coffee and tea versus other kinds?

The country looks beautiful and seems to be in a lot better shape than the Philippines.

Maybe they're born with it, maybe it's monarchy!

— Jordan Viray · Jul 13, 10:59 AM · #
Post a comment:
Commenting is closed for this article.