Subscribe to our blog: RSS | Atom

Southward Bound

Nothing good comes out of America.
July 16-25, 2009: The first few days of my ride were relatively subdued. Somewhat rested from the night of thunderstorms I began the cool and overcast day in search of a toilet and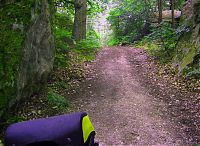 found it in a dark and depressing shopping mall (with one shop open) in the middle of nowhere. I had begun to be tolerably comfortable with my highly constrained usage of the French language by the time I reached Fontainebleau. Julien's route guided me on the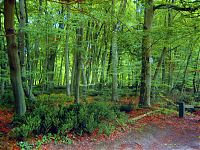 unpaved roads and smooth trails in whisper-silent and minimalist forests surrounding this quaint town. And
then I was there. One of the first things you see in Fontainebleau is the grand château, built by one of the kings (which I do not know). It is quite famous. Surrounded by gardens, ponds, and statues and speckled with tourists, this is not one to miss. A middle aged man,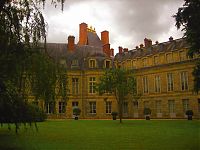 intrigued by my bicycle and trailer, approached and asked me a question in French and then in English: "Where have you come from?"
"From the United States. I bicycled here from Seattle," I replied.
"From the USA? But you are so thin! I thought you must be from Europe," said he, with a smile.
"Not all Americans are fat," I corrected him with a smile. "In fact, probably not as many as you might think."
He said with subtle agitation, "My sister lives in America. Chicago. But I would never go to America. Nothing good comes out of America," and then began to walk away.
I shrugged at him, wondering how he could be so sure that America is so thoroughly evil if he had never been there.
My camp for that night was next to a lonely cemetery in a wheat field.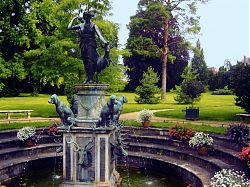 I bummed around town looking for a bar where I could watch that days stage of the Tour de France, still slightly disoriented from the shock of landing on an alien planet a few days previous. To my surprise not a single one was showing the race. So I drummed up a little courage and dropped into a bar to see if they would change the channel so that I could watch it. All the three hours I was there the blond, sanguine woman whom I presumed was the owner flitted around the place, in and out, chirping cheerfully in her flowery soprano voice to anyone and everyone, while quiet men stood, chuckling occasionally and commenting to each other about who was going to win that day.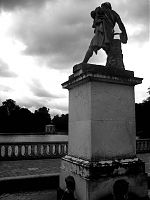 My camp for that night was next to a lonely cemetery in a wheat field. Up against the wall I was sheltered from the wind. I would have camped inside for more privacy but the gate was locked. When I awoke to the howling wind in the dark night air I was glad that the gate had been locked!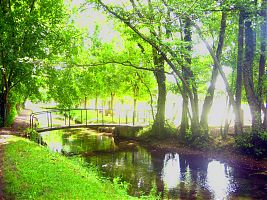 Over the next couple of days I pedaled through many small and quaint towns, including Thême, Joigny, and Toucy, pausing in the early afternoon for a Léffe, café and live Tour coverage. On Sunday morning I attended mass in Couloutre and I probably smelled worse than the foulest transient vagrant due to four days of accumulated cycling-sweat and after having consumed so much odorous cheese (but it tastes so good!). The Latin mass was said in the chapel of the old town châteaux and was well attended by a fervent crowd of both old and young. I regret not having a picture to share of this lovely setting.
For the first night since Paris (and a week without shower) I finally had a host in the town of Villefranche-Sur-Saône…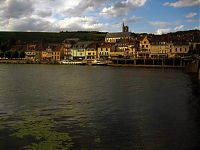 The first mountain pass that I was to cross in Europe was not too difficult. The Rhone Valley is flanked by the Alps on the east side and a smaller mountain chain on the west, and the latter I had to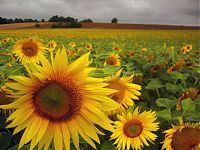 cross to enter the valley. As I summited the climb I stopped in the village at the top and bought some bread to eat with the melted cheese in my trailer, and then found a bar at which to watch the day's stage. For the first night since Paris (and a week without shower) I finally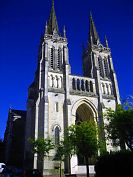 acquired a home stay in Villefranche-Sur-Saône, a town just north of the city of Lyon. One truly learns to appreciate such modern conveniences as a shower on a journey like this! Boris invited me into the home of his family with a gracious grin on his bearded face and asked me if I'd like to shower before or after dinner. "Before!" I said, without hesitation. He laughed and directed me to the facilities.
We had a fantastic supper of cold tabbouleh salad and a tasty tomato-artichoke-onion fricassee that his father had concocted. Boris was picking grapes in in a vineyard for summer and his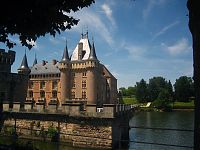 brother, Pierre, was a student of computer science. The whole family was gathered around the table for breakfast the next morning, which was loaded with croissants, homemade jam (made by the boys' mother), Nutella, and, of course, baguettes. When they filled my bowl with coffee I wasn't sure whether to drink from it Japanese-soup-style or with a spoon so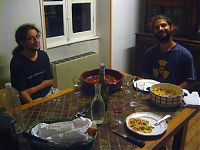 I waited until one of the others tipped his bowl to his lips. I suppose it would have been a good laugh if I had dipped my spoon in for a drink of coffee!
The next three days were grueling. The weather was hot. The Mistral winds coming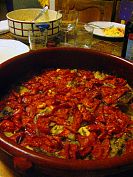 up the Rhone valley were strong and relentless, resisting my forward motion at all hours of the day. One of these mornings I awoke in a peach orchard. As I packed up my equipment and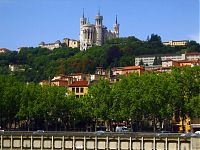 began to brush my teath I was surprised by workers arriving to prune the trees. One of them halted, staring at me down the row of trees with a puzzled look. I smiled, waved and gurgled out "Bonjour!" through a mouth full of toothpaste lather. He lightened and waved back, then went about his pruning business. They laughed and poked fun in a good natured fashion as I pedaled out of the field and back onto the tarmac.
…even more people were walking or cycling up the incline as I spun my way heavenward.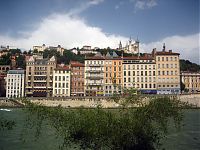 In Orange I stocked up on supplies and then headed east for Mont Ventoux. It was a lovely, warm day and the wind had subsided. The town of Bédoin lies at the foot of the mountain and this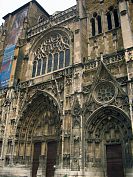 is where I found repose the night before the the Great Race was to arrive. Bédoin was a scene. Crammed with exuberant cycling fans of many nationalities, there was not an empty restaurant in town. I left my trailer behind the church that lies at the top of the town hill so that I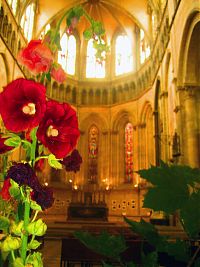 could ride the 5000+ vertical feet without encumbrance. Crowds of people had parked on the side of the mountain road and camped, and even more people were walking or cycling up the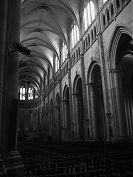 incline as I spun my way heavenward. I chatted with very fit American named Kevin(?) for most of the way up and it was never more strange and delightful to speak English with a fellow native speaker, as it had been about ten days since I'd had a conversation with someone in which one of the two of us did not have struggle to comprehend!
The top of the mountain was sunny, barren and cold. It was barren like the moon is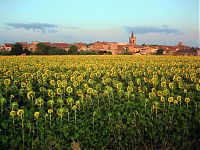 barren. Most of the road on the way up was sheltered by forest, but the forest ended abruptly at about 4000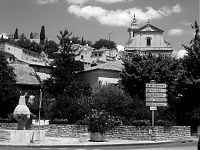 feet leaving nothing but broken white rock covering the wind-swept alpine climate. Two times I was almost blown off my steed by the force of the winds. Tents were anchored precariously on 15 degree inclines and recreational vehicles filled every level space on the sides of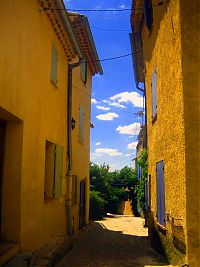 the switch backs, many bearing national flags and some with giant flags bearing the handsome faces of the Luxembourgian Schleck brothers. I set up shop a hard stone's throw down the hill from the last turn before the finish line and sipped wine and munched on bread and cheese for hours until the parade came up the hill. This had an electrifying effect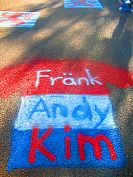 on the crowds of spectators who buzzed with anticipation as they milled around behind the barriers. Finally, the race came through. The first group consisted of the Schecks, Lance Armstrong, and Alberto Contador. The crowds were in hysterics! One by one, racers hammered their way up the steep grade and all were followed by the large group of sprinters and domestiques who are not in contention for overall time or King-of-the-Mountain points.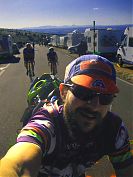 After all of this I whipped down the mountain past RVs and sideline Dutch disco parties, I and the other cyclists making far better time than those who had brought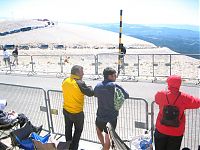 motor vehicles. In fact, none of them were even moving. All of the vehicles were just jammed together, nose-to-bumper. When I arrived at the place where I had stashed my trailer my heart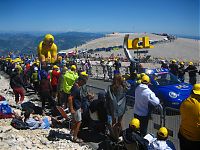 sank. Most of my belongings were scattered around it in the briers. Some thief had taken my mobile phone, the chargers for my laptop and helmet light, and one of my solar panels! The only mitigating factor was the relief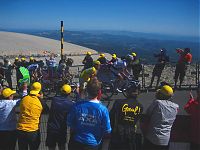 that I had brought my more valuable equipment to the mountain top. Crestfallen and sunburned I packed up what remained left for Avignon without bothering to make a report to the gendarmes. It was a warm evening and I found a delicious grove of trees to camp in for the night just ten kilometers from the city.
Comments:
It is great to hear your tales, even the woe filled ones. Sorry about your loss of equipment. I see the date you posted, but was wondering what days you were actually in the places you are writing about….
Take care!

— Vivian · Sep 19, 04:33 PM · #

Keep up the good work!

— JR · Sep 20, 03:01 PM · #

Sounds like the race was exciting!

— Laura · Oct 13, 07:50 PM · #
Post a comment:
Commenting is closed for this article.