Subscribe to our blog: RSS | Atom

Spinning the Spine of Honshu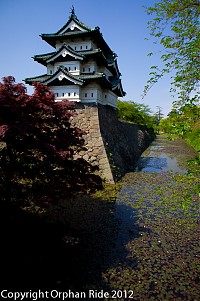 As of this writing I have just returned from my travels to the state of Washington. I intend to conclude this blog with a few more articles covering the last few weeks of my travels in Japan and Korea and also on the progress of the orphanage in India.
May, 2012: I replaced the broken crankset on my Curtlo mountain bike in Akita and again spun my way to the perimeter road of the Oga Peninsula in order to absorb the Ireland-like landscape still speckled with cherry blossoms. From there I continued northward along the coast and then climbed inward to spend a night in the virgin beach forests that are a UNESCO World Heritage site. Arriving in the evening after the sun had set on a deserted and chilly campground in the low mountains, I decided to set up camp in the clean public restroom to stay warm and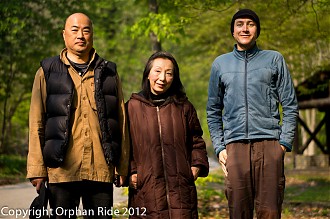 avoid the possible company of the bears that are supposedly plentiful in that region of Tohoku. The following morning, as I was preparing to leave, a large crow made off with a bag of snacks. I chased it into the forest to no avail and upon return to my picnic table found the same devil attempting to pilfer more of my riding fuel. Only this time he had cheated himself—all that he was able to snatch in his haste was a bag of empty peanut shells.
A tragic event happened near the top as I set up my new camera for what was regardless destined to be a mediocre shot.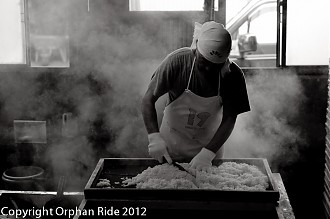 The mountain road to Hirosaki was still being plowed and landslides cleared, and the park authorities, though personable, would not let me attempt it by bicycle. I instead returned to the coast and cycled north, then east, then south to the perimeter road of Mount Iwaki, which was still clad in glistening white. Even at 140 meters above sea level the dirty remains of snow drifts were visible from the roadside. I then visited the famous town of Hirosaki for a day and a half and moved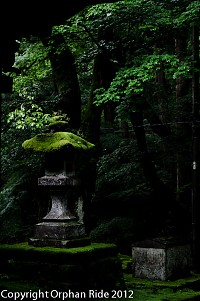 on to Lake Tawado, where I camped with some retired Japanese, one a game hunter, and he shared with me his shoju (rice wine), garden peas and charcoal-roasted wild boar.
Just 100 kilometers south, the smaller Lake named Tazawa I reached by climbing over a snowy mountain pass the next day. A tragic event happened near the top as I set up my new camera for what was regardless destined to be a mediocre shot from the tripod. As I moved away from the camera it fell backward into a rocky stream and the body was ruined. Later on, the site of the deep blue depths of the lake that held my eyes, transfixed, tempered the sadness of the loss with its beauty: never in my life have I beheld water that was more blue. It was not simply the reflection of the sky that made it thus, but the color of the water itself was curiously azure, as if it were fed by a stream of blueberry Kool-Aid.
Only narrowly did I escape the threatening storm.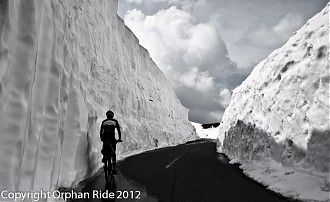 If the reader has not yet comprehended so much, I was now grinding my way southward over the mountainous central spine of the main island of Honshu. In two days I was in the city of Yamagata, where I stayed with the traditionally Catholic Sato family with whom I had become acquainted in Akita. Not only did I have another opportunity to practice my slowly progressing Japanese language ability and cook, but also was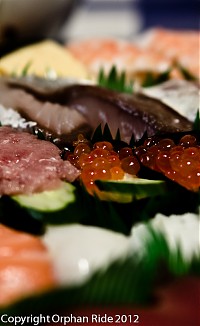 able observe the preparation of rice for mochi (delicious Japanese sweets that sometimes resemble Turkish Delight) in Michael Sato's small factory. I also replaced my camera here with a new one of the same model, yet the menu system cannot be changed from Japanese to English.
My next destination was the ancient town of Nikko, another UNESCO site known for it's atmospheric temples nestled on dark, mossy, forested hills. Upon arrival I was greeted by a thunderstorm but found an excellent shelter in a Frisbee golf park and stayed for two rainy nights with a visit to the local onsen (hotspring) in between for a good scrubbing. The weather was to thunder again on the afternoon of my departure so I climbed the 1,900 meter pass on the Romantic Road toward Matsumoto and the Japanese Alps early in the morning. Only narrowly did I escape the threatening storm.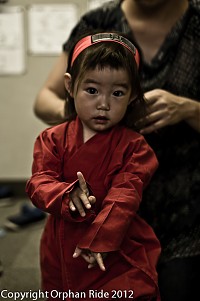 Two more fatiguing climbs remained before I would descend to the fine mountain city of Matsumoto with its famous castle, and my spinal traverse was to culminate on the Norikura Skyline Road, the highest road in Japan. For cyclists this road is a must since the one-thousand vertical meters of road on each side of the summit are only open to cyclists, service vehicles and a public shuttle bus that runs every hour. I had the whole road to myself all the way to the 2,700 meter summit and beyond. It had only recently been plowed and the snowbanks on either side sometimes towered five meters high. I was again attempting to outpace an afternoon thunderstorm and barely succeeded, arriving in the famous historical city of Takayama with its neighborhoods of beautifully preserved buildings and houses. My mountain-weary legs pulled me over a minor pass the next day for a long, gradual descent back into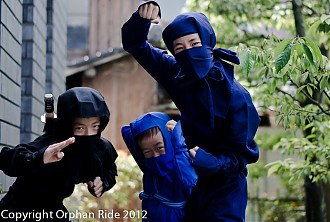 the now warm lowlands and I camped at a Japanese road station, followed by an excellent park, hopping with loud bullfrogs, on opposite side of the massive Lake Biwa, in Kyoto, the following night.
It was a short ride to Nara from here where I had more friends from the Akita pilgrimage to visit. The Mori family with their three young boys brought me to a local, traditional Japanese garden for firefly viewing and the night air was permeated with Chinese classical music played by a woman from a stage in the middle of a large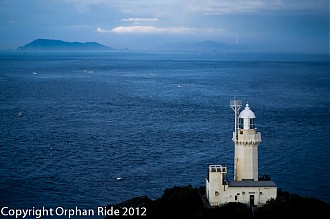 pond below the hills. Our second day was dedicated to visiting a fascinating ninja museum in a town an hour's drive from Nara, and I and the boys donned ninja costumes for the occasion. Not only did we learn the history of these cunning spies but there was also a choreographed sword fight, a shuriken throwing demonstration and a tour of a real ninja house that contained a myriad of trap doors and secret passageways.
I had dreaded riding through the immense city of Osaka on my way to Shikoku Island, but it turned out to be a breeze, literally. A tailwind flew me strait through to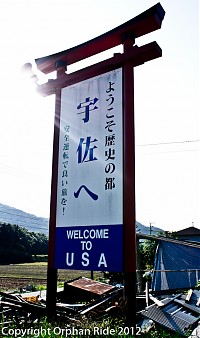 Ashiya, where I was to receive the hospitality of yet another friend from Akita, an Irish woman who had married a Japanese man and spent a good part of her life in the area. After a fine Japanese meal and a good night's sleep I made my way to Kobe and boarded the ferry for Takamatsu and its famous Ritsurin Gardens. It took three uneventful but lovely days to traverse the northern coast of Shikoku, and the weather was delightfully warm. From the eastern coast I took another boat to Oita on the island of Kyushu and rode to northeast to camp at a fine little community hot spring and feast on my last excellent Japanese meal, a large tray of diverse varieties of raw seafood. It was a short ride to Shimonoseki, both my landing and departure point in Japan, the following day, and my head swam with warm memories of The Land of the Rising Sun—not yet fully digested—and anticipation of good things to come in South Korea.
Comments:
Beautiful, beautiful, beautiful. When I think of Akita I think of what a shame it was that the British and Dutch managed to prevent the spread of Christianity in Japan. From all accounts, it sounds like the Japanese would have been exemplary.

— Jordan Viray · Jul 13, 11:33 AM · #

Thank you, Jordan. I concur about Japan—it could have been one of the world's greatest Catholic countries if the Protestants had abstained from throwing a monkey wrench into the Jesuits' work.

— Andrew Leese · Jul 13, 01:42 PM · #
Post a comment:
Commenting is closed for this article.