Subscribe to our blog: RSS | Atom

Sprawled Out with the Grippe in Fes

Four things come not back — the spoken word, the sped arrow, the past life, and the neglected opportunity.
-An Arabian Proverb
I am on my way back from Montserrat to Barcelona as I write this hasty journal entry about the the mid-section of our side trip to Morocco in February, 2010.
Rabat was a good experience. Originally we had a couch to surf, but our scheduling was off and we ended up in a cheap hotel in the ancient medina (city center enclosed in walls). We feasted on many local delicacies and enjoyed the sounds and smells of this sunny capital of Morocco immensely! In the evenings we met up with some couchsurfing friends, namely Abdel, a local IT professional and Bernadette, a medical student from Germany who was acquiring some practical experience in one of the local hospitals.
The guys, when not at their jobs in the local body-building gyms…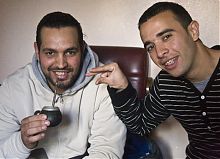 Then on to Khemisset, where we had the good fortune to stay with warm-hearted Adil, his family and friends Rouen and Karim. Adil's family is ethnically Berber, the indigenous people of Morocco, and it was a real treat to enjoy a heaping dish of Berber-style couscous that had taken her the whole of the afternoon to prepare for us, though Friday is the traditional day for couscous. Karim also taught us how to make a tajine or Moroccan stew… it makes my mouth water just thinking of it! [Especially as I have not yet taken supper!] The guys, when not at their jobs in the local body-building gyms, all made a strong effort to teach us as much as possible about Moroccan culture, and showed us plenty of pictures of their travels around the country.
And he was born with no arms.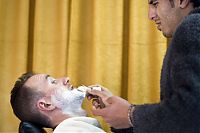 Next was Meknés, and on the way we were invited in to tea and a snack by a woman and her son who spoke no English or French, but were able to sell us half a liter of olive oil and honey from their roadside stand in spite of the fact. We spent two hours drinking the heavily-sweetened tea and eating bread that they had freshly baked in their outdoor wood-burning oven with some scrambled egg and olive oil while watching a bad Ben Affleck movie via satellite in their tiny house that was no more than a concrete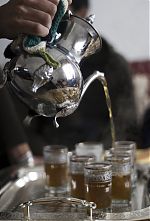 room, but nicely decorated on the inside. In Meknés we were to meet Abdul, another couchsurfing buddy. It would be difficult for me to paint an adequately vivid picture of this incredible young man. To start, he is about 5'6" tall with a slight build and dark-blonde hair, has enough positive energy to rival a nuclear reactor, and has his black belt in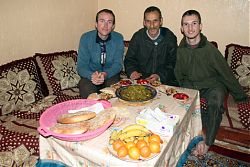 Taekwondo and master's certificate in French. And he was born with no arms. As there was an important national Taekwondo convention in Rabat over the weekend we did not see much of Abdul, but we did get to witness him typing away (chatting with Moroccan girls online) with his toes faster than I can do with my fingers! Abdul's tranquil and caring father brought home-cooked meals down to our lower apartment at regular intervals during our stay, and Randall having contracted a mild flu we spent most of our time indoors in front of the tube.
…must have removed a layer of skin or two!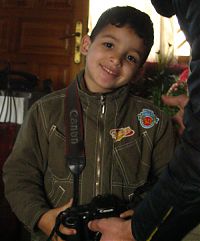 We were out during the day and had planned to visit the Volubilis Roman ruins but the constant rain and wind kept us pent up in a cafe for most of the day. We managed to slip out for a quick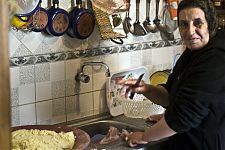 lunch at a little snack shack, where I accidentally ate a raw chicken liver that was hiding in my salad. The roast chicken tasted if it had been aging for a few days and the rice as well. The little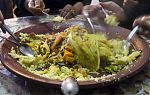 place had an unclean feel but I did not obey my first impulse and attempt to find a better lunch spot. We both ended up with stomach cramps, though Randall's case was significantly worse than mine. That lasted a several days, and the weather continuing to be uncooperative we stayed indoors in Fes as well, with our excellent host, Fouad. His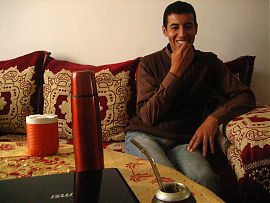 family was consistently hospitable as well, and his English excellent. Hands down, I enjoyed the best couscous and tajine ever, in Fes. One day Fouad, his brother in law and sister, an Italian couple that were also staying and I visited a giant hamam outside of town, and the Italians and I were assuredly the only foreigners! The entire place was a steam room (or two, considering that the female hamam was separate) with a hot swimming pool in the middle. After soaking a while we each got a deep (ouch!) scrubbing massage from one of the attendants that must have removed a layer of skin or two!
Comments:
I'll never forget my first trip to the hamam! After being in the village for about a year, its pretty amazing (and horrifying) how much skin one sheds! Thanks for the wonderful reminders of North Africa, and congratulations on finishing a year! I am so proud of how far you guys have made it and will keep you in my thoughts and prayers!!

— Natalie · Apr 6, 09:25 PM · #

My dearest brother, Your blog was wonderfully done! you are getting better and better at your writing!!!!! The pictures are very charming and beautiful. With love from your lovely little sister, Emma

— Emma · Apr 13, 09:54 AM · #

This day's blog is extremely entertaining.

— Glenn · May 5, 10:38 PM · #
Post a comment:
Commenting is closed for this article.