Subscribe to our blog: RSS | Atom

Steak in a Glass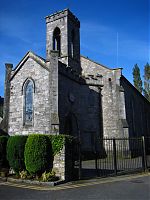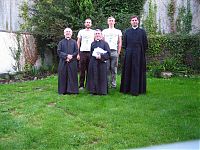 It was a quick spin through the rolling Celtic countryside to Dublin and I spent a night at the home of a friend-of-a-friend-of-a-friend (the original friend from Vancouver) named Natasha on the way through. We stayed for nearly a week in the comfort of the presbytery of St John's with Abbé Bierer in Dun Laoghaire, Ireland (just south of Dublin. This stint was a composition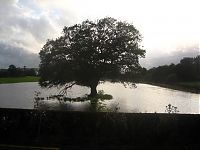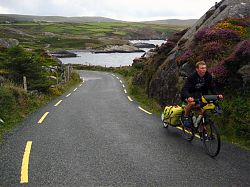 of a colorful blend of activities including mountain biking in the rugged and obscenely technical hills to the south, celebrating the birthday of a new friend of ours from Australia with a trip to the Saint James' Gate (Guinness) Brewery, some lovely French suppers followed by the tasting of fine Scotch and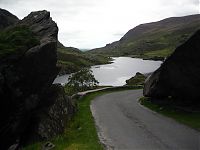 Irish whiskeys with our hospitable abbé, and our best single day of fundraising since the debut of this odyssey. The parishioners of Saint John's Church astounded us with their generosity by filling our outstretched and empty bicycle helmets with just over 1000 euros (about $1450) through the course of the morning! Our address in the parish hall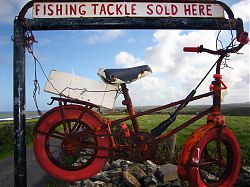 was concluded over tea and the lively, lilting chatter of fluttered over the backdrop of accordion tunes, complements of a man who had been national boxing champion of Ireland in times gone by.
Our coastal road hugged the green mountains whose feet are ever lapped by the salted tongues of the Atlantic.
The comforts of the presbytery were not easily left behind, but we somehow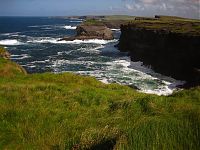 managed to wrench ourselves from the cocoon and turn our wheels north into the penitential weather that is "summer" in the British Isles. Three days of riding saw us at the very top of the isle and deep into protestant territory. We were graciously hosted in Portstewart by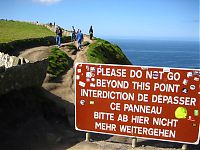 Robin near the Giant's causeway and the Bushmills Distillery. Robin helped us get to get a plug in the Coleraine Chronicle newspaper. The following two days of riding saw us through a delightful tour of the Bushmills Distillery and the fantastic topography of the north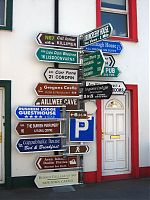 coast of Ireland. Our coastal road hugged the green mountains whose feet are ever lapped by the salted tongues of the Atlantic. We arrived in the port town of Larne, from which the ferry would, so we supposed, deposit us the next morning near Glasgow, Scotland. The town had a sort of rough character and the accent of the locals, a bizarre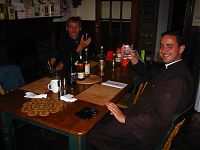 amalgamation Irish and Scottish as it sounded to my untrained ear, of the made many of them practically impossible to understand. We splurged on bad Chinese takeout for the evening meal and retired to our tents. Randall had a flat in the morning but we made it to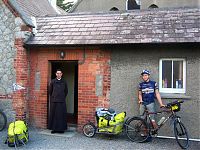 the ferry twenty-five minutes prior to departure, but, alas, too late to board the vessel. You see, according to P&O ferries, you have to be at the terminal 30 minutes prior to departure. If one is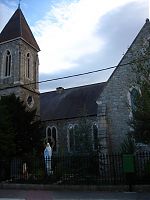 even five minutes beyond that deadline no amount of tearful pleading will get them past the ticket booth, even if boarding has not even started.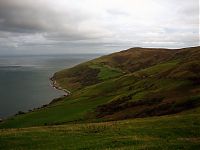 So, a really, really pleasant day was passed in the town of Larne, and we were not late for the 17:30 ferry. A two-hour night ride brought us to Glasgow and the house of our hosts, the Robbin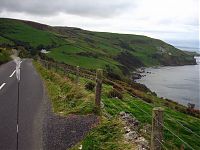 family. Joe and Jackie kept us well entertained for our entire stay there and took us out for a wonderful meal at an Italian restaurant with some cyclist friends. We had spent much of the morning on a ride with Joe's cycling buddies in search of the well-hidden PostalForce depot, where waited my new VholdR ConourHD helmet camera. (And, yes, that implies that video will soon be a part of the blog!)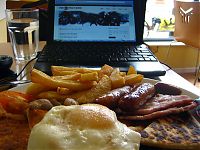 More fundraising was in store for Sunday. We did quite well at St. Andrew's Church even though there had not been a prior weekend's notice. For lunch a few of us, including Father Sherry, went out for another fabulous Italian meal.
Comments:
Post a comment:
Commenting is closed for this article.