Subscribe to our blog: RSS | Atom

Stolen Bike: UN-STOLEN


AUTHOR'S NOTE: The above picture is not of the real thief, of course. ALSO, please refer to this article if you have not read about the stolen bike.
A few hours ago I was climbing the stairs of the lovely old Fairhaven Library when something caught my eye. It was a black, stealthy-looking, road-ish bike leaning just outside the doorway. I admired the matte finish and the FSA carbon cranks for a second or two before realizing it had a yellow FSA headset.
Now, not many bikes have yellow FSA headsets, especially headsets bearing scrapes in the paint and splotches of matte-black spray paint, the same coating as on the frame. Interesting. Nor do they boast vintage prototype SLK cranks and unmatched front and rear cantilever brakes.
This bike that I am pondering, is it not familiar to me? Have I not slithered down twisty descents on a similar steed, perhaps in a past life?
Wear am I going with all of this blather???
All of these things passing through my mind in a brief moment, and, shock! This is the Kona that was so unrighteously nabbed from the bike rack while I was clipping away at work one afternoon six-weeks the previous.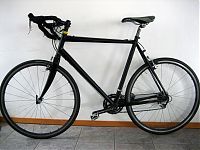 Heart racing, I look around. Where is the thief? How brazen to use her within blocks of where she was kidnapped!
…Oh, yes, must call 911!
"We'll send someone out…….."
…Fifteen minutes later, a youngish white man about my size with wavy, brown hair and some stylish stubble exits the library, and, right in front of me, proceeds to pick up the bike. I look at him and say, "Nice bike. Where did you get it?"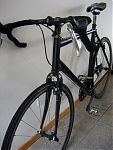 "I'm borrowing it from a friend," as I put my hand on the bar. "It looks familiar to me," I say. Pause. "This bike was stolen from me a few weeks ago." I look around for the Bellingham PD car that is supposed to be there. The guy looks at me and starts to get nervous and awkward. Neither of us have anything to say.
I break the brief silence: "The police will arrive any second. I suggest you just walk away from this." So, he walks down the stairs and down the sidewalk on 12th street, the bike left in my hands. I'm relieved, but still no sign of Bellingham's finest. With the rash of bike theft in Bellingham, you would think there would be some interest in curbing this malady, I think.
The police finally call me as I wheel the bike into a safe place a few blocks away.
"Is this Andrew? Did you leave the library?"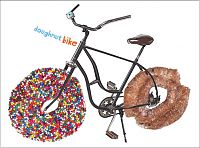 I hope the doughnuts were really good…
As much as I love the fact that I have my Kona back, she is a bit worse for wear since being abused by the villain(s) and I am not sure yet if I approve of her new black coat (compliments of the rattle can). But she is certainly most welcome to be back home! Pictures soon!
Again, this is NOT the bike I am using for the trip. She is my cyclocross racing bike and also serves as my road/commuter. And, recovered two weeks before we leave! The timing!
Post a comment:
Commenting is closed for this article.