Subscribe to our blog: RSS | Atom

Surfing Japan


I touched down in Seoul one crisply wintery evening and missed my friend who was to host me by a few minutes since I had arrived well into the evening. With no way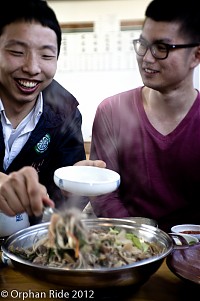 of contacting him I considered camping for a few moments but it was just too cold to be feasible with my current equipment, so I shed a tear as I paid for a room at a "first world" rate. "This will be the only one," I assured myself. And it was.
In the morning of Good Friday I awaited Fr. Chazal, a French missionary priest that I had previously befriended, at the chapel and he was surprised to see me there but appeared to be pleased none the less. Through my own fault the word had not been passed that I was to come to Seoul. I and another American by the name of Andrew, an English teacher in Seoul, did our best to serve the Good Friday Liturgy and the Easter Vigil, though I have altogether no experience with the duties of thurifer (the "incense swinger") and this fact resulted in much pointing and whispering of instructions.
As we parted ways, they toward the north and I the south, we vowed to meet again in Seoul.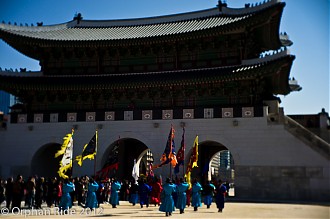 Several months prior I had met with a group of about nine university-aged Korean cyclists on the western edge of the Gobi Desert a day north of Dunhuang. They had been exhausted from riding uphill into the scorching wind and each one collapsed into the ditch as he pulled up. I had had a melon in my trailer and we shared it amongst ourselves, and they ate with the gusto of starving men. Just then, a watermelon truck, seemingly a mirage or celestial apparition, but in truth as real as they and I, puttered past. We flagged it down and all relished the cool, pink nectar; an uncanny gift of Providence. As we parted ways, they toward the north and I the south, we vowed to meet again in Seoul. Charles and his friends first took Fr.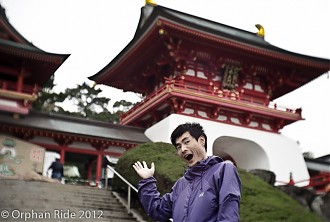 Chazal, another young Korean and I from the chapel to a feast fit for a king at a traditional Korean restaurant, where we enthusiastically partook in the good things set before us: beef bulgogi, several types of kimchi and a number of things of which the name I cannot recall. Following our repast I was shown around the grounds of the royal palace where we had the good fortune to witness the colorful changing of the guard ceremony. Altogether it was delightful to spend Easter Weekend with my friends, old and new, in Seoul. Charles proved to be an immensely helpful companion and host for the remaining two days of my stay.
I was in a hurry to move on to Japan in time for the cherry blossom season so instead of riding to Busan as I had previously planned, I took the train, and was able to catch the ferry the same evening. The cold rain was coming down heavily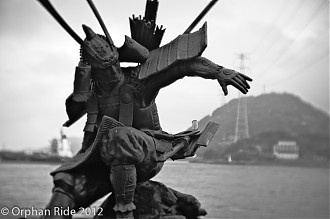 when I arrived in Simonoseki the next morning. I irritably pedaled around the sleepy town with that strange but memorable unease that all experience when they first set foot in a foreign land. It was a good thing that I had contacted a potential host. Seiji met me in town and we had a big bowl of noodles and a hot cup of coffee at his place, followed by some site seeing. That evening he showed me how to get sushi and other things from the delicatessens of supermarkets for half price (go after 5:30pm!) and gave me valuable advice on which roads to choose for my route to Kyoto. I knew that I was going to love Japan.
…technically these places are illegal to camp in.
A country so rich in well-preserved historical monuments, magnificent landscapes and superb pavement requires some serious planning for a bicycle tourist. I often spend hours researching route logistics with the hope of missing as few sites as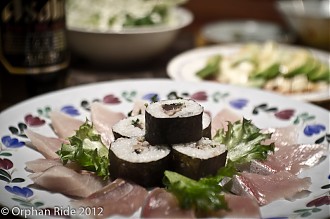 possible along the way. Then one must factor in the weather forecast and choose elevation profiles accordingly, locate roads with less traffic and find hosts and campsites on the map, though in Japan a cyclist can find a good place to camp just about anywhere. Since the country is one of the safest in the world even city parks and riverside terraces in metropolitan areas are fair game, provided that one is discrete, as technically these places are illegal to camp in.
I first crossed to the northeast coast of the southern end of the large island of Honshu over Japan's largest plateau, a windy, karst landscape with very few trees,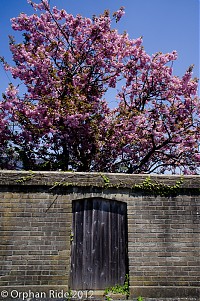 an ocean of dry grasses interspersed with limestone rising from the earth in patterns. Then, I spent a rainy day in the ancient Samurai town of Hagi and slept nearby the castle ruins in a park, the following day spinning my way along the sparsely populated coast of the Sea of Japan, or Japan's "Backside." Every evening I enjoyed hot miso soup, sushi or bento boxes for supper purchased supermarkets along the way. Though Japan has a reputation as an expensive country, when one takes into consideration the uncompromisingly high quality of even the cheapest food in the supermarkets and convenience stores it becomes apparent that the value is not bad at all. Even the white Japanese sandwich bread is several notches above that of other countries in terms of overall goodness. The costs are not higher than those of Western Europe. Fruit, however, though also consistently delicious, is generally out of my price range. Take, for instance, the apple. A big, juicy one (there are no others here) will easily cost the equivalent of $2, minimum. Even more astounding, watermelons from one particular region of Japan have been known to go for $6,000 U.S. a piece. No, that's not a typo.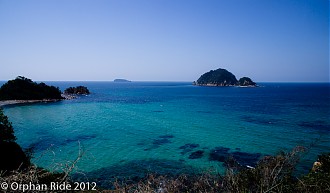 The weather was on the cold side but I stayed warm enough while riding and at night wore to bed every article of clothing I had and using some rags and a thermos for a pillow. My mattress was a 7mm (3/8") foam mat with a triple layer of bubble wrap on top. While just warm enough, I slept fitfully from lack of cushion and resolved to get another inflatable sleeping pad. There is one enormous benefit to braving the chilly springtime weather in Japan.
…brightly colored fireworks shooting from the gloomy hillsides caught in the stillness of a single frame.
The famous sakura, or cherry blossoms, begin in the south in April and work their way north over the course of a month. They are only in full bloom for about a week. Therefore it was my intention to begin in the south and ride the wave of sakura as it passed to higher latitudes. This is the type of surfing that you can do on a bicycle,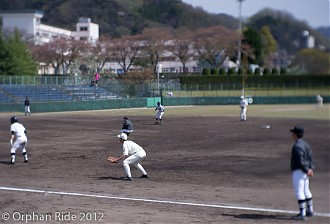 and, in fact, the momentum of the northward flow is an ideal pace for a fit cyclist. I was expecting the parks to be full of cherry blossomed trees in magnificent bloom, and they were. What I was not expecting were the gray-green forested hillsides, still leafless from a cold winter with the exception of the dark evergreens, yet splotched with the pink or white explosions of sakura. The giant, wild cherry trees were a brilliant juxtaposition, like brightly colored fireworks shooting from the gloomy hillsides caught in the stillness of a single frame.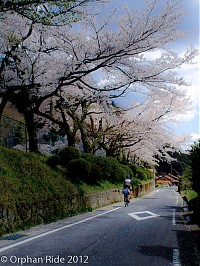 The aesthetic of the countryside did not meet my expectations, it exceeded them. All over Japan, especially in the smaller towns and cities, many of the old samurai houses have been preserved and continuously inhabited, and all most of the houses that have sprung up since have taken on a neoclassical architecture such that the old and new blend harmoniously. In contrast, most of China is being or has been bulldozed in favor of morbidly modern, uninspired-Socialist-drab apartment buildings. I digress.
Another contrast with China was the culture. The Japanese temperament, reserved and polite, appears to be diametrically opposite to that of the Chinese, which is extroverted and direct. After leaving Shimonoseki I, an introvert, had nary a conversation until I stayed in luxury campground several days later (I needed a shower!), where I met a semiretired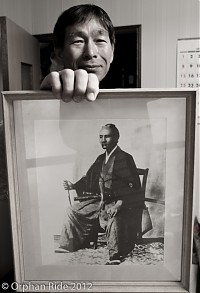 motorcycle tourist from Tokyo, and this was my first time practicing conversational Japanese. His English vocabulary was large enough to fill in the holes of my poorly-formed, yet somehow coherent, sentences, and we chatted well into the evening. Just a couple of days later I was staying at a campground next to Japan's largest sand dunes when I was approached by a man of about the same age as my previous acquaintance, and like me also a bicycle touring enthusiast. He invited me to stay at his place. He paid for my first restaurant meal in Japan and we had flying fish sashimi and giant sea snails for dinner, along with several other tasty tidbits. Though generous and heartwarming, these encounters have been far less common than in China, even quite exceptional. Most of the time this is agreeable since I value solitude, but sometimes individual travel in Japan can be lonely.
Comments:
Glad to see you guys are doing well. I lived in Japan when I was young and it's a beautiful country. God bless you as you continue your journey. Everything is well at Corpus Christi and your mom looks great. Your friend in Christ, Mrs. Caulk

— Barbara Caulk (Deryk Petersen's mom) · May 15, 01:41 PM · #
Post a comment:
Commenting is closed for this article.