Subscribe to our blog: RSS | Atom

Syria: Why I Love the Middle East
Mid May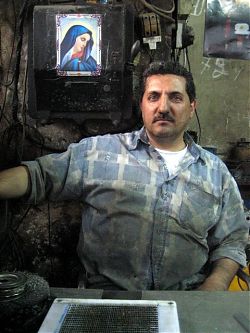 Syria is a lovely country, not for its poorly-maintained roads, frenetic automobile traffic, or unescapably hot climate, but it's people: the legatees of a rich tradition of hospitality and kindness towards strangers.
As we cycled through the last checkpoint following our five-hour wait for a visa at the Turkey-Syria border, drivers greeted us with blaring horns and welcoming shouts; men crammed into the back of large, rusty jalopies grinned crazily and waved handkerchiefs with shouts of "Hello! Welcome to Syria!" as we pedaled the road to Aleppo. Even in the first ten kilometers of the border, we began to receive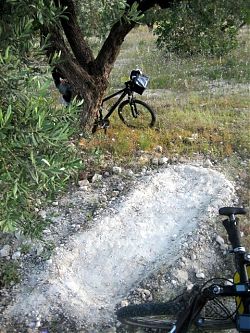 invitations to tea from roadside natives—a delicious, easily-justified escape from the heat, one it's difficult to turn down. But with the sheer number of invitations, if we accepted every proffered cup, the next two years of our trip would be spent just trying to reach the other side of the country.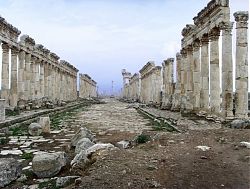 As it was, we accepted only one on the road to Aleppo, and so reached the city in a reasonable amount of time. Our stay was focused on trying some of the local foods—falafel, among others—and bicycle maintenance. While searching for a metal worker around the hotel who could help me, I came across Grigory, an Armenian
man who sat like a benevolent old boulder in his small stone shop several feet below the street. As I passed, a smile in his eye attracted my attention, so I turned and entered. His kind grey eyes lighted up and he dropped his work to put himself completely at my disposal. "Anything you need, man—just ask," were his words as he made quick work of my problem. I stayed the afternoon and we chatted over tea about everything from the Armenia Diaspora to Chinese exports. He refused to take any money for the work he did.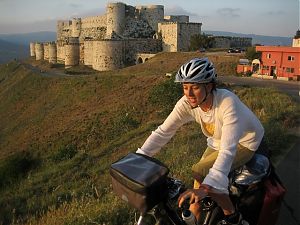 From Aleppo we decided not ride East to the Euphrates, but West to the Dead Cities, the well-preserved ruins of some 700 ancient Byzantine churches, monastaries, towns, and villas. But the environs of Aleppo were a ghastly desolation of dust, stone, and the skeletons of unfinished apartment buildings, and we regretted our choice until we finally arrived within sight of Qal'at Samaan in the evening, where St. Simeon Stylites once stood so elevated on his pillar. The base of the pillar is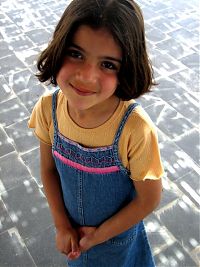 immense, measuring around 100 square feet, and used to support a pillar of over 50 feet. It sits in the center of the octagonal nave of the cathedral. It is a wonderful place. The cathedral located on a green, forested hilltop overlooking the surrounding limestone-strewn hills and plains. It's roof has long vanished, and many of the stones that made up it's walls, arches, and pillars, have since leapt from their glorious heights to lie half-buried with enormous pedestals in the tall grass. Many of the arches, however, still stand, and beautiful stone carvings still decorate some of the stones. We bribed the guards to camp in the ruins, staying for two nights, as Andrew was suffering from some disease, and unfit to ride.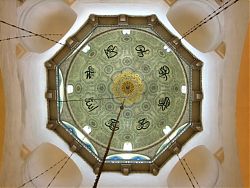 Still, after several days, Andrew wasn't feeling well, so Giulia and I bundled him and his bicycle into a communal minivan taxi so he could see a doctor in the next town. Nothing serious, it turned out, but he still wasn't fit for riding, so Giulia and I cycled and meet him in the hotel at the end of the day while he took the bus. We stopped in at ancient Roman Apamea, notable for its exceptionally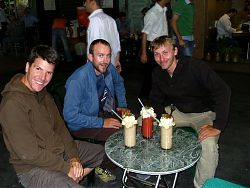 long, column-lined street, and met Andrew in Hama that night.
We all rode together to Crac des Chevaliers next day, an impressive castle from Crusader times, and camped not far from the castle itself. After saying our painful goodbyes to Giulia next day, Andrew and I continued on alone to Damascus, saw the sights, and moved on to Jordan, a brief stopover on our way to Israel.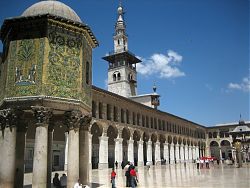 Credit goes to Andrew for many of the photos in this post
Comments:
Post a comment:
Commenting is closed for this article.