Subscribe to our blog: RSS | Atom

Tajikistan Part 1: The Wild Wild East

The 48 hours following the Kazakh embassy letdown were all touch-and-go. But they really did me a favor by letting me down: I might now, if I could obtain a Tajik visa the following day (Friday, the last working day of the embassy for the week), I might have the once in a lifetime opportunity to ride the fabled Pamir Highway, a neoclassic bicycle route for lovers of high altitude tarmac.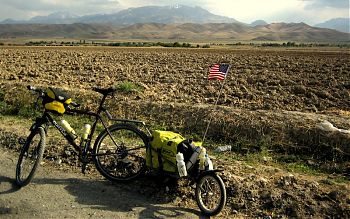 More than a handful of savvy touring cyclists flood this highway in the summer to take in the traffic-free riding and otherworldly natural beauty. I had run into a few of them in Uzbekistan, and they weren't too reserved to tell me what a shame it was that I had not included Tajikistan in the Orphan Ride itinerary. In any case it was a long shot with the visa; I had heard the embassy was a mess, and often it takes a week for an embassy (especially the embassy of a communist police state) to issue a tourist visa. It was going to be tight: my Uzbekistan visa would expire the next day at midnight. However, I had read somewhere that the Tajik government now actually desires tourist dollars so the visa process had been simplified.
I had to once again sweet-talk the police, amidst the now openly furious crowd at the gate…
There was a crowd of people at the gate of the Tajik embassy in Tashkent and many had put their names on the sheet of paper that the police supposedly use as a guide to the queue. In reality they only let a person or two into the embassy every ten minutes, based on that person's excuse or bribe, or both. It struck me after a while that these cops were simply on a power trip, watching as they let in only those that would take them aside and humbly argue their case, all the while imparting vigorous hand shakes. Consequently I did the same and finally was let in. It had been three hours since I arrived. The white, slender consulate was gentlemanly and looked over my application studiously, then said "please come back at four. Your visa will be ready." I returned after only an hour, at noon, because I was anxious that I had forgotten to include a passport photo. I had to once again sweet-talk the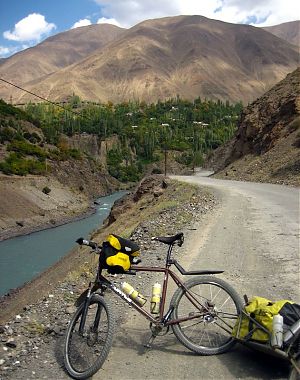 police, amidst the now openly furious crowd at the gate, many of whom had been there since the same time I had but apparently wouldn't be let in that day, and queued up at the door. As soon as I gave the photo to the consular officer and told him I would be back at four he replied absently that "oh, your visa is ready now. Just a moment." And that was it! I had received both the visa and the requisite permit to visit Gorno-Badakshan, the semi-autonomous Pamir Mountain region of eastern Tajikistan, for $75, in record time!
I ecstatically pedaled back to our host Andrew Y.'s flat and hurriedly packed my gear, full of the excitement fueled by the uncertainty of a precariously tight schedule and an impending adventure. Would the border be open when I arrived the next day? What would I do if not? Return to Tashkent to bribe a ridiculously expensive 4-day extension to my visa, with only hours until it expired? What if the border police ask for my OVIR registration dockets from the hotels, and finding I couldn't account for a nine-day stretch demanded a $500 "fee"? I took the bus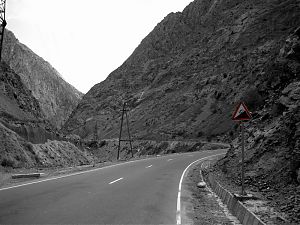 back to Samarkand with all of my gear and got a morning start for the border, full of anxiety and trepidation. Over and over I rehearsed my outright refusal to pay any fees and resolved that I would give the police as much trouble as I was able if they tried to squeeze me. I had also hidden my cash very well. And I won't say where. On several internet travel forums there are an abundance of horror stories posted by persons that have crossed Uzbek, Tajik and Turkmen borders with more cash then they had originally brought in (this is illegal and one must declare their monetary assets both on entry and exit), or with gaps in their police registration.
Perhaps the spandex shorts also inspired them to hurry me through.
The loud, overly-enthusiastic yells of hello and "aht kooda?" ("from where?" in Russian) I simply had no patience for, and ignored them, as I bounced over the 30 km of rough and dusty road to the small, pedestrian-only border crossing. To my joy and infinite relief the border officers never inquired about my registration dockets and passed me through after I humored them with my 'dumb tourist' act: "oh, you want me to fill that customs form in? Sorry, I don't understand Russian. What did you say? Oh, that's just my rear-view mirror. Here, put on my glasses and try it out." Perhaps the spandex shorts also inspired them to hurry me through.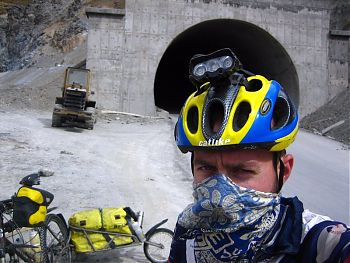 Soon enough I began to see mountains on both sides of the smooth road (of) the wide, heavily farmed valley. Everyone, everyone, yells hello or whistles loudly and waves at you in rural Tajikistan and if you stop you're suddenly surrounded by curious crowds. It's really too much and after a while all of this friendliness becomes burdensome. Also, the boys are devils. Nearly all of 'em. The little ones crowded around and grabbed at my belongings when I was stopped and chased me and tried to take an unwelcome ride on my trailer while moving. Adolescents also gathered around and hassled me with loud Russian questions when I would stop for a quick break. I had only just arrived in Penjakent and a street boy ran off with my helmet while I was in a shop, and I was alerted by the laughing of his little friends. I chased him down but he dropped it and kept running. The next day some snot-nosed shepherd boys pulled my flagpole out while I was riding up hill, but I stopped and beckoned them to return it, gravely, which they did with some hesitation. I thereafter felt dread every time I approached a village that I might again be accosted by wild crowds of boys.
Eventually the road again became an unpaved, broken track, choked with dust from the light traffic. I stayed at the house of an intrusive and greedy shop owner, who lead me to believe that I was his guest only to have him demand payment the next morning, after rushing me to get up and have breakfast at 6:30am. In the middle of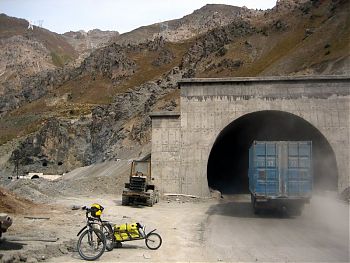 the next day I finally arrived at the main highway that leads from the Fergana Valley to the capital of Dushanbe over the Fan Mountain range. Thanks to the expert work of Chinese road crews I had a smoothly-paved highway to ride for 200km to the city! It was a lovely journey through a narrow gorge, along a pastel-turquoise river that passed through several villages, and the people, more accustomed to seeing foreigners, for the most part left me in peace. In the late afternoon I was passing on the left several flocks of sheep and was surprised by the apparition of several massive, evil-looking sheep dogs. Their bodies were all a bulk of muscle and sinew and they were each the size of a Saint Bernard. Ears were missing along with chunks of flesh from their faces and lips, leaving dark, mangled tissue and revealing the huge rows of teeth that protruded from vice-like jaws. One of these hounds of hell menacingly turned my way as I was passing but a quick shout from a dark shepherd, who himself looked rough-enough a brute that he could domineer one of these beasts, checked the animal before it could have had a chance to snapped straight through my leg.
This profitable business is not only run by independent mobsters; the police and the government have their hands in it as well.
I camped (and froze) partway up a pass below an abandoned coal mine that night. In the morning I climbed up to the famous Anzob Tunnel that leads to the other side of the pass at around 3000 meters. This tunnel is 6 km in length, suffocated with black fumes belched from commercial trucks, poorly lit at best, dripping wet and full of puddles. I strapped on my ultra bright helmet lamp from Cygolite, wrapped a bandana around my mouth and nose and rode like crazy. I didn't pass out from the fumes and was only passed by one car, but my legs were covered in grimy water when I reached the far end. During the long descent I passed an uncountable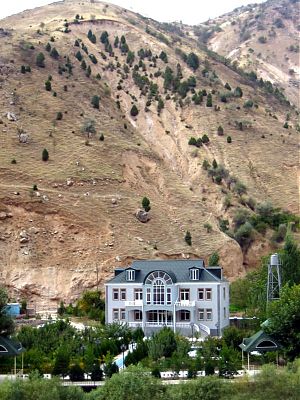 number of Chinese road crews in the process of building more tunnels. I then entered the Varzob corridor: a lush river valley flanked by enormous manors built, and being built, by Dushanbe's newly-moneyed. According to some reliable sources the origin of this immense wealth is the transport of Taliban-grown heroine from Afghanistan down the Pamir Highway to the rest of Central Asia and the world. This profitable business is not only run by independent mobsters; the police and the government have their hands in it as well. I wondered as I was riding just how many of the trucks that passed were loaded with the stuff.
In good time I arrived in the well-ordered and relatively eye-pleasing Central Asian capital, spent all afternoon looking for the cheap hostel behind the bazaar, only to find that it was marked on my GPS map all along.
Coming next time: a post on Randall's adventures in Kyrgyzstan, followed by a continuation of my narrative on my adventures in the Pamirs, and a much finer set of photos!
Comments:
Thank you for this rendition.The descriptions of your travels could fill a book,lightly edited from multiple points of view.
Keep on keeping on!

— Cameron Talbot · Dec 7, 06:38 PM · #

A great post! We lived in Tajikistan 95-96 during the civil war and still have friends in Dushanbe. I remember the sheep dogs…whose ears, tail and lips are slashed off as puppies the better to fight wolves with….

— Fred Lundahl · Dec 8, 04:23 PM · #

Cheers! More to come soon…

Fred, that's gruesome. I was under the impression that the carnage was only a result of infighting. There were definitely hunks of fir and skin missing from other parts of their head as well…Perhaps from wolf encounters…? Maybe wild camping wasn't such a good idea!

— Andrew Leese · Dec 13, 11:07 PM · #
Post a comment:
Commenting is closed for this article.