Subscribe to our blog: RSS | Atom

Tajikistan Part 2: Experiencing Afghanistan at a Comfortable Distance

Big news: We've finally arrived at the Servi Domini Orphanage in Palayamkottai!! It's such a joy to finally be here and all of the anticipation and build up over the past few months has made the experience of arrival more than a little surreal. Don't worry, we'll be catching up on this blog sooner than later and then you can hear all about what's happening here!
Now, back to Tajikistan…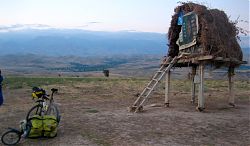 I departed Dushanbe for the rugged country of the Pamirs in early October. It was late in the year and the uncertainty of the mountain weather hung upon my mind. The vision of 4000+ meter passes covered in a thick blanket of new snow often crept into my imagination. All of the cyclists ride this route between June and mid-September and it was late in the year to attempt such a passage by bicycle. Nevertheless, I formed a firm resolution to succeed even if it meant pushing my bicycle on foot up the mountains through drifts of light snow, and that I would and also carry at least two days' supply of rations.
About 30% of Afghans are fair-skinned Tajiks and communities exist in southwestern China, northern Pakistan and Iran.
The weather was sunny and warm as usual in the lower parts of the country. In the daytime one could expect temperatures to rise to 22C (70F). I had made a late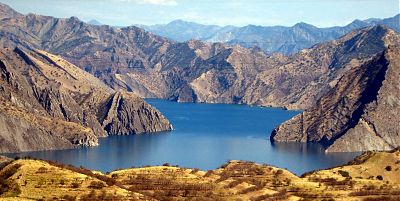 start and only rode 30km or so before darkness began to fall and spotted a fairly pleasant vineyard on a hillside which I thought might suite my nocturnal needs. As I was pushing over the plowed earth a dapper man approached on a donkey from a sort of elevated lookout. In his friendly Russian he told me it was too cold to camp and that I must sleep in the lookout shelter, which was raised about two meters in the air on stilts. He introduced me to the regular watchman, a grizzled old fellow who in turn offered me a bottle of tea before he departed and left his dog to guard the place, and he even gave me a load of melons to have for dinner. The icy wind howled through the night and the shelter swayed a little with each arctic gust. I awoke, surprised to see the swarthy watchman sitting at my feet, at first light, and he and I had tea, bread, an awful Kazakh Nutella-immitation and melons for breakfast.
I'd expected to put in a rather long day over the hills but not as long as it turned out to be. 90 km into the ride I was waved to stop by some people that had stopped their car on the side of the road (which happens often in this part of the world where people are intensely curious about foreigners). The men were lawyers and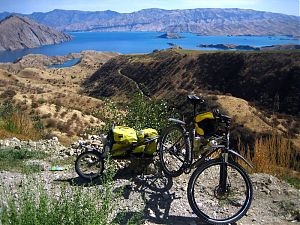 one, Faridun, spoke English very well, as he had studied at the royal university in Sweden. They invited me to stay in their hotel, another 60 km further on, and though I would have to ride after dark for the last hour or so I decided to snatch this providential opportunity. It was an old Soviet business-class hotel in the town of Kulyab. To my surprise I was told that Faridun was in the kitchen, cooking, so I went in to say hello and straight off we began the vodka shots that are an indispensable facet of hospitality in Central Asia as he cooked an enormous plov heaped with fatty joints of mutton. All he had to do was offer a few somoni to the kitchen staff to use their facilities. Faridun was from an upper class family in Penjikent that prided itself on it's pure Tajik bloodline. Tajiks essentially belong to the Persian ethnic group, not the Turkic groups that typify this part of the world. Tajikistan, however, also is home to large Uzbek and Kyrgyz populations, but the language of the country is Persian. About 30% of Afghans are fair-skinned Tajiks and communities exist in southwestern China, northern Pakistan and Iran.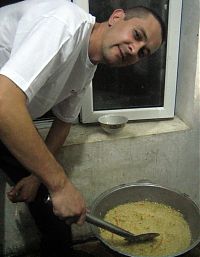 After a hearty breakfast of Central Asian sausage (processed hot dogs), eggs and coffee at the hotel I said bye to my new friends and set off up seemingly endless 1500 meter climb, on the other side of which streams the Pianj, the natural border of Tajikistan and Afghanistan, a river that would be my companion for the next 640 kilometers (400 miles). The "Winter Road" to the Pamir region follows this river through narrow gorges and a few slender valleys with a few farmers' houses or sometimes small villages built in them. The shorter, higher "Summer Road" was closed due to some bloody skirmishing between an Islamic militant group and the Tajik army in that part of the country. On the Afghan side of the Pianj, sometimes only fifty meters from the road that I traveled, the villages were even more rustic. Only a narrow donkey trail connected these tiny clusters of huts made of mud bricks. Not a power line was to be seen on the opposite side of the river. With the passing of several days I saw a few brightly colored villagers but only two motorbikes and not a single auto.
I was frozen with terror! There was no one in sight…
There was no asphalt left on the road and it was as rough as one could imagine. Luckily there was little traffic so I was only covered in a thin layer of dust every day. The desert-dry, snow-capped mountains sometimes had vegetation near the river when the gradient allowed for it to survive; most of the time the mountains rose from the turquoise-blue waters like the saber-edged teeth of some enormous maw, the right side of my road a sheer drop.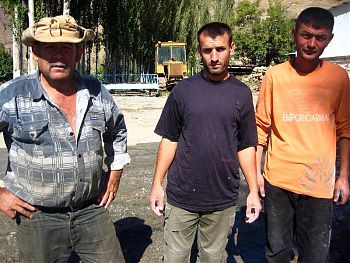 On the first night I camped near a truckers' inn, the next in the house of a village family (for a fee) and the following at a chaikhana where I had some excellent gusht, or roast beef; eggs; naan; apples and pomegranates, the latter two from the adjoining garden. The morning after I had diarrhea. So, I took a pill and kept riding. A bored Afghan boy scampering on the river rocks on the opposite side used his sling to wing a stone in my direction, but, fortunately for me, he had not the aim of David. That day I passed through the town of Kalaikum and rode until dusk looking for a secluded place to camp. There had been an abundance of beaches with soft, virgin sand but I had been warned of unmarked mine fields in this area and hence avoided them. On the opposite side of the road from the Pianj River I came across a small, deep valley that had some cultivated ground and rock walls but no sign of life, so I followed the steep side road down to the little field and began to set up camp. I stockpiled some rocks in case I had a visit from wolves in the night. Just as complete darkness fell and I was about to retire to my tent a gunshot shattered the silence. I was frozen with terror! There was no one in sight, no lights, no other sounds. I crouched behind the stone wall, heart pounding, and finally called into the night "don't shoot! Tourist!" The silence pervaded. I shined my light around but there was no sign of anyone. Knowing that I would have no peace of mind sleeping in that place I hurriedly packed everything back into my trailer, haphazardly, and pushed my bike up the hill, constantly expecting to receive a bullet. I called into the dark a couple more times but there was no answer.
I stayed at a guesthouse where I met the first bicycle tourists that I had seen yet in Tajikistan…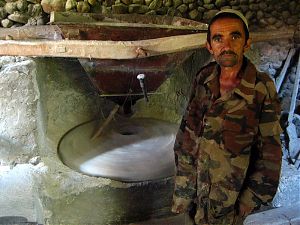 At the next village I stopped at a small house and asked to camp in the yard and explained as best I could in my tiny Russian vocabulary what had happened. The light skinned, blue eyed (most have a fair complexion), middle-age man invited me to stay in the house, free of charge, and I was served some plov and snacks. One of the snacks tasted a little old…but the family was so kind and hospitable I paid no mind. My hosts, to try to make me feel at home, changed the TV to an English-language station that was showing an emotional music concert by an evangelical Christian artist. They didn't realize the content. It was an absurdly hilarious situation: my hosts observant Muslims and I in abhorrence of that particular musical genre (if I can say so without offending any of our dear readers).
The road was paved though lumpy the next day. Thirty kilometers into my ride I began to feel nauseous. After a few minutes it became so acute that I was forced to stop, doubled over with the churning of my stomach, in the gravel on the roadside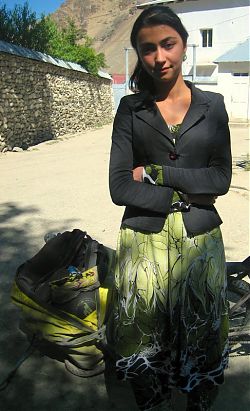 and lie down, and I rested there for an hour or so until I felt just well enough to push my bike into a farmer's field below. The old man attending his cow acquiesced to my resting there. I stayed until dusk, then set up camp passed the night in a deep slumber to wake up refreshed and ready to cover the final 60 km to Khorog, the small administrative capital of the Gorno-Badakshan Autonomous Region (GBAO). I stayed at a guesthouse where I met the first bicycle tourists that I had seen yet in Tajikistan a young couple from France. Olivier and Marine had bicycled from their home over the course of six months and followed a more northerly route through Russia and Kazakhstan. I rode with them the next day as we began our first official day on the Pamir Highway on our way to the Wakhan Valley and the Hindu Kush mountain range. We were still following the border of Afghanistan and the economic conditions of the Afghan side had not improved . Tajikistan, classified as one of the 30 poorest countries in the world a few years ago, appeared wealthy in comparison.
It was not long before the silhouette of four armed men appeared out of the darkness…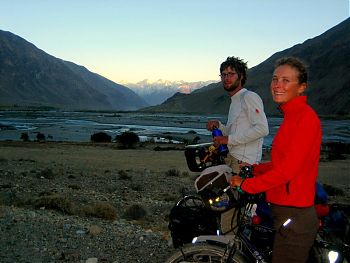 It was a joy at last to have some riding companions with which to share the experience! A feast of so-so India food the night before fueled us through 80 km of bad roads until we found a farmer's field to camp and share our food in. It was not long before the silhouette of four armed men appeared out of the darkness as they silently stocked toward us. The soldiers, of which there are a great many all along the border, once satisfied with our explanation, bid us "sleep well."
The next day I had had two flat tires caused by thorns and couldn't find my patch kit, so I had cut some squares from an old innertube and glued them over the holes, and, thank goodness, they held, because the possibility of getting a ride is slim when you are passed by a mere four vehicles per day, each completely full. My new friends informed me that it was also possible to use postage stamps as tube patches in a pinch. I left my French companions after we had a bit of yerba maté, and continued through the lush, wide-open valley bursting with the colors of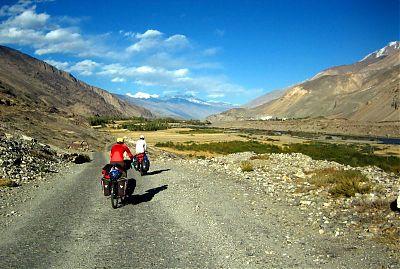 Autumn, the fluffy-white, majestic, 7500+ meter (24,500+ feet) Hindu Kush towering to my right in Afghanistan and the high Pamirs to my left, through quiet, rural villages. Just as night began to fall, I spotted a tent on the beach of the river with a bicycle next to it: a perfect place to repose. They belonged to Joachim, a German we had met up with earlier in the day (whom I had also met a month previous in Samarkand). I was still cautious about landmines but set up camp in the soft sand in spite of my inhibitions since other creatures had previously made tracks in it. It was hard to believe that only 20 km away, on the other side of the Hindu Kush, was the border between Afghanistan and Pakistan's volatile, lawless tribal region. We both enjoyed a fine meal of odds and ends (mostly his)—bread, processed meat, a Snickers bar—and shared stories about our escapades of late. The bread in Western Tajikistan had been hit or miss at best, but the bread here, though there was not much of anything else to eat, was superb. We resolved to ride together until we had crossed the 4300 meter (14,000 feet) pass that was coming up.
And we nearly did…
Comments:
Praise the Lord, you made it to the orphanage
Just want to say I've prayed for your safety and comfort . You two are unbelievable in your hearts for servanthood!
God speed the rest of the way.
LeRoy

— LEROY GALLEY · Dec 29, 09:36 AM · #
Post a comment:
Commenting is closed for this article.