Subscribe to our blog: RSS | Atom

Th' Dublin Road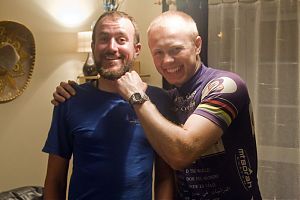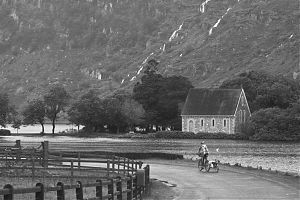 Ireland was aptly described to us as 40 shades of gray and 60 shades of green. But the people of that country are colorful and bright enough to make up for any lack in nature. Ireland. Rugged landscapes, rain, local color. And Poles.
There are 200,000 Poles in Ireland: we met the best of them in Cork. Our warm retreat was to the home of two such citizens—Sebastien and his wife Johanna—who welcomed us like long-lost friends when we met them for the first time (not the last, I hope!), kindling affections with warm smiles, jokes, and food. Lots of food.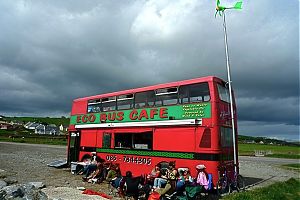 After that exceptionally good stay, we rode along the quiet, wet country roads to Toons Bridge, where our groovy new friends—Bryce and Dierdre of the Green Red Double Decker Eco Bus Cafe , also welcomed us with open arms. We were regaled with Shepherd's Pie and stories of cycle-tours throughout the world, though I confess my attention was, as might be expected, divided somewhat in favor of the food.
Our next stop was a green island in lone Gougane Barra, where St. Finbar built his monastery in the 6th century, and where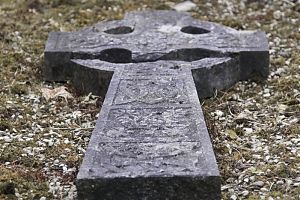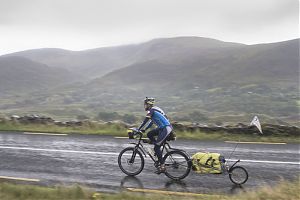 a thousand wild fountains
Come down to that lake from their homes in the mountains
A short stop there; Glengarrif by nightfall. It began to drizzle as we coasted around looking for a campsite. First reconnaissance found soggy grass (turf is invariably mushy and cold in Ireland. Really.) not much in the way of shelter; Andrew left to seek a room, and I prepared to camp, not deeming comfort worth the price (whatever it might have been). Scarcely had I taken my tent out of the sack, however, when Andrew came wheeling back, and slowly remarked, 'there's a bathroom over there. It's big—enough—and clean,…I think.'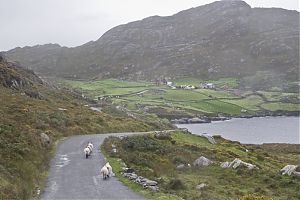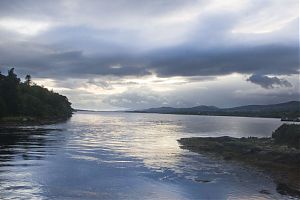 Soon our bags were laid out in the spacious mens' room. But the urinal flushed every few minutes, echoing in a damp, cavernous way, reminding me of subterranean tricklings and damp, unexplored nooks and crannies, where clammy creatures slide across cool, wet stones on white bellies. So we went next door to the Ladies' Room.
Next morning we were dry, to say the least, and not slow to decamp. Glengarriff is the gateway to the Bearra Ring, one of Ireland's peninsulas. It was striking. And hilly. And wet. But the breathtaking panoramas and awesome vistas were well worth roughing it a bit. We did the entire peninsula in a day, ending in the lovely, touristy little town of Kenmare.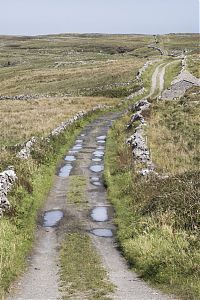 There we wandered the streets for awhile before we decided to try our luck as mendicants. We were about to go to a hoste. Down the road, when I left Andrew and crossed the street on a hunch. I knocked at the door of a guesthouse/restaurant on the corner, and a Polish girl opened, and directed me to the proprietress. She had a kind, open face: I didn't hesitate to tell her our story and solicit shelter for the night. She, for her part, hardly hesitated a moment before showing us with kind words and looks to a comfortable upstairs room, adding "We're not open yet… But you can stay." And going on to say: "Dinner's being fixed right now. If there's leftovers, I'll give you a shout."
And an hour later we were downstairs seated around a table with the family while steaming bowls of pork and vegetable stew, buttered bread,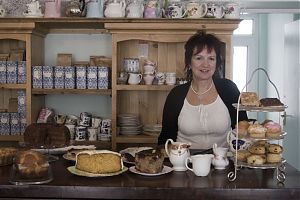 and wine were served.
All was delicious, the people were extraordinarily friendly and kind. A friend of Mrs. D'Arcy, Mary, owns a tea shop in town. She invited us over for a drink the following day. We gratefully complied, of course. And a fine place it was! Tea was accompanied with sundry home-made pastries, pies, and cakes, and tarts. The place was exquisitely cute. And as I sat across from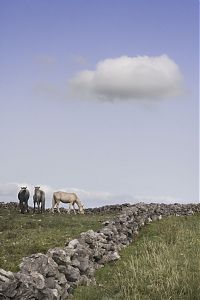 my bearded, wild-looking brother, sipping from my flowered china cup, nibbling daintily on my scrumptious Apple-Rhubarb Something, I reflected, betimes, that all that lacked was the company of the fairer sex. My sisters would have loved the place. It was altogether delightful, albeit a bit incongruous.
Further north, in Ballylongford, we found a surrogate family in the Dennehy Clan. They fed us, housed us, and provided excellent company and tea by the gallon for several days. We were very sorry to leave.
Our route had changed significantly by this point. We had good reason to go through Central Ireland to Dublin, so we intended to ride north to Galway before turning East. Andrew and I separated en-route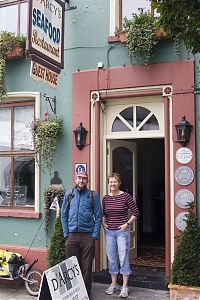 (by mistake), and I decided to take the walking route to Ballyvaughn, over the mountains with a view of the blue Atlantic far below to my left. The walking route was very rough—a grass track, very rocky, flanked by low stone walls on either side. Stone fences split off like ancient veins, raised in the old flesh of the mountains, in every direction, partitioning, criss-crossing into the distance, and out of site down the other side of the hills to the deep blue sea. I went up and up and up for many kilometers before I finally reached the top of the last hill. A spectacular vista was spread out at my feet: bare mountains composed of sloping grey shelves of stone rose up beyond a long, lush valley that stretched to the sea. Immediately to my right and left,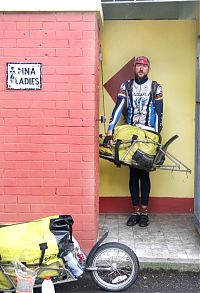 like the ruins of all the world's castles, were boulders and blocks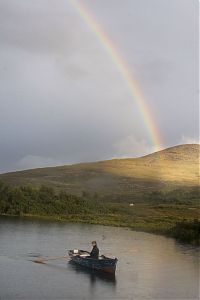 cascading into the valley. My track became very rough indeed, and very steep; I edged forward, and dropped across the uneven ground, my bike jolting furiously over every meter of stone. Rattling, bouncing, I made my way slowly down the hill. But my CURTLO was equal to the challenge—and withstood the frame-battering, body-wrenching ordeal. After several kilometers of this, I was able to turn off the track.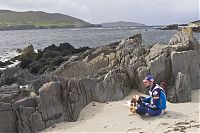 One more stop: Athlone, where we stayed at a priory with Father Loschi, Father Nicholas, and his twin brother, Br. Nicholas, and we were off through the 40 and 60 shades to Dublin.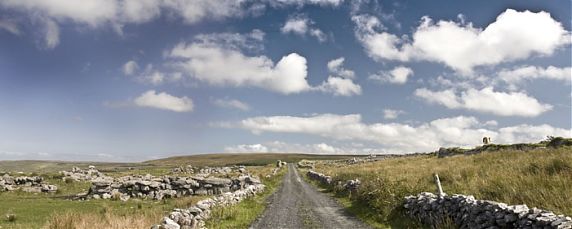 Comments:
Post a comment:
Commenting is closed for this article.