Subscribe to our blog: RSS | Atom

The Balmy Boys of Touring Torture [installment 1]


Day 16, April 19
Elk-San Francisco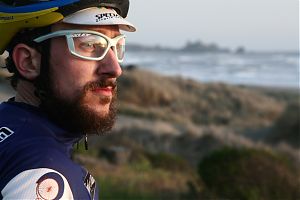 Many of the people we've met over the course of the last several weeks have congratulated us on our venture, telling us what a good thing it is that we're doing it while we're young, etc. etc.
The others tell us we're nuts.
And they're right, of course. But I didn't realize how thoroughly daft we really are until we decided to ride from Elk, CA to downtown San Francisco in a single day. The route is by no means flat, and our legs, in all their youthful vigor, are, alas! of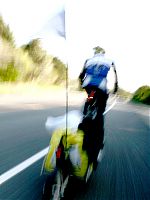 decidedly mortal strain.
The day began when we waked early outside the Elk Post Office, our erstwhile shelter. A breakfast of sardines, stale bread, and goat cheese, in addition to a restful night, recharged our aching muscles wonderfully and soon we were well underway. It was the most unforgettable (for sheer misery and self-abuse) segment of our trip thus far, a 160 mile stretch of hilly coast. I began the day by popping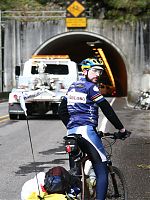 two spokes just after breakfast, due, no doubt, to my slight passion for food.
We rode and rode and rode on into the night (the scenery was beautiful that day), up a high pass to to the summit overlooking San Francisco. I amused myself by grinning insanely at the passing cars and ringing my little bicycle bell. Two loud twangs sent sharp shivers through my frame—two more spokes had popped. One spoke is no cause for concern; two leave the others weakened; four broken spokes is crippling; five and the bike is no longer fit for riding. I was very nervous, and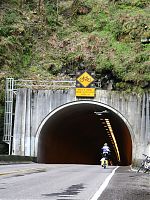 endeavored to keep my weight as forward as possible.
I wobbled across the Golden Gate just before midnight, my mind as unsound as my bike; Andrew and I were dazed after our long day. We found respite in a pizza parlor, where I labored to fix my broken spokes.
Next morning we arrived in Los Gatos 45 minutes before the commencement of the first lecture. 700 miles in 6 days!
In 40 years our arthritic knees will shake with glee for memory of glory of youthful vigor… Meanwhile, we ignore the pain and press on.
.
.
.
.
.
.
.
.

Post a comment:
Commenting is closed for this article.