Subscribe to our blog: RSS | Atom

The China Road

One-hundred eighty-four kilometers to the south, over the Tien Shan mountains are the Alay Valley, Sary Tash and my impending rendezvous with Andrew.

I am in Osh, preparing for the final Kyrgyzstan – China leg while recuperating from a chronic illness I'd picked up in Turkey that keeps me bedridden for a few days once a month. As I wake, the monotonous, singsong calls of "Moloko" and "Kymak" drift in through the open window of my dormitory from the otherwise quiet street,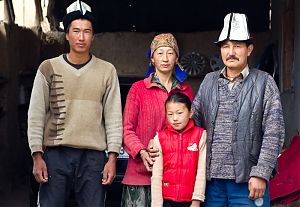 reminding me that my trailer is packed full of fresh-churned butter, creamy milk, kefir, and several kilos of Arslanbob walnuts from my hosts of the last several hundred kilometers; unfortunately I'm too ill to enjoy them.
Osh is a shadow of its former glory as the "most typical and frenetic city of Central Asia,' — known mostly for its electric, eclectic bazaar (now in ruins) — since the ethnic clashes earlier this year. There is nothing to keep me here, so I set off, feeling only slightly better, but always well enough to ride. My standards of in-saddle health have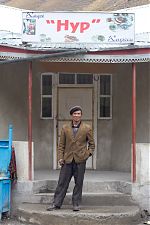 lowered somewhat since I cycled with serious food-poisoning through the plains of Castille on the rough track of El Camino, and again, by necessity, through sultry Moroccan heat to Fez.
As I was feeling rather unwell, I made a late start and was glad when a Kyrgyz family beckoned me excitedly from their home off the highway in the evening only twenty kilometers from Osh. Thanks to lots of in-saddle practice with audio recordings, my Russian had improved significantly over the last several weeks and I was able to make basic conversation with my hosts, who were semi-orthodox Muslims — more devout than most Kyrgyz — which is a good security against the drunken antics one too often encounters among natives of the post-Soviet, vodka-loving 'Stans. True, my hosts were desperately poor, and the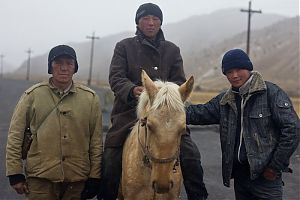 mutton soup smelt literally quite rotten, but they were exceedingly kind, and most importantly, the bed was heavy with blankets. Athough I shared the room with skittering mice and rats, a warm bed is an important consideration at an altitude and time of year when camping is more conducive to hypothermia and eternal slumber than life-giving rest.
We had traditionally ornamental though stale nan bread with the usual green tea, cherry preserve, and apples that constitute breakfast in the Kyrgyz hills. I left some money under the mattress for my hosts, and set off through fields of vibrant Fall color up the narrow river valley that led to Gulcha and the Taldyk Pass. Apple trees were heavy with ripe fruit that hung just out of reach over low fences.
I bedded down in a restaurant that night. Upon my arrival I was taken into the hot kitchen to keep warm. It was a tiny, cob room, illuminated by a single light, frail like a Winter sun, and constantly assailed by the swirling clouds of steam that imitated the four winds as serviles and relatives stomped in and out through various low brown doors. Vats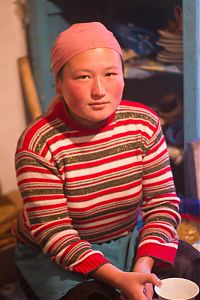 of mutton fat and water bubbled heartily over coal fires at one end. At the other sat my host, a dapper fellow, ruminating with a cigarette in his mouth.
All possible conversation topics were soon exhausted, so we sat and simply enjoyed the exotic quality of one another's company for awhile before I went to bed.
The rain woke me. I had some Cafe Pele instant coffee (like muddy water with a dash of charcoal), and waited while my host heard reports from drivers about the top of the pass, some 68 kilometers up ahead. It sounded bad, but the reports, I would soon find, were nothing to the true state of road and weather. An hour of deliberation decided me in favor of leaving that morning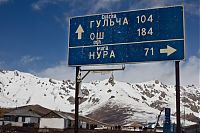 (it was difficult to leave my place in the kitchen!) and I set off without accepting my host's kind offer to find a ride over the pass with one of the many truck drivers making the long haul to China, or more seldom, Tajikistan and the villages to the south.
The sky was ominously dark, the scenery bleak and depressing. By midday I had climbed up to 2500 meters elevation from 1200, when it began to snow. It clung to the hillsides, and began to coat the ground with white; snow mixed with mud and made a slush that spattered my face and clothing; snow continued to fall in increasingly large and numerous flakes as I slowly ground towards the top of the Taldyk Pass at 3615 meters. I had occasion to worry.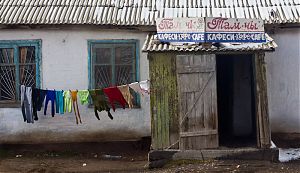 On my GPS map I could see that the already steep road culminated in a series of sharp switchbacks, how steep I little imagined. Nor had I any reason to believe that the road, hitherto excellent, would deteriorate so rapidly as it did as I neared the summit — as I would discover soon enough: that all the variable conditions for cycling would very soon be at their worst, and I pushing through their midst.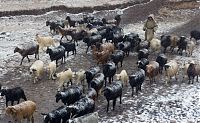 Meanwhile I was still at 3000 meters. The snow was falling heavily, and traffic had diminished. Only the occasional Chinese lorry came roaring past. All else was silent.
Then, gradually, the road gave way as its incline increased up to 10-14%. Where smooth asphalt had once paved the way, rivers of frozen mud several inches deep oozed against my wheels and flowed through the ruts and potholes of the road as I labored upwards, several meters at a stretch, before I was left panting and breathless. Also it was bitterly cold and I completely unprepared. Where gloves would have been useful, I enveloped my hands in plastic. The clothing I wore wasn't enough to shield me from the elements, which only became less clement has I neared my destination. My jacket zipper was broken, and my thin pants were wet and clung to my skin. The road, or rather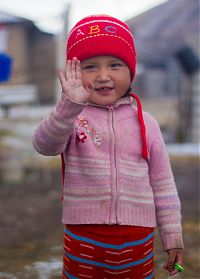 the river, was barely wide enough for a single car, and dropped precipitously on one side: I was wary as the occasional auto swam past lest the hillside would give way. Faces and hands were visible through the steamy glass, and like tourists at a museum, they peered at me. Complete incomprehension was written in their faces. I myself wondered: what business was mine that I should be enduring this? Then I remembered my many wicked sins, and the orphans, and pedaled a few more meters, smiling despite the cold at the general folly.
The top of the pass was finally reached as the wind howled around me. The cold increased, and it was then that I noticed the late hour. Dusk was only forty-five minutes off. The snow was deep in drifts around me, deeper even then the mud that squelched up around my tires.
I had no lights at that point, so it was imperative that I reached Sary Tash before dark. Nevertheless, I stopped to look for a suitable place to snap a self-portrait. As I was wallowing around through the mud, a Lada taxi bounced to a stop through the mud, and a tourist jumped out into the swirling snow and wind. "YOU ALL RIGHT?" he shouted, and I caught the surprised looks of his two friends behind the glass as they surveyed the apparently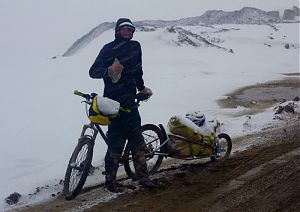 suicidal, mud-spattered cycle tourist. I caught from his shouted speech that they were also cycle tourists, and so appreciated my plight. "You're very brave, very brave," he kept repeating. My own opinion is that I'm simply daft and rather foolish. Anyhow, the increasing cold, heavy winds, and swirling snow were anything but conducive to conversation and my body was numb with cold. Furthermore, I still had a long descent through the mud to life and warmth far below. "TAKE MY PICTURE," I shouted, and trudged through the mud to give him my camera. He snapped a photo, and hopped back in the car after yelling some quick directions over the wind to the guest house he and his friends were staying in. Again I was off, pedaling furiously (downhill) to keep the blood circulating, despite the mud that flew up around me, coating my bike and body before freezing into place.
The pain of that ride is sharp in my memory. At 40 kilometers/hour the mud was spraying and the snow stinging. My feet and arms were numb, and my knee joints clicked ominously as they worked the pedals. The wind was at full force now, and chill as death. It blew from the east, catching me full force as I descended each west/east segment of the switchbacks that lead into the Alay Valley.
Forty-five minutes later I had traveled 15 kilometers and descended 800 meters when I saw the first lights of the outlying buildings of Sary Tash on the darkliing road. Relief, warm relief. The town consisted of a gas station, several inns, and two roads: one galloped off to China through snow-powdered fields and the East, the other Southwest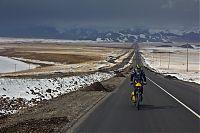 to Tajikistan. It took me another hour of bewildered wandering over the frozen streets (Sary Tash is still at around 3000 meters) to find a suitable guest house, where I met the frank, friendly face of Chulnara, one of my young hostesses-to-be for the next several days while I awaited Andrew's arrival. "The room sounds too expensive?" she asked, smiling, after some effort on my part to communicate the unfortunate facts of a small budget to her. "O.K." she added, and unconcernedly dropped the price to less than half. Immediately she led me to a spacious, carpeted and tapestried room with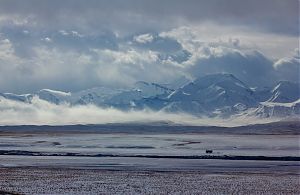 huge stacks of colorful blankets against the wall and an electric heater. "You must be hungry," she said in uncertain English. I acquiesced, and minutes later a heaping plate of food and a thermos of hot green tea came sailing in through the door.
There's nothing so cozy as the smell of coal smoke, especially when world is white with fresh snow, high mountains shine in the distance, and one is satisfactorily accommodated with lodging, food, and drink.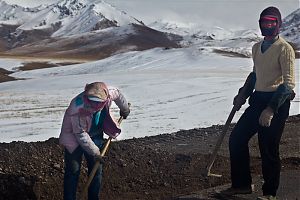 This was the essence of my stay for several days till one morning Chulnara came pounding on my door to tell me that she had seen a cyclist riding past on her way home from school. I slipped my shoes on, and plodded through the snow to the front gate: there was Andrew — almost out of earshot — cycling up the road in the direction of Osh! I shouted my lungs out, and after a moment of suspense, he slowly turned, and came back in my direction.
"I had this crazy idea o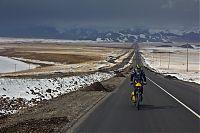 f going to Osh for a couple of days," he told me, smiling brightly. "I didn't expect you to be here for a few days, at least." It was Thursday: if Chulnara hadn't caught him by chance, I would have been waiting, penniless (for my hard currency was nearly exhausted), till the Chinese border opened again the following week. Also, with more high mountain passes coming up on the Karakorum Highway, time was of the essence.
It was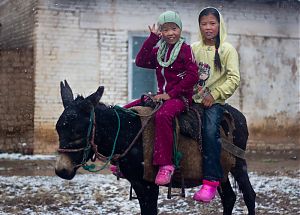 delightful to see him and hear about his experiences on Tajikistan's Pamir highway. He'd made good time, and only needed a night's rest, he told me, before he was ready to leave for China the next day.
Because western China and its government machinery is officially on Beijiing time, which is four hours ahead of Kyrgyz time, we had to arrive at the border post by 4:00pm (8:00pm Beijing time). We made a late start, and soon found that we were fighting the dread of all cyclists, a strong headwind.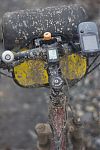 Based on our average of 15km/h, there was little hope of arriving in time to cross the border. The Irkeshtam pass provided an experience, albeit with less mud and no switchbacks, similar to my ordeal in the Tien Shan's Taldyk Pass.
Finally we crested the last rise of the pass, and coasted down through the mud of a road-in-progress and past the Chinese road crews in their forest-green trench coats to the first checkpoint, where I shivered uncontrollably, waiting, with the beginnings of mild hypothermia.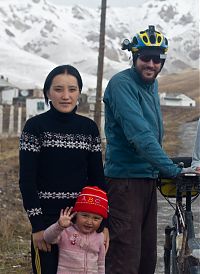 We reached the border post and entered China with only 10 minutes to spare, cold, filthy, and totally exhausted. China was going to be great.
Comments:
Post a comment:
Commenting is closed for this article.