Subscribe to our blog: RSS | Atom

The Eternal City and Beyond

The world is a book, and those who do not travel read only a page.
-Saint Augustine
It was no sweet scoop of gelato having a broken rim in Rome. My high-end Mavic hoop had developed a crack down the center (between the bead hooks) around the circumference and after sending a few emails I did not receive any consolation from the French company, not even a word in regard to warranty replacement. Consequently I was loath to set out on another rim from that manufacturer and opted instead to hop from bike shop to bike shop on a wild goose chase for a better replacement. "You go to ask at this shop…maybe they will have it."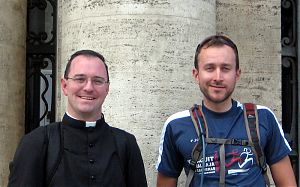 After a brief campout in Albano for Holy Week ceremonies, in which time Randall's laptop was nabbed with ninja-like stealth by one of the large population of public miscreants that inhabit the Roma Termini train station, we found an affable Roman couple to stay with not a stones through from the city center. Marcello and Margherita (not to mention her endearingly sweet old mother) were shining examples of lovely Italian hospitality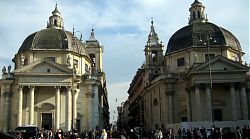 which is unparalleled in its accommodating character. It proved too easy to lose count of the days!
Between the two of us Randall and I managed to tag team almost all of the highlights of the city that is Rome: The Forum, Pantheon, Colosseum, St. Peter's, the Vatican Museum, a Papal Address, the Vatican Museum and a host of Baroque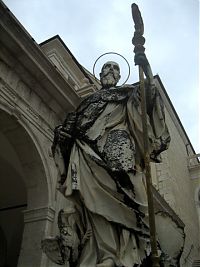 cathedrals. An especially vivid memory that I will always hold dear is that of a bike ride with Marcello down the ancient Via Appia Antica, flanked by 2000-year-old ruins and catacombs, and the aqueduct park at sunset. One day I was visiting the Basilica of Santa Maria Maggiore and who should I bump into but our beloved former pastor, Father Mark Stafke! He is now the principal of a boys' academy in Idaho and was heading up a trip to Rome with some of his high school students. We shared many a story and laugh with our dear friend when we met again, this time by appointment.
…a campout in the parking lot of the ancient Benedictine mountain-top headquarters of Monte Cassino…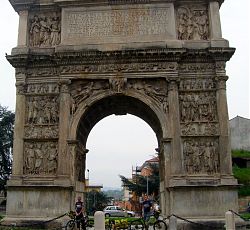 After 14 days in this dreamscape it was time to wrench ourselves back to the reality of leg-powered travel. I had finally rebuilt my wheel and we had both whittled away at the omnipresent to do list that ever-lengthens, to some extent. Benevento was the next destination with a campout in the parking lot of the ancient Benedictine mountain-top headquarters of Monte Cassino included as a magnificent bonus en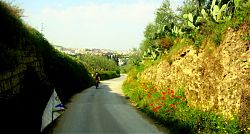 route. In spite of his busy schedule Massimo Mazzone and his kind parents made us comfortable and, in the uniquely Italian fashion, quite plump, in sleepy Benevento. A tempestuous, gnawing head cold had been at its worst the day before, and the following ride over the top of the Apennines was not a thing I anticipated with gusto.
At about 10km from Benevento I thought I saw a restaurant with a lively crowd eating under the large awning and I needed to take care of some forgotten routing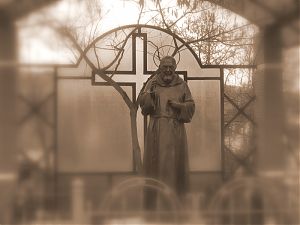 business with the GPS. We made a quick turn of the road. At the gate one of the men came down to meet us and I asked if the restaurant was open. "It's not a restaurant," he laughed heartily, "but do you want to eat with us?" I looked at Randall and he shrugged a "why not?" As we did our best to communicate in Italian we learned that the four middle aged men were brothers and were having a typical Sunday family feast with their wives and children, and all welcomed us cordially with boisterous laughter and jokes. The "restaurant" was actually a clothing outlet owned by one of the brothers.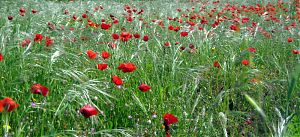 By the time we were finished gorging ourselves (and Italians will have it no other way but that their guests are not finished until their eyes are glazed over and bellies firm to the touch) the rain had increased to a deluge. Like clockwork, as soon as we had plopped down to the pasta, barbequed pork, wine and dolci (dessert) the water began to drop in sheets, as if our chance meeting with this warmhearted family was meant to be! It showed no sign of letting up. After a while, the owner of the store invited us to sleep among the racks of garments on one of the upper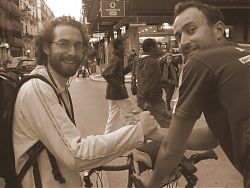 warehouse floors…and this ideal opportunity took very little consideration on my part!
Two more days saw the Brothers to the sunny port town of Bari, which lies near the heel of the boot, our departure point for Greece. For three days and two nights we slept in the office of a rickshaw/bicycle courier business and there met Caroline and Sven. These two adventurers were on the last leg of their round-the-world bike expedition and headed for Spain, then to their home in Germany. Aside from the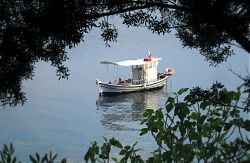 host of anecdotes that we shared we gleaned a wealth of valuable information about Turkey, Syria and Jordan, all places that the two had recently traversed and enjoyed thoroughly.
A luxurious overnight ferry deposited us in yet another country, in the town of Patras, a place sheltered by Odysseus' famous isle, Ithaca.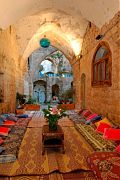 I dribble this ink to the page from the picturesque Fauzi Azar Inn in bright Nazareth as the breeze gently stirs the mimosas, pigeons hover between rooftops and Israeli Arabs stroll complacently through the placid walkways of the Old City.
Comments:
As always, we are impressed by your endurance in the whole journey, and your talents in recalling your adventures in words and photos. By the time you guys make it back home, you'll have a wonderful e-journal worth publishing. (Can you reserve us an autographed copy? :)) How about posting on your website some of recipes of those wonderful dishes you happen to try? I'm sure us mothers would like to try some here.

— DJ and JDT in KS · Jun 10, 05:14 AM · #
Post a comment:
Commenting is closed for this article.