Subscribe to our blog: RSS | Atom

The Inseparables Apart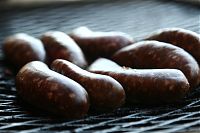 After a pleasant week-long stay with Tony Brian in Bakersfield, we intended to resume our Eastward tour, albeit a little unwillingly. Just as we were preparing to leave, however, we were happily abducted by our dear friends the Moviuses of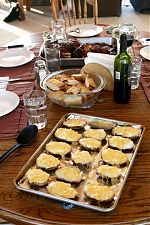 Walker Basin. Our dear, kind friends took us to their home in the hills where we were received with gracious hospitality, even as their own, and fed to the gills with a glorious meal of BBQ chicken and tri-tip. An exceptionally tasty potato dish, toasty bread, wine, and salad accompanied the meal, satisfying our animal selves completely. Brownie-Bottom-Pudding-Pie was a delicious coup de grace .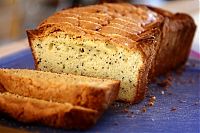 We had agreed that night, as we often do, to get an early start the next morning. But as it often does (our predictability in this matter is thoroughly comic) morning came and went while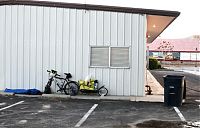 we stayed behind (the yummy poppyseed bread and coffee were partially at fault).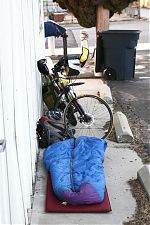 And so it wasn't until evening that I found myself at the Tehachapi turn-off waiting for Andrew. It grew cold and the stars came out; still no brother, so I sailed through the exit into town. Another hour crept by. I tried to call his phone several times with no response, so availed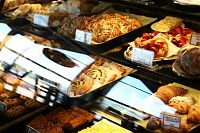 myself of the most satisfactory alternative: I located the nearest ice cream parlor, had a soft-serve cone, and went to bed on the sidewalk behind a nearby church. I would wake close to Kohnen's Country Bakery, which comes highly recommended by our friend Tony. Andrew and I had spoken of stopping there, so if we were to meet anywhere,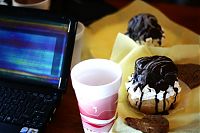 this would undoubtedly be the place.
Sure enough, next morning, four cups of coffee, three flat tires, one bagel and a loaf of bread later, Andrew pulled into the parking lot. To his credit he had had two flat tires the night before – the disparity in our strength is not so remarkable.
We met a number of people over the course of the morning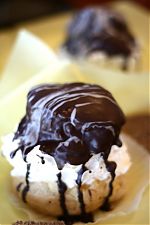 who were curious about our trip. One kind gentleman bought us a brace of ponderous cream puffs. Another, a kindly old war veteran, bought us a box of pastries, and we handed out a number of cards to enthusiastic locals.
After fattening up at the bakery for several hours we hit the road. A buffeting Westerly had sprung up, and pushed us at a 23mph average down Highway 58 into the desert. We made 85 miles in under 4 hours, arriving in Barstow just before dark. Holiday Inn Express – Barstow/Historic Route 66 gave us a complimentary room for the night. We were elated, to say the least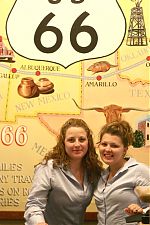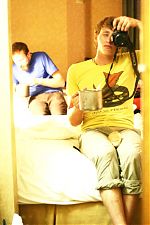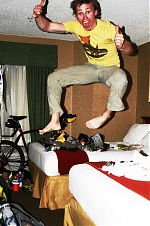 Appendium
Concerning the Determination and Servile Affection of Our Friends the Dogs
We had been instructed to pen the dogs before we left the Movius' home. After doing so, we had only gotten an half mile when our canine friends came charging around the corner, tongues trailing like pennants, to greet us. "How on earth?!" exclaimed my brother, who had penned them himself; Eager pups!" I unhooked my trailer in order to compass the distance to the house and pen more quickly. Whistling to the dogs, shouting encouragement and challenges, I raced up to the house, and on to the pen. With little effort I discovered their way of escape—a board had fallen from before a hole in the bottom of the fence. It was soon replaced, and I bid adieu to the whining dogs.
I hadn't gotten far before I heard skittering feet on the road behind me. I looked around to see the two wind-blown pups racing toward me, tongues lolling, Captain first with Cookie in tow, their familiar red pennants trailing behind. I was amused at their determination to join us. Back again to the pen, where the wily dogs had knocked the board over and squirmed under the fence. I found a larger board and wedged it in with the first, leaning a heavy piece of knotted tree trunk against both. I turned for a last look at my erstwhile home, and—again!–spied Captain again wriggling between the second board and the fence. Through a very narrow gap he issued, reminding me of some boneless cephalopod. Racing down the track they came again. I got off my bike to greet them, and found reward in a warm, wet kiss and a paw-hug. We went back again, for the last time, I was sure. "A jolly game!" they said with their eyes and panting tongues. And indeed, they were having a jolly time of it. Each time I put them in their pen again, they eagerly awaited my departure; and invariably, despite my renewed confidence in the impossibility of their escape as I added obstacle upon obstacle, I looked back to see their little bodies tearing over the brown grass behind me. How determined they were! Finally I secured the whole barrier with a firmly-wedged, weighty concrete block. My last glimpse was of Captain struggling with the boards covering the hole. It took at about an hour, all said and done, to finally pen my friends the dogs, and even so, I'm certain they found their way out. Andrew, with his usual wryness, questioned me on my success in the construction of their new pen, as there was apparently no other explanation that immediately presented itself for my long absence.

Post a comment:
Commenting is closed for this article.