Subscribe to our blog: RSS | Atom

The Land of Dunes: Dunhuang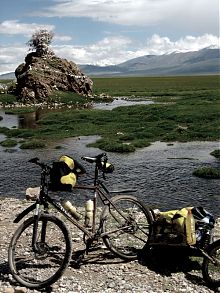 This post is being composed in the humble home of a Tibetan family on the high plateau during a stormy, cold, wet day.
I again took the road less traveled on my way east from Urumqi, to the north of the Tian Shan rather than the hot highway to the south, which passes through Turpan, an oasis town in the second lowest basin on Earth. Having visited the Dead Sea on this trip, the first lowest point, I felt no need, especially during the hottest period of the year, when the mercury can hit 50C (that's 122 degrees F!) in Turpan, to visit. Hence, I passed through the vast aricultural areas of the desert which are fed by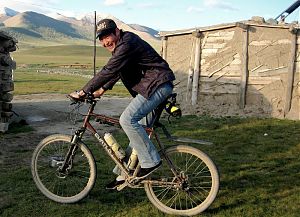 rivers from the eastern reaches of the Tian Shan mountains to the south until I came to more real, empty desert. It was not so hot at 2000 meters. I often stayed with Kazakh and Mongol nomads, who, though I was keen to camp in the ideal night air, insisted each time that I stay inside with them, not able to comprehend that my tent and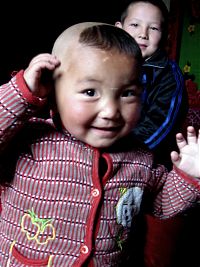 sleeping bag were more than adequately warm and comfortable. For fear of being mistaken as ungrateful, I conceded each time, but honestly would have slept better outside.
Also, the Chinese that I have met continue to amaze me with their friendliness and hospitality. It has been a very rare occasion that I have paid for a meal in a restaurant. One night I was going to camp at a Mongol-yurt restaurant and was approached by one of the diners, who asked all of the usual questions, and after that he invited me to eat with his friends at a big round table. It was a weekend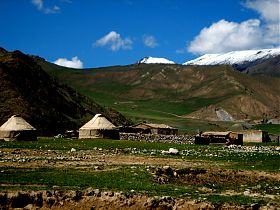 feast in which they had ordered each a stewed and roast leg of mutton along with several delicious Chinese vegetable dishes. Before long the brandy and báijiǔ (Chinese white liquor) was uncorked and we toasted again and again to I don't know what, but the night was fun, loud and full of laughter and jesting. This happened again in Baleicun a couple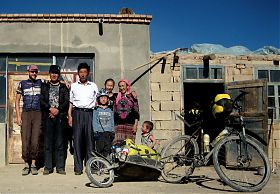 of days later with a group of school teachers on their weekend holiday. Every time I stop in a town or village I can count on a curious person or group to invite me to eat with them and flat-out refuse monetary compensation! If I stop to beg water from road workers, who are invariably friendly fellows, it is a certainty that I will be invited for a tasty meal with them. It's happened on many occasions.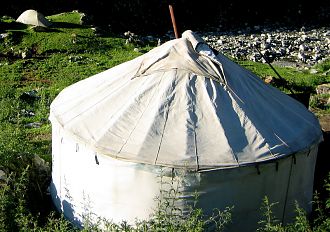 When I finally returned from several days in the higher country to the low desert it was hotter than ever. I only stayed in Hami (famous throughout the country for it's mellons) for one night and then hightailed it into no man's land, and the day was brutally hot—perhaps 47C. I spent the afternoon in the shade of some road workers' dwellings, who, of course insisted on feeding me before I left in the evening and sent me away with a plastic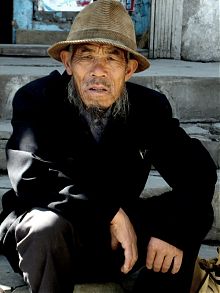 bag of freshly fried eggs. On my way up to a cooler altitude I ran into a pair of touring cyclists. One, a Brit named Sarah, has been riding for three months and put in 10,000 kilometers since she left London, and she intends to do the entire trip around the world by human power. She will padle the isles of Japan and row across the Pacific and Atlantic oceans solo. She is one tough cookie, to be sure. Her riding partner is a Chinese from Urumqi who, with only one days' notice and no equipment or touring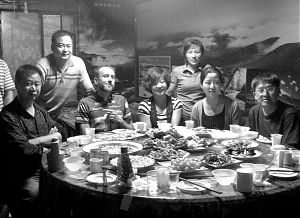 experience, decided to accompany her to Beijing. Gao's brother told him that if he could buy all of the necessary equipment that day, he would pay for it. So he did.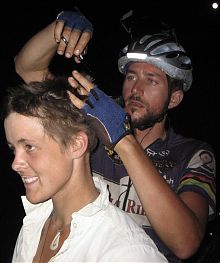 After more hot days on roads under construction and full of dust and trucks (this is the main highway in Xinjiang), I made the turn to the south into the Gansu Province and into some very hot, low desert for the important Silk Route crossroads' city of Dunhang. The dry wind felt like a furnace, but it was behind me as I approached the trees of the oasis on the horizon. I could just make out through the dusty air beyond the outline of the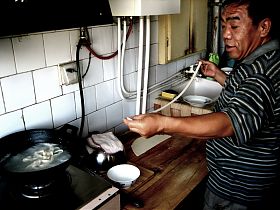 Qinghai Plateau. Dunhuang is polished agro-touristic town with a long history. I did not expect it to be even half as aesthetically pleasing as it turned out to be. Where the green fams end, barren, beautiful sand dunes rise majestically from the earth, and the city center is full of classical architecture and clean steets. In town I spent a couple of nights at a new youth hostel, a very smart place full of guests from the wealthy cities of eastern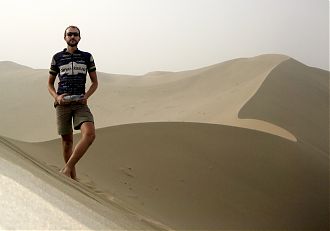 China playing with their iPads. I had contacted a Chinese Couchsurfing.org host there named Kyle, an English major in the university, and every day I visited his family's apartment for a delicious, home-cooked meal. He was able to host me for my third night in this lovely city. We went to climb the sand dunes that morning before the mid-day heat descended upon area. It would have been easy to pass a week or more in Dunhuang, but my legs were ready to climb to a higher, cooler place: Qinghai, the northern extension of the Tibetan Plateau!
Comments:
Post a comment:
Commenting is closed for this article.