Subscribe to our blog: RSS | Atom

The New China

For the length of a day I passed through one of the grimmest places I've ever experienced…
As I relaxed in Xingping I obsessed about my route to Shanghai. My wish was to find route that would follow sparsely-trafficked yet well-paved roads; pass through as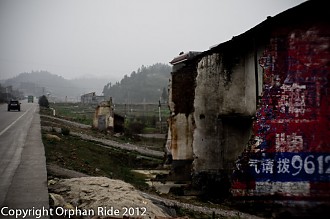 many interesting, beautiful or historically important places as possible while keeping the total distance within 1,700 kilometers. In the end I determined to center the path around the famous area of Huangshan, where here exists a mountain that has inspired a many painters throughout Chinese history and also the lush, otherworldly landscape featured in the film Avatar (note, however, this is not a film worth seeing in my opinion).
The natural element that struck my senses with the most force during the daytime was the spring color. First, in the Guangxi province, the orange orchards were teaming with fruit in such a way that the branches drooped at their heavy load like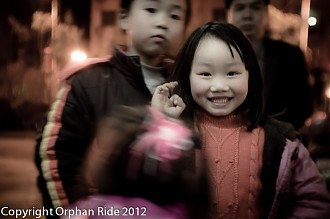 overburdened, round Christmas trees. Later, as I moved further to the northeast and out of the citrus country, I began to pass through endless fields of intensely yellow rapeseed flowers. These are the seeds that produce what we know in America as canola oil, and I could not help but wonder whether these very fields supply our cooking oil needs. For the length of a day I passed through one of the grimmest places I've ever experienced: coal mining towns, one after another. Ironically, this is also one of only two days in this part of China where I saw others touring by bicycle.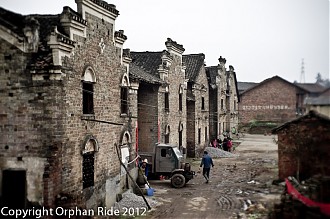 The other aspect that affected my senses strongly in the beginning was the cold night air. I had overestimated the ability of my new summer sleeping bag to keep out the cold and underestimated how cold the nights would be, and after three nights I decided to give the tent a rest and didn't pitch it again until Japan, where economy has made camping a necessity. One town I stayed in had a new section in the south side with pristine, modern parks; large, artistically designed buildings; a brand-new roman-esque library with no books and wide boulevards and not a soul to be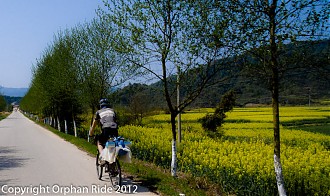 seen…anywhere. It was creepy, like a post-apocalyptic ghost town. I've noticed places like this in other Chinese cities—places that are a bizarre product of the artificial economy wielded by a Communist government. Imagine a shining, empty looking, seven-story police station in a town of mud huts that probably has the same volume as the summation of the volume of all of the domestic habitations in the village. These things and more can be witnessed in the New China.
I wondered if he actually intended to accompany me for the next 900km…
The day after staying in this city (the part where people lived) I was passing through another monotonously homogenous, dirty town, beginning to think of lunch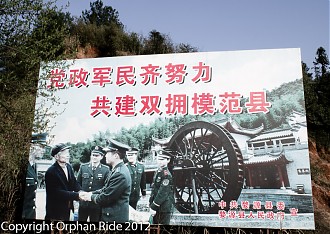 when a young man smiled and beckoned from a little stall type restaurant nearby. As it turned out he and the friend that was about to dine with him were cyclists. I was invited for lunch and we feasted on pork with chillies, scrambled egg with green garlic shoots, tofu stewed with clotted cakes of blood and steamed rice. In spite of my hopes to cover 120km per day, I accepted his enthusiastic invitation to have coffee at his place. Fresh oranges; plump, green Xinjiang raisins and chocolate—a precious substance in the Middle Kingdom—were served alongside as we socialized with a local bike shop owner and his family. More cyclists gathered with us at the local bike shop for a photo shoot and I was referred to another bike club in the town that I had planned to sleep in that night.
I pedaled into this small city well after dark, fatigued and wondering how this was going to pan out and not looking forward to another hotel search. Then, out of the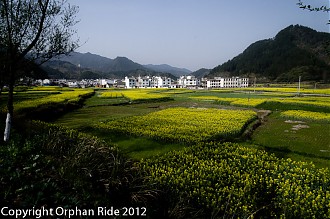 cdarkness I heard a shout and saw several small lights scurrying to intercept me. The bike club had been awaiting my arrival and all welcomed me with excitement and smiles as we approached the glow of the town of Le Ping. Had I eaten? "Not yet." I was stuffed with some tasty dishes then whisked off to the bike shop where a crowd had gathered inside to welcome the weary expedition cyclist. Noise and ommotion surrounded me as I posed with each person, one by one, for photos (at least five people where shooting photos at any given time). Then I was interviewed by a journalist with the aid of an interpreter as the shop employees carefully cleaned my bike and put on a new handlebar bag that was given me at no charge. The owner put me up in a business hotel that night and treated me to a delicious breakfast, which we followed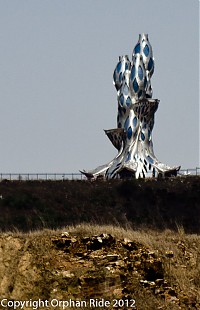 up by another photo session with some club members around town, and they accompanied me for the first twenty kilometers of the day's ride. One of the riders, a man in his fifties, said he was also going to Shanghai and I thought he was kidding, but then I noticed he had some luggage. He told me that his wife and son were there and I began to realize that he was in earnest. His pace, however, was about seventy percent the speed of mine and I wondered if he actually intended to accompany me for the next 900km and how my patience would hold out if he did. As I stood waiting for him to catch up I saw him waving out of a bus as it zoomed past and indicating that he would meet me up ahead. This was the first of many short bus rides for him.
My recovery was incomplete but I pressed on.
Chen Chang Fa did not speak a word of English but we got along well enough in Chinese, without too many serious misunderstandings, and he would scarcely allow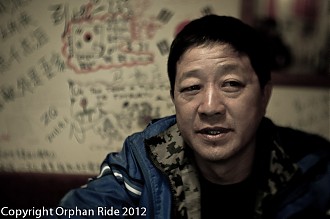 me to pay for a beer let alone a meal or hotel room. His outspoken temperament and candor drew many new friends (or fans) along the way, complimentary dinners and hotel rooms and attention that I would not have otherwise made, but my sleep suffered from late nights and early rising. Finally, we set our tires in Huang Shan and I bought bus tickets for the next day to see the mountain. I awoke with a bloated feeling in my intestines and knew that dinner of the previous evening was not sitting well. We spent two more days there as I recovered from gastroenteritis and in the end did not see the mountain that I had planned my route around for lack of time.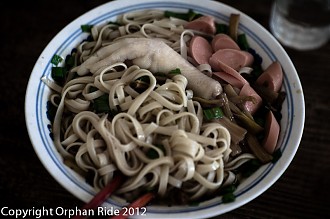 My recovery was incomplete but I pressed on. In Suzhou it was crowded during the holiday weekend and not a single hotel had space, but thanks to the efforts of my travel companion we were invited to stay with a young and generous family who worked at a youth hostel. A cool wind out of the northwest carried me into the remarkably cosmopolitan metropolis of Shanghai the following day. The city's chic, European ambiance, especially around the center, was a refreshing and striking change from the mundanely homogenous, awkwardly futuristic, gaudy cities that typify the New China. Though I had not planned it nor even remembered at the time, this date marked the three year anniversary of of the departure of the Orphan Ride and Shanghai is effectively the endpoint of the continuous round-the-world part of the trip. What a delightful coincidence!
After an loud argument with the personnel in the Maglev station the following morning about whether I could take my bike aboard…
I had a good host in Shanghai, Harry, a well-traveled bicycle tourist originally from Taiwan. We did some site seeing around the Bund and made a trip to the Minor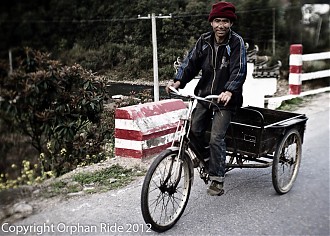 Basilica of Our Lady of Sheshan on the outskirts of Shanghai, a place that is often closed by government personnel. It was our good fortune that it was open that day but there were crowds of visitors. In the evening I had a charming supper of duck, seaweed, tomatoes and steamed rice with Chen and his family before saying goodbye. After an loud argument with the personnel in the Maglev station the following morning about whether I could take my bike aboard they finally conceded—and it was a good thing, for I would not have otherwise arrived on time for my flight to Seoul, South Korea.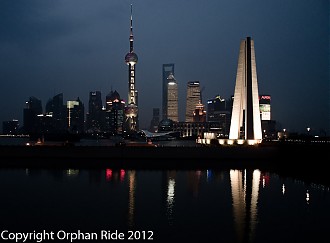 As the train levitated by way of magnets over the track it sped me high above the urban landscape at 300km (200 miles) per hour to the airport. That's literally about twelve times my cruising speed on the bike! I wrapped my bicycle frame in cardboard, deflated the tires, and climbed aboard the aircraft, thankful to Providence for smoothing the way on this last leg of the trip in China while happily anticipating a change in environment that would coincide with the end of Lent, and with hopes of a fine Easter weekend in Seoul.
The next update will cover my brief time in South Korea and first impressions and adventures in Japan. Stay tuned!
Comments:
Post a comment:
Commenting is closed for this article.