Subscribe to our blog: RSS | Atom

The Short Chronicle of Peregrine Peck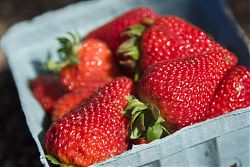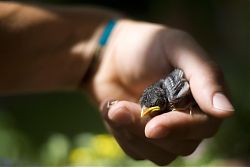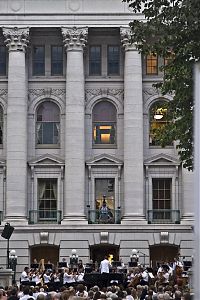 On my way to Madison Wisconsin, I stopped at a market to buy some plump red strawberries and enjoy a short sojourn from the stifling heat. There a little bird—a fledgling, an orphan!—lay helpless on the hot pavement
outside. I ignored it, and left. But guilt soon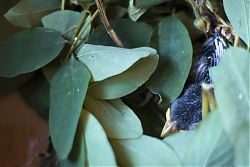 overtook me, and after riding a mile or so down the road, I turned about and pedaled back, emptied out my handlebar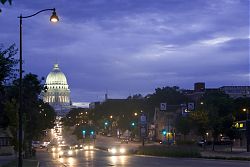 bag, fetched some paper towels from the vendor to serve as bedding for my little mate, and scooped him up, depositing him inside. He was silent, and perhaps too far gone, I thought, to survive. But after several hours he began to cheep like a rusty wheel, so I went out into the garden (I was at our host's house by this time)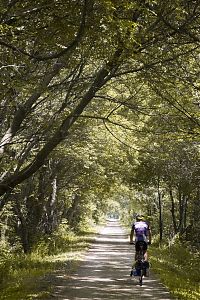 and dug up some worms to feed it. He was unresponsive to my efforts at first, but I discovered by experiment that by tapping his beak with a pen I could entice him to open it. After several attempts to dangle a worm into his mouth, I got it right, and the worm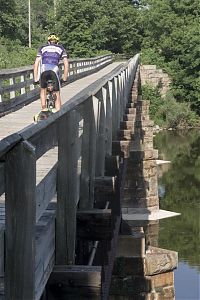 disappeared rapidly in a series of short, reflexive jerks on part of Peregrine, choking it down. Soon he recognized the "mama" signals without help of a pen, opening his gobbler expectantly whenever I approached.
I had high hopes. There were still two weeks until we left for Paris, and I was certain he would mature enough to fly in that time—if he lived, of course.
Meanwhile, my handlebar bag was gradually, but thoroughly constellated with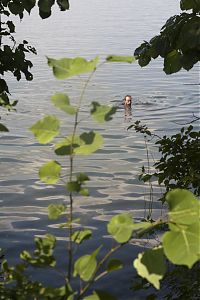 excrement.
I collected a small supply of worms for the onward journey and we set off again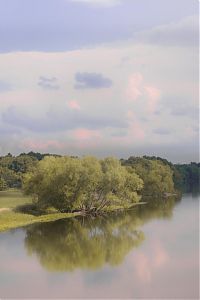 after several lovely days with Fran and family (exemplary hosts!) in Madison, seeing the city, and enjoying local food and music. Soon we were bouncing along the Glacial Drumlin Trail for Milwaukee. The pictures tell more about it than I would care to in words. It became the New Berlin Trail eventually, taking us the entire way into downtown Milwaukee and the shores of Lake Michigan.
When we arrived, I found, alas! that little Peregrine had expired. His little body was firm to the touch. So I left him on the shore, and we moved on.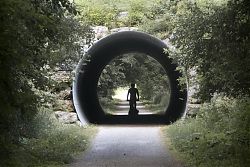 Comments:
Post a comment:
Commenting is closed for this article.