Subscribe to our blog: RSS | Atom

Through Laos and China: Biking, Busing and Railing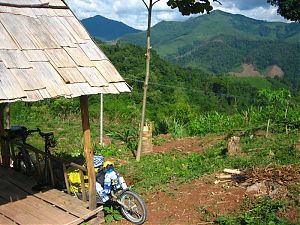 This post is being typed up in my tent as the rain sprinkles on it in the late morning. I am camped behind a yurt in which a family of Mongols is residing with their yaks, horses and sheep in the Tian Shan mountains of Xinjiang, China.
My first night in Laos was spent in a decrepit hotel room just across the Mekong River from Thailand, which I had crossed in a long-tail boat. I began my ride the next day into the mountainous, tropical country that buffers China's southern province of Yunan with Thailand. Laos, among my cycling friends, has a great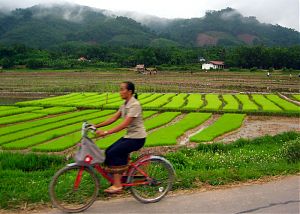 reputation, and therefore rather than cross the 230 kilometers of country by bus to get back to Xinjiang as soon as possible, I opted to pass through on my bike. It is said that the experience of visiting Laos is probably similar that of visiting Thailand as it was 50 years ago. The Lao people, mostly hill-tribe indigenous groups in this northern region of the country, were every gram as friendly and affable as they were said to be. As I rode past the villages of rustic grass-roofed houses on stilts children waved ecstatically and yelled "sabai dee!!" ("hello" in Lao) as if spotting a foreigner on his bike was the highlight of their day. The people of Laos were never overbearing in their enthusiasm or impolite, however.
We spent nearly two chilly hours under the awning of the building awaiting a lull!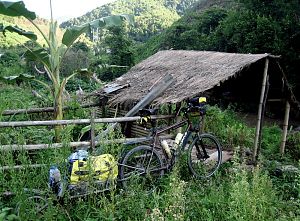 Laos is expensive compared to Thailand, since the country does not have the resources or infrastructure as those in its neighbor to the south, so much is imported, including Thai television. The languages being very closely related, I was able to get on with my very basic but practical Thai.
The Chinese have built a fine road through this corner of the country and have plans to build a high-speed railroad from Kunming to Thailand, which will continue all the way to Singapore. This is an ambitious project considering the densely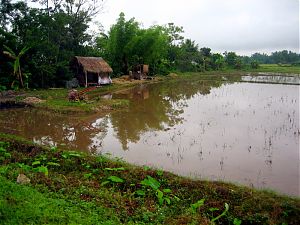 mountainous terrain. One could speculate that the train will spend much more of it's time in tunnels than in the open air. Perhaps they should simply build a 1000 kilometer-direct subway!
I spent my first night in the lush hills next to a stream under a grass canopy and shared some Lao rice whiskey with a crew of road workers across the way, and slept very poorly, even after a long, hot 120km day. It was overcast the next day, but I had not even enough mental energy to do my daily Chinese audio lesson. So,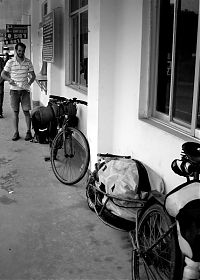 I made the decision to call it a short day and rode 70km to the serene town of Luang Namtha, and I camped on the grounds of an elegant tourist guesthouse for 10,000 kip (equal to $1.25) per night. It was such a pleasant spot that I stayed two nights and left with another bicycle tourist named Alex, a Frenchman, of course (most bicycling tourists appear to me to originate from this fine land), for the Chinese frontier. As we approached the Lao immigration office it began to pour. We spent nearly two chilly hours under the awning of the building awaiting a lull!
The Chinese immigration procedure was surprisingly streamlined and before we knew it we were on our way through the green, terraced hills of Yunnan toward the first real town, Meng La. It rained lightly on us the whole way and by the time we arrived we were felt like drowned rats. The town was full of modern architecture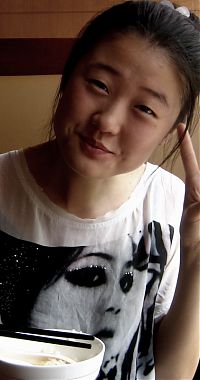 and broad lanes. What a contrast from rural Laos! "This looks like Disneyland!" said Alex. Getting money was not an easy task: the only working ATMs did not accept foreign cards, and the only bank that would exchange currency was packed and wanted a heavy commission to change at a poor rate. I pooled my cash with some other westerners who were in the same predicament and then Alex and I bought sleeper bus tickets to Kunming for the same evening. It was all hassle-free and we arrived in Kunming a little rested the next morning. I bought my onward train tickets to Chengdu, Urumqi and Kashgar and spent the day seeing Kunming and tasting some lovely wonton soup that was nearly as good as a the hand-pulled noodles Alex and I had sampled in Meng La the night before.
My overnight trip to Chengdu, the capital of the famous Sichuan province, was a fine one, thanks to the chance meeting with an energetic, young Chinese man who
was eager to practice his English, which needed a lot of practice, and a cute, charming Chinese girl, who aided me in my own study of Mandarin. She bought me a delicious lunch of fiery Sichuan noodles and showed me to a youth hostel, where I would spend my first night. I passed my time sending last-minute Couchsurfing requests and my first reply was from an American English teacher with bicycle touring aspirations. Dhane was also accommodating a European cycle-touring couple staying at his spacious apartment and we all celebrated new-found friendship with supper of tuna casserole, cheddar-infused biscuits and Chinese beer.
…who belched often and conversed in deafening tones without the least shame.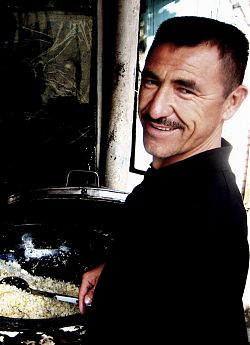 It took 48 hours on another train to get to Urumqi, the capital of the vast Xinjiang province in western China, and this journey was much less pleasurable than the last. My berth was occupied by three loud, old Chinese ladies who belched often and conversed in deafening tones without the least shame. When the most audacious one tried to converse with me I couldn't understand a word that she said due to her strong provincial accent. So I kept to myself. In Urumqi I had a very brief stay with some American university students, a thoughtful and generous from Seattle, Jenn and Darren. All to soon (the very next morning) I was to be off again on a 24 hour train to the remote city of Kashgar.
Post a comment:
Commenting is closed for this article.