Subscribe to our blog: RSS | Atom

Tibet: Hitting Bottom, Reaching for Blue

I was now a great distance from medical attention and my only option was to…
I compose this update (not yet quite up to date) in Chengdu, Sichuan, China. There will be, perhaps, five or six more blog posts and then I will take a break. My personal savings are now in the red zone. Therefore, once I have passed through China I must seek an English teaching job in China or South Korea. Upon commencement of my employment I will likely cease posting to the blog since, well, the material will not be very interesting!
That said, on with the story:

The intestinal disorder, of which malady I have related in the previous post, returned with a vengeance on the third day. I had traveled about 25km off of the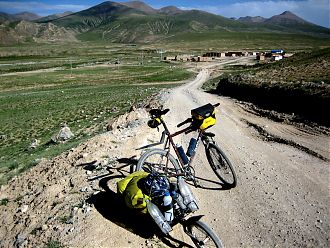 highway and onto a dirt road that would point me directly toward the Sichuan province and the high grasslands of the Tibetan people. This was a discouraging and unsettling turn of events. I was now a great distance from medical attention and my only option was to tap into my emergency supply of Syrian antibiotics and Russian diarrhea pills, a last resort and desperate measure in the hopes that I would recover my health and strength to survive the two days' ride to the next town.
The climate was still high desert and the road conditions were far from favorable. The diarrhea had abated, thanks to the drugs, but my intestines tied themselves into knots as I bounced up the dusty road. A crystal-clear stream flowed in the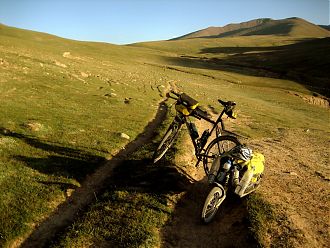 opposite direction on the right, so hydration would not be a problem since I had chlorine tablets with which to purify it. At mid-morning I washed myself and some of my clothing in this ice-cold snow melt and carried on, up and up, finally passing nomadic Tibetan tents with their colorful prayer flags luffing in the warm breeze. Several people had asked "Where are you going? Do you know?" which disconcerted me, since I was not one hundred percent sure of my route. A Chinese driver stopped to ask where I was going and I told him 'Sichuan', to which he answered "you can't," as in, "you can't get there from here."
This attempt entailed a minor leap of faith.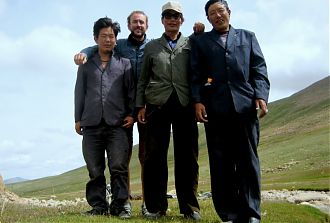 A friend of a friend had told me that some friends of his had driven this road and that it connected all the way through the mountains into the grasslands, over 180 kilometers of unpaved road, but on the maps that I had seen (including Goggle maps) this way terminated long before it reached the town that I was trying to get to. This attempt entailed a minor leap of faith. Toward late afternoon I had climbed to an altitude of over 4,000 meters (13,000 feet) above sea level and arrived at the first real Tibetan village, complete with a small temple and a few crimson-clad monks. A young Han policeman in a van caught up with me and I knew it was all over—I would be sent back. He took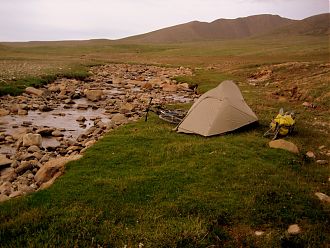 down all of my passport information and tried to make a call on his mobile phone. There was no reception here. I was saved! I asked him and his Chinese friends if the road continued from here, as it split into two jeep tracks, neither more than a pair of ruts in the grass. "Yes, take the that path to Huaxia," pointing to the right. "Where will you sleep tonight?"
"Hmm, is there a hotel in this village? How far is Huaxia?" I asked with an innocent expression, suspecting that if I at least I appeared to have the intention of staying in a commercial establishment (and hence be registered with the police, as required by Chinese law) our relations would be more easygoing.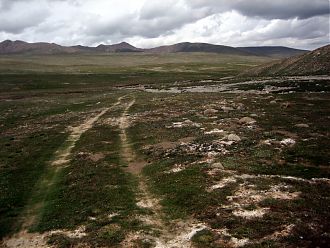 "No, no hotel. Huaxia is seventy kilometers away."
"Downhill? If it's downhill I can make it before dark." I really had no intention of trying to go that far the same day.
"No, it's up and up and up…"
"Well, no problem, I have a tent," I evinced.
"Okay, see you," he said, as he returned my passport, to my relief.
My appetite had not returned but otherwise I was feeling better, so I continued on, up the jeep tracks. I was out of the desert now and the hills were covered in green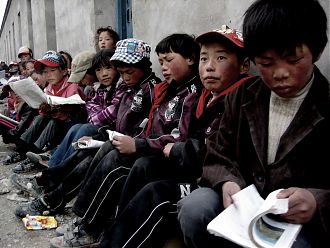 grass that was mowed close by yaks that graze in the high places. It was an hour before dark I set up camp in the cold grass next to a bubbling stream with two lumbering yaks on the other side to keep me company. This would be the first time I had camped as high as 4,300 meters. The night was bitterly cold, but I slept deeply, bundled in my Big Agnes goose-down sleeping bag and wearing most of my clothing.
…they were infinitely surprised to see a foreigner, let alone a foreign cyclist, in this remote area.
My greatest fear was that I would awake with more unwelcome intestinal activity, but when I awoke to a crisp, brilliant blue sky my health was still intact. As I was having a bite to eat I saw the first humans since my meeting with the police the previous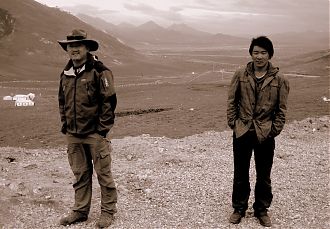 evening: a group of three Tibetan yak herdsmen. I asked to be sure that I was on the right track to Huaxia (the automobile tracks had become very faint in the grass) and they cheerfully reassured me that this was the way to town, though they were infinitely surprised to see a foreigner, let alone a foreign cyclist, in this remote area. In the course of the next forty kilometers I passed three cabins , one of which the owners invited me into for a rest, but I kept on and eventually arrived at a giant, blue, serene lake, surrounded by mountains, with nary a sign of life to be seen in the surrounding grasslands.
It began to rain cold, light rain, like that of the Pacific Northwest. Just as I was contemplating how fortunate I was to be the only foreign tourist for who-knows-how-many-hundreds-of-kilometers, an SUV with a Chinese driver pulled alongside and two older German ladies peered out of the back seat at me. We all exchanged pleasantries, and I went on, disillusioned and humbled.
My finger tips, on the other hand, remained numb for my entire two days' stay!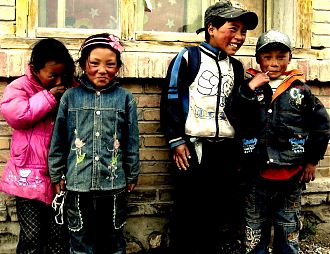 I was chattering-cold with numb extremities when I arrived in the crossroads-town of Huaxia, a tiny, muddy Tibetan town, hundreds of kilometers from anywhere. I doubt there was even a hotel. Thanks be to Providence, one Couchsurfing host lived here and I had contacted him in advance to inquire about staying with him. Tseringa (that is his name) is a Tibetan teacher at the local elementary school. A lovely location at the base of a rocky hill, this public school is where the children of the local nomads and few townsfolk spend most of their year.
Tseringa invited me in and cranked up the heat in his small, government-owned apartment and I spent more than an hour thawing. My finger tips, on the other hand, remained numb for my entire two days' stay! We watched movies, visited a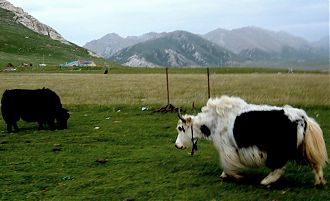 local Buddhist monastery and feasted on bland Tibetan noodles with yaks' meat during this short reprieve. This was my first day off in two weeks or so…since Dunhuang, anyway, and a welcome rest. The next thousand or more kilometers would pass through small, rural towns (no cities); green grasslands cobwebbed with prayer flags and speckled with yaks; and mountain passes over 4,700 meters on remote, unpaved roads in western Sichuan.
Comments:
What a trip! I suspect you will find plenty interesting material for your blog when teaching in China – keep on pedaling, love the blog.

— Sandra · Sep 2, 03:25 PM · #

Good stuff! Reminds me of Kyrgyzstan. I hope you enjoy, and do keep up the blog while teaching in Korea! — Randall (from a strange and distant homeland)

— Randall · Sep 4, 05:08 PM · #
Post a comment:
Commenting is closed for this article.