Subscribe to our blog: RSS | Atom

TOR Featured on King 5 News


The Orphan Ride was featured on King 5 News today. Randall and I interviewed with the King 5 crew as they shot video of us spinning on our bicycles. You might recognize the scenery – it's Chuckanut Drive.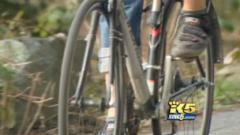 One minor correction – the custom CURTLO frames are not titanium, they are steel.
View the video: Click Here…
Or, for a larger screen: Click Here…
Post a comment:
Commenting is closed for this article.