Subscribe to our blog: RSS | Atom

Tour of the Alentejo and Andalucia

I am writing this post in Taza, Morocco on a cold and rainy day between the mountain ranges. Lisbon feels more distant than it is in the past.
We found a discreet camping place with a million-dollar view on top of a utilities building with grass on its flat roof.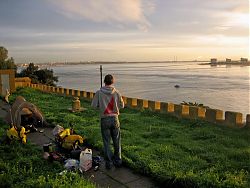 Martin had shared his favorite bicycle route through the south of Portugal for use on our GPS', and this lead us down the west coast of the country through the hills that were covered in cork plantations and olive groves, the sun beaming down all the day. A small section of the route brought us around a military base on a sand track. Anyone who has bicycled in the sand knows the amount of effort it takes to keep momentum! My wide tires carried me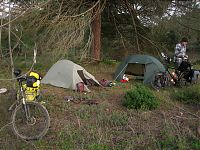 through almost all five kilometers of it, but Randall had to do some pushing due to his tires being too narrow to float atop the softer sections. Riding through the Parque Natural Da Arrábida was a major highlight. The road traversed the pine-covered hills , their granite faces glowing with a crimson hue from the evening light, ending abruptly in the sun-speckled ocean. We found a discreet camping place with a million-dollar view on top of a utilities building with grass on its flat roof.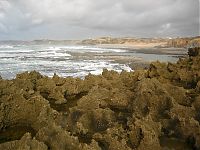 The next day was beautiful as well. I met a solo Dutch cycle-tourist and rode with him for the rest of the day, and we found a camping spot well off the busy road near Santiago do Cacém (Randall stayed with the Bombeiros). Randall and I had lunch the next day in Vila Nova de Milfontes, one of the most breathtaking coastal towns that I have ever seen, it's whitewashed, Moorish buildings lying at the mouth of the Mira River and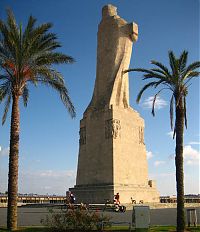 the beach a mix of white sand and areas of interesting volcanic rock formations. From this town our journey continued on through the rural hills of the Alentejo, through agricultural towns that had not not seen much change or development for centuries. Our last day in Portugal was extremely rainy and cold and we followed the river to the south that forms the boarder with Spain, and after exhausting our options trying to find a cost-free refuge for the night indoors we bit the bullet and stayed in a cheap pension.
it was impassable due to a bridge being washed out…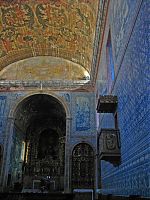 Blessed again with fine but cool weather we crossed into Spain on the passenger ferry over the river and made good time into Parque Natural Doñana, a UNESCO World Heritage site, a fantastic place of sand dunes blanketed with round-topped pines that reminded me of pictures I have seen of some parts of Kenya or Mozambique. This park is relatively flat and covers a very large coastal area southwest of Sevilla. On the way out of the park the next day we took a less-used agricultural road on the way up to Sevilla and about fifteen kilometers in discovered why the traffic was so very light: it was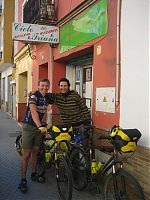 impassable due to a bridge being washed out by the recent heavy rainfall! We discussed turning back and taking the main road, but it seemed possible to wade through the flood with our gear over our heads, so we did, the brackish, muddy, turtle-infested water usually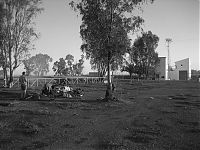 not reaching past our knees. It took over an hour to finish the whole operation! In Sevilla we stayed with the owner of a Ciclo Triana (bicycle shop), Eduardo, one of the most friendly and generous fellows you will ever meet. He helped us out with the tools that we needed for maintenance and a bunch of small parts as well. We had a nice evening out in this enchanting city to watch a flamenco show, and the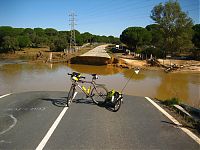 next night I went out for some delicious tapas with a Paul and [humiliated to have forgotten her name] from the UK living in Sevilla whom we met on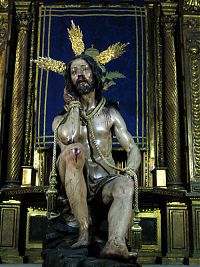 WarmShowers.org.
On our way out of town the sidewall of Randall's tire exploded but Edwardo was there to save the day with a replacement! So we road through the night into no man's land: a muddy, partially flooded flood plane along the Río Guadalquivir and found a place to repose in a garbage-strewn park on top of a picnic table, and Randall made a roaring bonfire with dead Eucalyptus branches which attracted the police from who-knows-where. They let us stay and keep our fire when they found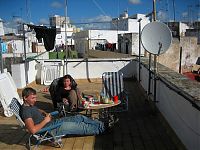 out we weren't making any trouble.
We stayed in the lovely town of Cadiz for a couple of pleasant days with Charlotte, a French student at the University, and her German and Italian flatmates, then continued south towards Gibraltar.
Comments:
Post a comment:
Commenting is closed for this article.