Subscribe to our blog: RSS | Atom

Via Italy


Update: Andrew has come through with a few photos I can post—enjoy!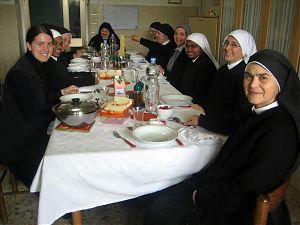 Alas! My photographs from our travels in Italy were lost with the theft of my laptop at Roma Termini. I have no illustrations whereby to entertain and and inform, save by clumsy arrangments of ill-chosen words that tumble too quickly from an untrained mind. However, I must do my duty and record our travels as best I can.
At present we're in Jerusalem, rather a long way from the hazy figure of our dear Blog, so loath to hurry and catch up, so clumsy and uncoordinated on the rough and rocky roads of the wide world, who, when he lifts his languid eyes—a strange and unfamiliar movement—from the ground fails to make good sense of all that's new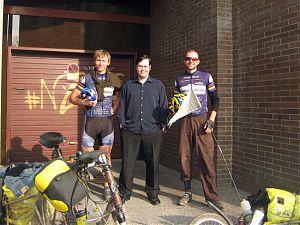 and marvellous: he is dim, damp, and unfired, even in the presence of so much incendiary greatness as Rome, Florence, or Lucca!—and yet must stumble on as well as he can.
Now he is on his way to meet us. He cycles along the Italian Riviera and marvels at the high cliffs that come down to meet the sea. He glides along to our first night in Italy, far above the bright blue Mediterranean in the 1000 year old dwelling of an equally old town: Pietra Ligure, truly 'neat old stuff' to the American in all of us.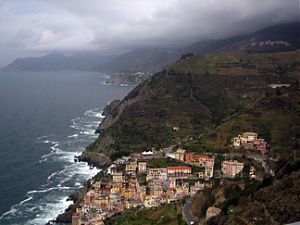 The Cinque Terre, one of those names in the consciousness of every Western mortal who's striven for the occasional glimpse over the fences of isolation and ignorance, was an exciting destination for us. It would be beautiful and surpassingly scenic, we were sure. It would also be overwhelmingly difficult riding, of course, but it seemed like a fair price to pay. The correlation between the idyllic and the difficult is often a direct one: for quick and easy, we take the highway. But today was an exception, as the beautiful and idyllic were enveloped in a chill and swirling fog today. Everything, all the natural beauty of the place, all we had hoped to see as reward for the exertion of cycling the Cinque Terre, invisible. Feeling was all that was left: impossibly steep hills, dripping moisture, and clinging vapors made me wish to catch the next flight home from La Spezia.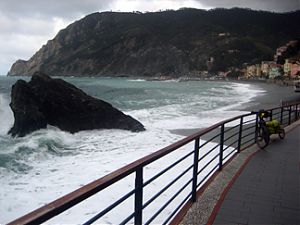 Soon things looked up, however. In Lucca we had the good fortune to hear of the Via Francigena, a pilgrim route between Canterbury and Rome, and an exciting alternative to less signicant roads. It is similar to the Camino de Santiago in Spain, only less trafficked, and therefore with fewer refugios and businesses catering to those bound for Rome. It took us on small roads through scenic Tuscany, enjoyed so much by both until Andrew's rim broke.
He had to hitchhike. I continued on to my destination: a convent just to the north of Rome in Vigne di Narni. The nuns there manage the orphanage that Andrew and I are raising money for, and the few days I spent there were some of the pleasantest of the entire trip. The nuns are sweet, selfless beings. Their convent is in the hills and enjoys a beautiful view of the surrounding valleys. They love to laugh and smile, and in true Italian fashion, feed their guests well. Two days with them wasn't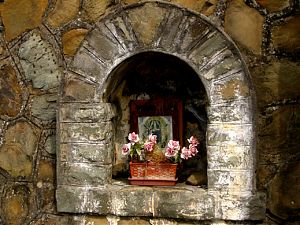 enough for my taste, so Andrew and I begged permission to return for Easter Sunday. Thankfully they accepted and we were able to spend a bit more precious time with them before we had to carry on towards Greece.
We spent the latter half of Holy Week just outside of Rome. I won't write more just now: whatever I say would be far inferior to going to Rome and seeing the sites yourself—a proper description would require at least another few hundred pages.
Comments:
Post a comment:
Commenting is closed for this article.