Subscribe to our blog: RSS | Atom

Wee Greek Odyssey

When the child of morning, rosy-fingered dawn, appeared, we brothers bound on our gear and made ready to depart. A gentle zephyr assisted us on our way as we cycled the road to Athens.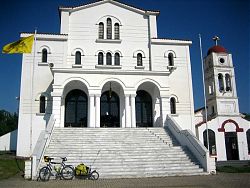 My Athens was the Athens of the Poets. I knew little else of the place, save the Italians' consensus in regard to bicycling: "You think we drive bad; wait till you get to Greece." They were right, of course, as the Italians themselves don't fail to live up to their reputation as some of the worst in Europe when it comes to automobiles, and therefore ought to be the best judges in this case… Although none has been quite as bad as the Syrians so far, with their flagrant use of the "Egyptian brake pedal," otherwise known to Westerners as the horn.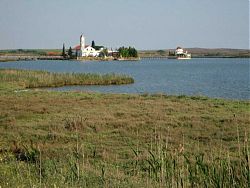 In any case, Athens hasn't evolved well over the years. Today it's a roaring megalopolis that stretches like the boundlass protoplasm of some unearthly amoeba in every direction across the landscape of Greece around the Parthenon, it's tiny, ancient nucleus. Capitalism and uncontrolled growth haven't been favourable to the aesthetic of any city, I think, and Athens is no exception. And although the people were also generally unpleasant, our first experience with a native was refreshing—an old man in a shop with jars of spices lining the walls and an old propane coffee roaster in the window caught my eye from across the street in Patras, so I decided to stroll across and see if he could grind a bag of UBCC Dark Smugglers Cove that came in the mail not long before. He was a shrivelled old man with wrinkles from a lifetime of warm laughter and hot sun. His tongue was Greek to me, but he spoke a bit of Spanish, so we managed to understand one another without too much trouble. He ground the coffee with pleasure, and then went to a shelf full of candy and filled a couple of small bags, handing them to us, and saying "Energia," with a smile, by way of explanation.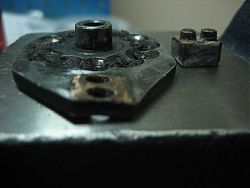 In Athens we had arranged to stay with a couple of spunky Scandinavian girls who worked in call centers and lived not far from the old city. They gave us a tour of the historical center and introduced us to some of their favorite Greek restaurants in the area, as well, where we could try tasty typicals like Moussaka and Souvlaki or Dolmades . Meat and vegetables and cheese wrapped deeply in filo pastry were other toothsome favorites, available (and purchased almost as often) from roadside bakeries every few kilometers. Cafes were plentiful too, and extremely comfortable, although prices were always double or treble those of Italy and France.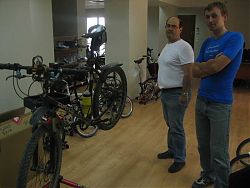 All we had left to do at this point was a bit of bicycle maintenance at the local Rohloff distributor, and we were ready to depart. A friend from the States was going to meet us in Istanbul in just a few days with some replacement impedimenta—namely a new laptop—so we decided to catch a public transportation north to Thessalonika and carry on to Istanbul from there by bicycle. An attempt to board the train in Athens was met with shouts and angry gestures by hairy, dark-visaged, old men. We protested, but incontestable Beurocracy, personified in the glowering features of an overpayed, underworking civil servant, informed us after a customarily unnecessary interval that what we wanted was impossible.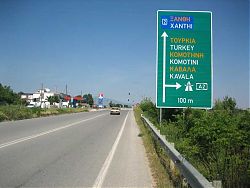 We ended up taking an expensive, 28 hour ferry ride via numerous Aegean isles (like a nice cruise) instead. One night in Thessalonika, past Mt. Olympus next day (even though I forgot to look up), and we were right on schedule to meet our friend in Istanbul a few days later. When we crossed the border into Turkey, how refreshing to hear shouts of "Welcome, welcome!" after the cold reception of the Greeks. We were in Turkey at last, the last European stage before we crossed the Bosporus into Asia and the East.
Credit goes to Andrew for the photos in this post—thanks, bro!
Post a comment:
Commenting is closed for this article.