Subscribe to our blog: RSS | Atom

Westerly Departure: San Luis Obispo Onward!


Homeward Bound!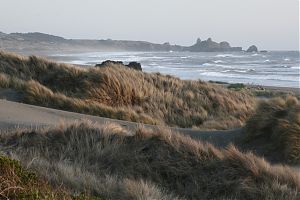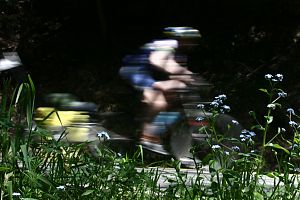 May 1: Day 28 of 730, 1175 Miles of 25,000+
Energy: Optimal. Spirits: High. Mood: Tetchy.
L e a d e n lids will soon bring this post to an end, but before the seconds blur into hours and the night into morning, I will leave a few words. Tomorrow is the day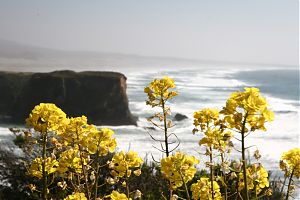 we turn our handlebars into the rays of the rising sun and ride East. San Luis Obispo to Bakersfield, to Phoenix, to Boston, to Japan… To home…
Of course we apologize for our apparent remissness in failing to update the blog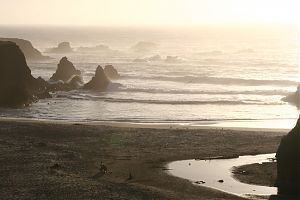 more regularly, however we must plead "not guilty" in the sense that our whirlwind West Coast tour has left us with little time and less energy to spend hunched over our glowing gadgetry. We've flown like leaves before the wind; and besides, the undertaking has been much too engaging to focus on anything so mundane. Who really wants to stare at a computer screen while sitting in a little patch of wildflowers atop a craggy cliff, the ocean, a brilliant blue, pulsing below? Indeed, obligations may be postponed, but ne'er overlooked entirely.
And so, as color added to the outline of our distraction, imagine these scenes… Endless avenues of Redwood, titanic trunks, sun-dappled fronds swaying gently in the breeze. Two bicycles shoot out of these woody tunnels to skirt craggy cliffs suspended high above the rolling blue Pacific, where the water boils white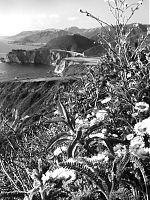 around sea stacks and rocky headlands. The scent of eucalyptus and pine is ubiquitous and invigorating, their pastel trunks a visual feast. Soon the land transitions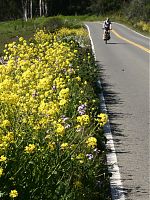 into strawberry fields—the air is redolent with the aroma of ripe fruit… Majestic cliffs and long hills in Big Sur, narrow serpentine roads; guardrails just high enough to stop one's bike but not one's body (I should also mention that "shoulder" is not part of the road's anatomy). We emerge into rolling green hills enameled purple with blue lupine. Wild delphinium, owl clover, and California Poppies perfume the air. Birds dally in cloudless blue. A steady breeze sends us sailing steadily on to San Luis Obispo.
In San Luis we stayed comfortably with a bicycle tourer acquaintance—thanks, Joel, for your hospitality and good advice! We enjoyed our stay very much.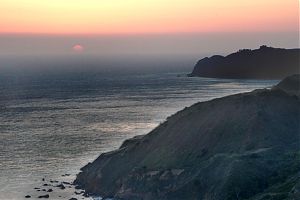 Comments:
Hey, Andrew, I'm going to keep these web posts and share them with friends. Your compositions are the stuff of seasoned writers spending hours at the keyboard perfecting the metaphors and characterizations NOT someone who has peddled all day and in probable exhaustion pens these beautiful thoughts. They are wonderful to me. Keep 'em coming. Let these words keep you:
May the strength of God pilot us;
May the wisdom of God instruct us,
May the hand of God protect us,
May the word of God direct us.
Be always ours this day and for evermore.

Blessings,
LeRoy

— LeRoy · May 12, 11:37 AM · #
Post a comment:
Commenting is closed for this article.