Subscribe to our blog: RSS | Atom

What Happens When You Don't Plan Ahead


We arrived at the turnoff for Highway 1 the next morning and were greeted with a quick descent, then a grueling 1,500+ foot climb. Now, you might say, I having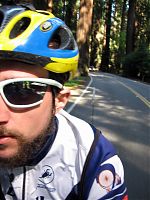 raced in the Mt Baker Hill Climb race, going full steam up the 4,300 feet of mountain a few times before, how was 1,500 feet a challenge? Well, try doing 1,500 feet while towing an extra 100 pounds!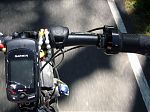 The next climb was another 800 feet and the descent from that one put us on the ocean, and what a site to behold! Craggy rocks jutting out of the ocean mist and the road hugging lushly green cliffs and swinging up and down through points and inlets. Sorry, the Oregon and Washington coastlines have nothing on that of Northern California. You might say that I'm comparing apples and oranges, but I would then retort that these oranges are much sweeter than those apples!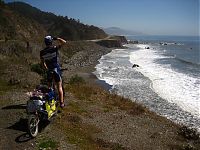 That was a very hard day in the saddle with the rolling hills, one after another, but the scenery helped to take the edge off. After Fort Bragg we continued on through enchanting tunnels made of trees and more stunning coastline of Mendocino. My humble pen is infinitely unworthy of the task of abstracting this beauty into words, so here I stop. That night we began to unpack on someones property, unbeknownst to them when their dog began to bark. That, and the fact that there were many thistles on their property made me think twice about staying. So we continued on a few miles in the pitch blackness to the town of Elk, where we camped behind the post office. Sausages and beans were there consumed with gusto!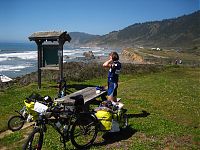 Now, it must be known that the reason we have been averaging 100 miles per day is that we were scheduled to be in Los Gatos by noon of the 20th of April, 2009. We woke up in Elk with what we thought was going to be a 146 mile day to San Francisco. And a lovely, warm day it was. Maybe a touch too warm…The hills became larger and more exposed to the sun. It was also a Sunday and I had not anticipated the heavy flow of traffic going the same direction as us: weekend-vacationers going back to the city. We were jeered and honked at more than once! Much of the windy, hilly road had no shoulder, so we trusted in providence to see us through alive.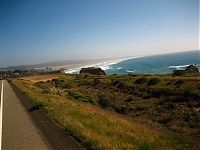 Just before Bodega Bay, Randall disappeared behind me with what later turned out to be a flat tire. He had also broken a couple of spokes in the rear wheel. We pressed on, and two more spokes broke. Amazingly, after 100 miles for the day, the wheel was still functional. Later we stayed on Highway 1 when (as we later found out) we should have stayed on the main road to 101…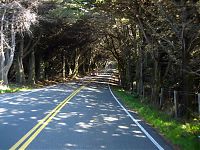 The road at this point was more like a farm road – not very well maintained, but the traffic was far lighter and the scenery fantastic as we left the coast. Rolling, green-grassed hills were followed by hill upon hill covered in eucalyptus trees and others that I know not the name of. As we cruised through Marin County we began to suspect that this might be a longer day than expected. In fact, after speaking briefly with a local, 15 miles longer. How demoralizing! It grew dark and we were still puttering along. Then the road took us by the bay and the lights of the city shined on the horizon. Spirits lifted! The road took began to climb and curved up and up a large hill, maybe a mountain, it was hard to tell in the dark. It wound up and down along cliff faces for what seemed like an eternity and cars with blinding lights cruised around us at top speed. I vowed not to ride so long in the dark again!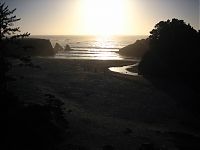 Finally, after about 10 miles of mostly climbing the road descended sharply to Highway 101 and West Marin. Thankfully, the car ahead was a Volkswagen van that could not descend as quickly so I just followed the tail lights closely instead of inching my way down with only the dim light on my handlebar to illuminate the road.
This 160 mile day made my knees shudder with stiffness and pain and my muscles feel as though they were made of a mixture of rusty nails and dusty gravel. We poked our way across the Golden Gate, not without a surreal impression. We camped out at a late-night pizza joint until 3am, then, completely exhausted, we went to IHOP and drank pot after pot of coffee and still could not keep our eyes open amidst three layers of sweat and grime and legs as useless as an ice maker at the North Pole.
We finally arrived at our destination in the warm, 90 degree sun, and it never felt so good to be on retreat!
Comments:
Hi boys! We love to read of your adventures. We know it is tiring to write after such long and hard journeys; but know that there are many who follow you. And the more that follow you, the more often you are remembered and receive our prayers. Not to worry, all is good at home and faithful friends keep watch.

— Misty and Virgil · May 6, 09:59 PM · #

Hey Guys it was nice meeting you at the shop. Hopefully everything is holding up and you are back on the road. Good luck on the rest of your journey we have spread the word around about you guys to a few different places. Best of luck to ya.

Kevin
Bikebakersfield.org

Hey guys, hope the trip is going well. This is Charles, I met y'all at the retreat. Come visit us in Sanford, Florida. Y'all are more than welcome to stay at my apartment, I have two beds for the both of you to sleep in. Good luck with the rest of your trip.

God bless,
Charles

— Charles Kessler · May 9, 06:01 PM · #
Post a comment:
Commenting is closed for this article.