Subscribe to our blog: RSS | Atom

When Prevailing Winds Fail to Prevail


After a 100-mile day of beyond-category sun and very large hills in western Pennsylvania I am relaxing in an air conditioned room at the Best Western in the quaint college town of Carlisle. But the story of how we arrived here (with a support car!) will have to wait until it arrives in sequence. In other words, when I am caught up. In the mean time, let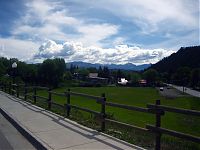 us step into the more shallow archives of my cranium and pick up where we left off last…
One thing that I forgot to mention was a chance meeting with a man riding a Curtlo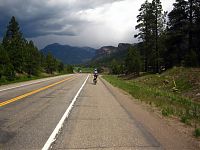 bike in Sedona. It just so happens that Jeremy used to ride with Doug Curtis back in California. The frame looked fabulous and solid after who knows how many thousand miles of rough singletrack (it looked like a frame made in the 90's). Also, A Touch of Dutch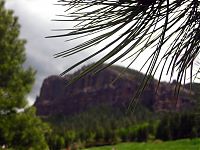 hooked us up by mail with some delicious, imported black licorice from Holland. This manna of ebony has become my new favorite riding fuel!
We learned that this is the most fertile high-altitude valley in the country (or maybe the world?).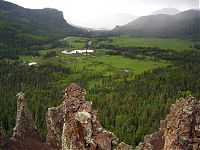 Upon arrival in Del Norte, Colorado, wet and cold, we doubled back to an inviting café/grocer dubbed The Organic Pedaler. A cheerfully painted building with a couple of bikes mounted to the roof, what better place to escape the elements! We were greeted with some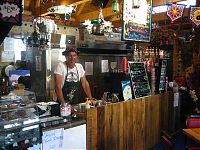 strong coffee and sat down to dry out. As we supped the rich brew we became acquainted with a lovely young lady named Brynn who had motorbiked in with a friend. And, it just so happened that she made her habitation in Buena Vista, the next stop on our route, she offered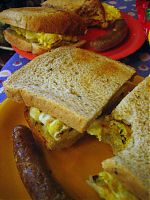 to donate some fine fuel for the ride as we passed through. That did not require much hesitation of thought! Later as we vacillated between finding a place to stay on Del Norte or riding further into the dubious weather another unexpected twist of providence presented itself. The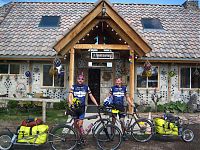 owner of the Organic Pedaler, Mike, invited us to stay on their secluded property in the valley. So, we had a great meal and sleep in their fifth wheel in a very lovely morsel of this elevated state. We learned that this is the most fertile high-altitude valley in the country (or maybe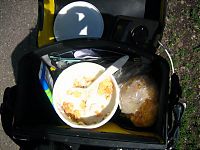 the world?). Mike and his wife lead a truly charmed life in this little piece of paradise!
100 miles and we were in Buena Vista, a picturesque mountain town about one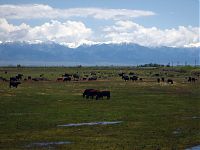 hundred miles south of Denver. Crossing the valley, I decided to take quiet farm roads instead of the main highway and had to ride through a dense heard of cattle as it parted like the Red Sea. The ride had been arduous and we had been hit with a serious bout of hail, as such as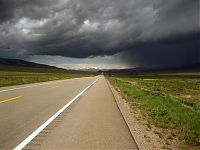 never seen in our home of Washington State. Think marbles falling from the sky. Randall was left with welts and bruises on his arms, and I have to admit that my ears were tenderized like some fine cuts of bacon. A woman named Fran kindly hosted us. We later visited
Brynn's farm, a haven of piglets, lambs, calves and other such beasts nestled behind a creek: a portrait of peace and contentment. Some of her friends treated us to fresh peach cobbler and we left with smiles and backpacks full of raw cow milk, yogurt, honey, cheese, and granola. And how I miss that milk! If you're in Buena Vista, stop by and say hello.
I was blown off the road twice in South Park from the gale-force cross-winds.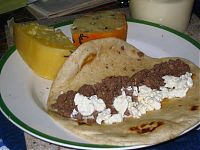 Hills and wind were the next day's theme. I was blown off the road twice in South Park from the gale-force cross-winds. At that point we could ride at no more than ten miles per hour. And with 70 miles to cover in four hours it seemed best to hitch hike. So we did. Then I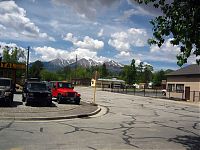 left my front axle in the guy's car. We stayed with Amy J and family near Denver and were blessed with more pleasant hospitality. In Denver the next day it took until mid afternoon to find a bike shop with the correct axle. It was a miracle that anyone had one! Then we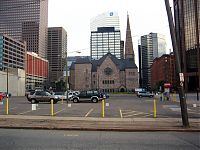 tediously traversed the busy Friday streets to stay with the Lees a little to the east of the city. Grider Lee and his wife are from The South so they have the fried catfish and okra recipe down, and we ate with a vengeance! Lessons on preparation of the dishes were on the house.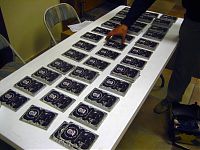 Two more nights of comfort at the Lees and some great fundraising at St. Isidore's church and Randall and I were on the road again. The goal was to achieve 100 miles per day for the next five days in order to arrive on time for a fundraising opportunity in a small town in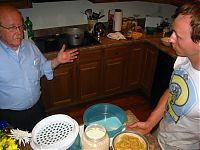 eastern Kansas.
Friends had warned us of the desolation of the "Dust Bowl" of western Kansas so I expected the something similar to our experience in the Mojave. I was pleasantly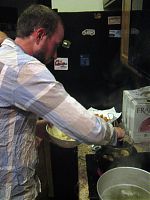 surprised to find it desolate, but mostly green due to the unusual abundance of rain that month. We were also told to look out for more hail, but baseball-sized this time, and tornadoes, of which we saw neither, to my disappointment. The first night we camped behind Elva's Bed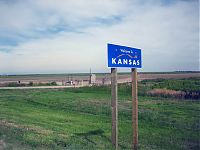 and Breakfast in Anton, a town with a whopping population of 13. She kindly treated us to pecan pie and made us feel very at home. We camped the next two nights and the riding was mostly pleasant. The wind was almost never at our backs in Kansas. Usually the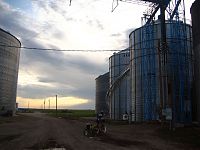 wind was hitting us from either side or (frown) from the front. The prevailing winds being westerlies, they had decided for this stretch of days not to prevail. No matter. The bulk of our riding before Kansas had been wind-assisted.
Next stop: St Mary's.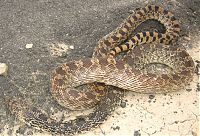 The last night before arrival at out weekend destination I was treated with a nice surprise in Glasgow. A friendly retired couple took me in unexpectedly after we met in front of the town senior center. They had had a potluck and I helped finish off a few dishes in exchange for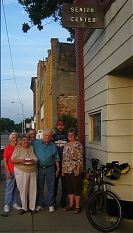 brief presentation of our expedition. I should also explain that Randall and I had been separated in a torrential storm the night before and I had no mobile phone reception. So, I stayed with the Huffers and had my first shower in days (and boy was it obvious…). Next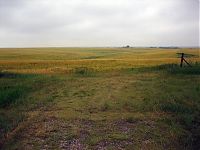 stop: St Mary's.
I apologize again, Dear Readers, for our perceptible absence from blog duty. I started this one in Pennsylvania but now we are in Paris. As you might imagine, the past two weeks have been a whirlwind of preparation for the swift Atlantic crossing. And, Randall's computer has been out of commission, soon to be recommissioned I anticipate.
Comments:
Thanks for the update! Can't wait to hear about this next leg-in Europe! Saw your Mom in UBCC, told her that you two are constantly in our thoughts and prayers!

Your Whidbey Island home

— mari campbell · Jul 16, 07:34 AM · #

So happy to see this new update. You both are such good writers and are having such a great adventure that you can only imagine my frustration when checking in (nearly every day) to read about the latest episode and adventure and find nothing posted. Argh!

Love the image of Andrew riding through the herd of cattle — and poor Randall with the bruises and welts from the pelting of hail!

Keep up the good work, guys. Vaya con Dios.

— Linda W · Jul 16, 08:07 AM · #

Great to hear the latest. Finally figured out how to see your route on Google Earth. Wish you were making a movie documentary of your travels. It would be a great story to watch, as well as read! God Speed, brothers.

LeRoy

— LeRoy · Jul 21, 10:52 PM · #
Post a comment:
Commenting is closed for this article.