Subscribe to our blog: RSS | Atom

Wild Burros


Yesterday's adventure was another lesson for us. It was Friday, the 16th of May, and we had resolved to have breakfast at 5:30 and get on the road at 6am. Yeah. That's right.
At 8am we pedalled away from the Best Western in Needles, into the already warm morning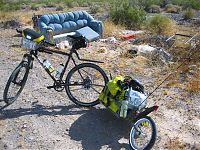 and towards Death Valley to the north. A vicious, parchingly hot and dusty headwind kept the pace slow until we turned east toward Oatman. The gradual grade took us up by 2000 feet (750M) to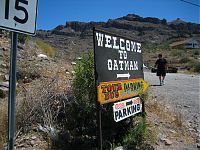 the old mining town of Oatman on Route 66. Slammed from the left by a side-wind and melted by the overhead sun I arrived in Oatman in a slight daze of euphoria. A large cone of praline pecan ice cream and cold water has never never been more enjoyable.
Oatman was named after a young girl who was kidnapped by the Mojave Indians and later rescued at the near the site of the town in the 1850s. Wild mules pace the streets there to this day and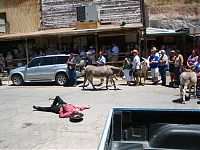 the locals stage old-western gunfights to entertain the throngs of tourists.
Our path drew us up and up out of Oatman in the one hundred degree (35C) heat. It was a grueling, exposed climb that reminded me much of the Wenatchee Omnium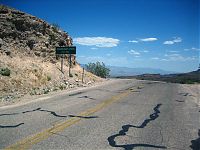 road bike race that I participated in this time of last year. As I flew down the snake-like descent it was difficult to navigate due to the awe-inspiring scenery. A kind man at Cool Springs on the way down from the 3550 Ft pass refilled our bottles once again and donated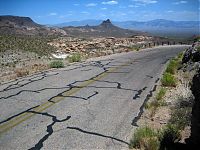 each a frozen bottle of water. At a pace just barely tenable I clipped away to our next drop point: Kingman, Arizona. There were a couple of items sent to the post office for me and it was Saturday so I did not want to arrive too late and have to stay through Monday waiting for the next opportunity for pickup. Guess what? The post office had closed at noon. Completely drained of any last spark of energy, and a fine grit of salt on my glowing red skin I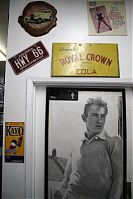 met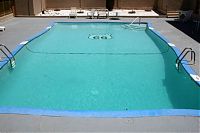 Randall at the Quality Inn, where the kind owners have offered us two nights' stay in support of the Orphan Ride. The hotel has a lovely pool, hot tub (it actually feels good at this altitude!), fabulous breakfast in a 50s-style diner atmosphere, and a gigantic collection of Route 66 memorabilia. Many famous celebrities have made a stop here. It is a must-stay for you Americanaphiles!
When I opened my trailer bag and began to unpack, it became evident that my dark chocolate, rather than valiantly hold its solid form through the heat of the day, had given up and decided to melt into a pool at the bottom of my luggage leaving gooey bits of itself on every item in its path to the dark depth of the (no longer) dry bag.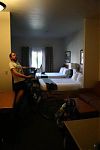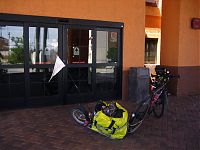 The next night we stayed at the Holiday Inn Express in Kingman. They generously hosted us in a very fine suite, so we were able to rest up and tie up a lot of loose ends. The pool, hot tub and breakfast were fantastic. Thank you, Holiday Inn Express!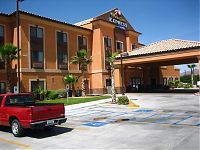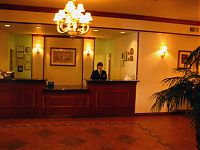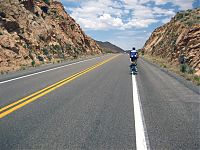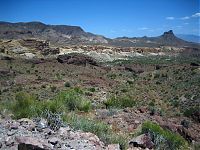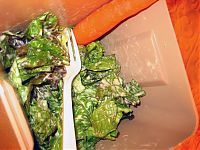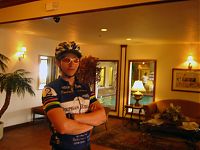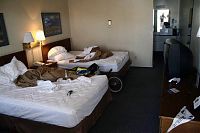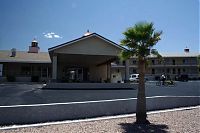 Post a comment:
Commenting is closed for this article.