Subscribe to our blog: RSS | Atom

Wisconsin.


Bonjour Tout Le Monde!
J'écris de France, beau, beau pays de grenouille, mais cela peut attendre—nous devons procéder dans l'ordre approprié, et nous avons laissé notre récit échoué dans Wisoconsin. Laissez nous commencer où nous avons cessé, et la pédale en avant !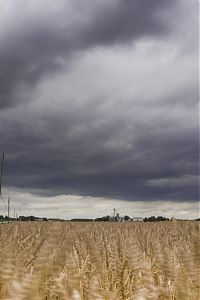 Wisonsin. Andrew wasn't feeling well, and despite my best intentions to stay with him, we were separated in Richland Center. To my credit, I made several turns around town in search of him,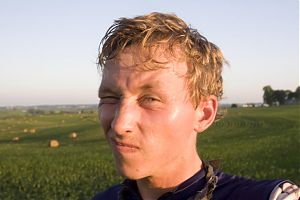 but to no avail. So I inwardly recommended him to the Saints above, and commenced a travail made doubly painful by scorching summer heat. We were on our way to Madison, and I knew we would meet up again one way or another. It's interesting to consider that without the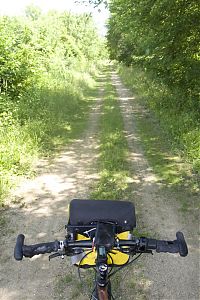 convenience of long-distance electronic communication we might not have seen one another until the end of the trip, or before, perhaps, in the case of coincidence or premature death. Happily that's not the case, and we're still enjoying each other's company as much as we possibly could under the sometimes inclement circumstances of close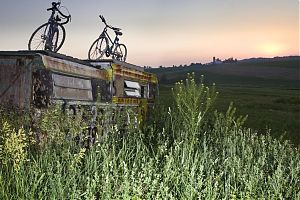 and constant companionship!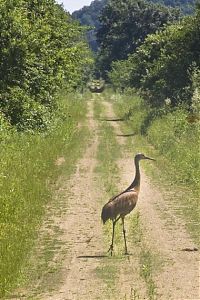 Our tree-house-host of the night previous recommended a detour on the way to Madison—a trail that stretched over 20 miles or so from Richland Center to Gotham City; needless to say, I took it. and—O, shade! O, sweet relief from scorching rays! It consisted of a singularly straight track of dirt, a bit of grass, flanked by trees, sometimes opening into wide vistas of cornfields, and the highway beyond, twisting through low green hills, like a little beck. Sturdy wooden bridges spanned swampy marshes and the occasional creek… Tempting me, but too swampy to enjoy, I decided. As I crossed what I would soon find to be the last bridge, I rounded a bend and was confronted by two very large birds several hundred yards off, standing in the middle of my path. Here was something I had never dealt with before — birds apparently large enough to deal with me, and quite effectively at that, judging by the acuteness of their long and formidable beaks. But more or less undaunted, I edged closer bit by bit. They made peculiar trumpeting calls, obviously alarmed at my presence, and I soon noticed that their young were about as well. Suddenly,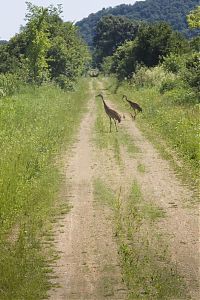 while I was about 50 yards off, one darted off into the grass and began to circle around to my right, using it's head like a periscope, disappearing into the grass and reapparing again with amusing rapidity. But as it closed in on me, I became slightly alarmed myself, and loosened my helmet, sliding it into my hand, in case it made a sudden rush. Quite partial to the wholeness of my body, and to avoid potential perforation, I decided to make a dash for it. Of course I felt quite confident that the communication of my supremely blameless amiability would, were it possible, mollify the creature, but protective parents are rarely so rational.
As I sprinted 300 pounds of flesh, bicycle, and gear past the mate and her chicks, she took up the chase! A narrow pursuit of several meters left me breathless, but otherwise altogether whole, and I came out at Gotham City without so much as a scratch.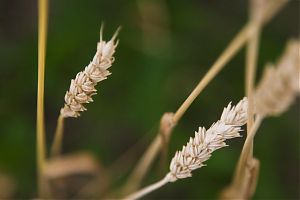 Madison was a nightmare of traffic and frenetic activity, but sanctuary was found in the form our gracious host, Fran, and her family. They welcomed us into their home and treated us with the most exquisite hospitality
Comments:
Post a comment:
Commenting is closed for this article.