Subscribe to our blog: RSS | Atom

With the Kids

The months since our December arrival have swiftly passed. Vacation, in its rare silence (the boys are all gone for a couple of weeks) passes quietly and quickly. In only two more days my term here comes to an end and I depart South India with an expiring visa and fond memories. but I'm pleased to announce that I'll be returning to Palayamkottai for several months this coming July before returning to Southeast Asia and touring Japan, and flying or sailing to the U.S. in Spring 2012.
In the meantime, it's been a splendidly, sometimes stressfully full five-month interim. I came not with the intention to teach, nor even to stay for more than two months. But my fate would have it otherwise. One day while visiting the school I was pushed unexpectedly before a room full of Standard 6&7 boys and asked to teach them chemistry, as the regular teacher was ill. It was an admittedly poor performance, but the challenge and thrill of the thing grabbed me. I volunteered to stay on for a couple more months, and eventually decided to stay till my visa expired. I was given a regular schedule, and if I may say so, have acquitted myself rather creditably .
Still, pedagogy is immensely difficult and rather draining for the untrained. Especially in a place like backwater India. The children are not altogether receptive, in the first place, nor do they always exhibit an angelic degree of docility; but on the other hand, their education is in a foreign tongue.
Still, with patient diligence and enough time, improvement can certainly be detected, although it's not as inspiring (or flattering) as one could hope it might be. There are other challenges, as well, such as the high staff turn-over (most are volunteers), and the fact that few of the teachers possess either much experience or expertise. Another is the children's prejudice against reading. As one volunteer put it, "They hate it before, and they hate it afterward, but when they're doing it, they love it."
A rigid perfectionist could never be pleased with the state of affairs at the school, certainly, but given its means and the type of student it struggles to instruct, the education is extraordinarily good; far superior to that of the government schools, and far beyond what any of the children could have received had their hands never met those of the charitable souls who mind them.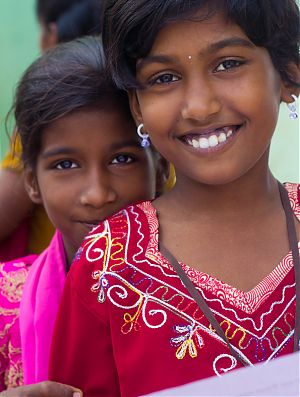 The children themselves (to be introduced presently), with the exception of several ennuied adolescents, are full of life and pleasure to be with. Their love of play is intense enough often to be a serious obstacle to work and study; but as Fr. Brucciani says, "They're a good lot."
It was a relief, last December, to lean my bicycle up against the wall with some sense of finality. And now I find it difficult to leave. I have formed attachments to the place, to the children, and to the other volunteers… But every departure, as they say, is a small death, a presage of the the final departure, and a sad event, but not without the sweetly melancholic anticipation of good things, very good things yet to come. +++
By the way, a friend of mine is hoping to garner enough likes on her video to win a whopping $25,000 for a small and ailing school. If you have sec, do your good deed for the day and give it a thumbs-up. Thanks!
Post a comment:
Commenting is closed for this article.