Subscribe to our blog: RSS | Atom

"You Can't Get There From Here."


No rain;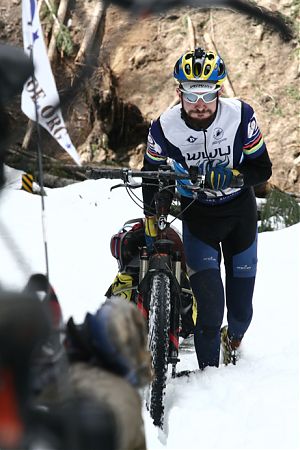 No flat tires;
Little ill-will;
Much fun;
No crashes;
But plenty of stupidity to supply delay, regardless.
Day 6 : Gifford-Pinchot Nat'l Forest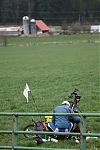 With regard to the hospitality of friends and strangers, my tent hasn't yet left its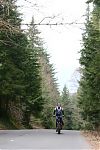 sack—Andrew and I stayed together in his tent last night, comfortable and cozy enough, but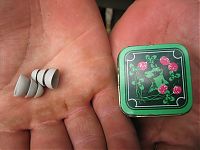 paranoid that someone from the nearby farmhouse would give us the boot. Surreptitious as we were, no dogs barked; no pitchfork-wielding, shotgun-juggling farmers came to chase us out of their fields—we slept soundly, and were off to Mt. St. Helen's as the sun's first rays gilded the treetops on the hills around us.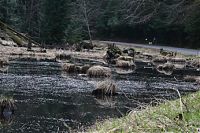 Soon…
Up and up and up to the heights of Mt. Rainier's foothills we pedaled, close to the volcano (or so we thought)—an exhausting ascent through the Gifford-Pinchot National forest on our way to Cougar. Snow appeared on the side of the road, presaging difficulty, perhaps. A bit further up, we round a curve and a calamitous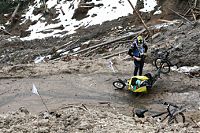 sight strikes us—the tree line directly in front of us, on a high hill, is neatly severed—a gap stretches several hundred yards, barren, before the tree line continues down the ridge to our flank. An large swath of trees had been completely demolished under the weight—the crushing weight –of a Springtime flood. Beneath the gap stretches a chasm bridged only by mangled tree trunks. They lay tangled in great heaps, like the arms and legs of giants, twisted and broken in the melee of some ancient battle. The road stops. A guardrail twists like some great worm into the abyss below. Concrete, rebar, road and rail completely demolished. We dismount next to giant mounds of mud washed down from above; streams trickle around us. Tired, but unwilling to backtrack, we unhooked our trailers, lifted our bicycles aloft, and picked our way around the mud and down the slope of the ravine, across the many-fingered creek below, and up the other side.
And the other side? We find snow two feet deep covering the road. Not a vestige of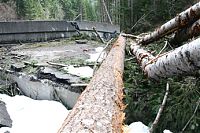 human activity is to be seen, save patches of bare cement where fir trees stood guard. Thousands of elk prints. Undaunted and ever-hopeful, we hitch up our trailers, Andrew urging: "Quick! Quick! Before the ranger sees us!" and begin to push. It couldn't be far to the place where the road clears, right? We push on.
Several hours later, we're still pushing. Our backs ache; the snow is now shallower, and our toes are numb. Perhaps we will have to camp here tonight. At our current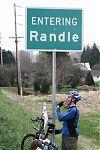 pace, it could take days to reach the other side of the pass. We leave our bikes to scout ahead to see if there's any hope of a clear road. Nothing. We walk for an hour—two hours—and lo! We see something there! In the endless tract of snow, Defeat, crushing defeat, lies glaring.
We turn back, drained and disillusioned, pushing our heavy bikes through the thick snow, and portage our things back across the ravine. Our hundred-pound trailers are heavier, the rocks and streams more difficult to navigate.
Soon we were to the bottom of the pass again: there we made our camp. A warm fire and spicy instant noodles brought our spirits up. I slept comfortably atop a picnic table.
Day 7 : Forest Peregrination — Woodland Detour #1
We waked in the morning with the remembrance that we'd left a tin of Vaseline and some 4-dollar pieces of synthetic rubber at the washed-out bridge… So I opted to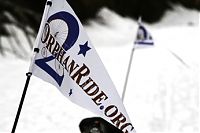 ride up and fetch them. It was a nice warm-up ride, after all, and I found everything we'd forgotten!
We backtracked nearly a hundred miles. We were on our way again, cruising steadily toward Portland, when Andrew's GPS (decidedly mischievous, sometimes homicidal) directed us to turn onto a side road. We obeyed. Long grades transitioned into rolling hills through lush, bucolic countryside. As the misconfiguration of my gearbox requires me to mount hills faster than Andrew, I was well ahead when we reached the topmost top of the highest hill. Down again! As the eagle falls from the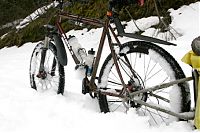 height on its prey, so I dove down the other side. Down, down, down, to the bottom. There I waited at the intersection of Koon's Rd. and another—I didn't want to miss our turn. Andrew never arrived, however, so up I rode again, and down, and back up, and down again, thinking he might have taken an alternate route to the same intersection. I was slightly anxious when, lo! A driver approached bearing a message from my lost brother—he was further up, well beyond the distance I'd ridden. I found him reclining under a tree with his book; the GPS, it turns out, had deceived us: our turn was farther back.
"rotten, mischievous bit of gadgetry!" I thought.
This time it directed us to a logging road a short way down the road. "Do we dare?"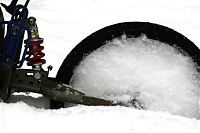 Andrew asked. "We've come this far—your little trinket has a reputation to redeem—onward!" And up a road so steep that my cycle slipped backwards even while my hands were on the brakes.
First it took us to an open expanse—a quarry of some sort—at the top of a long, steep hill. Shooting targets of all sorts were strewn around. The ground was enameled with empty cartridges and shotgun shells. The road ended, of course, and again we had to backtrack to the last fork. Up again. Curses of every color and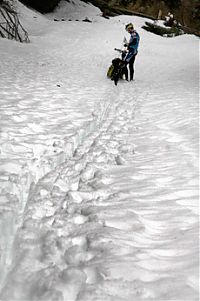 description—adjectives diabolic—were muttered between pants against that malevolent little gizmo, that thought-executing, calculating little contraption, the hateful, discord-sowing, Loki-GPS. How I wished to trample it into dust, to perforate it, and stomp it completely out of existence! To hurl it into some deep abyss, never to thence return! Ill-using gadgetry! It interrupted my dark musings with a mocking and insolent little "beep!" to signify another wrong turn. Blackness settled in a fog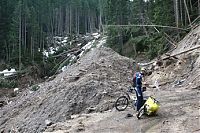 over my heart. This time (and we were foolish enough to follow it!) we were told to take a narrow track that wove between the tree trunks. We'd come this far already. Andrew: "We have to give it the benefit of doubt—after all, the software's called 'City Navigator,'" Still," I asked, "can't we take it off 'bushwhacking' mode?"
The narrow path soon disappeared into a creek. Andrew set off to scout ahead, and came back with what he called 'good news:' "A horse pasture not far off, which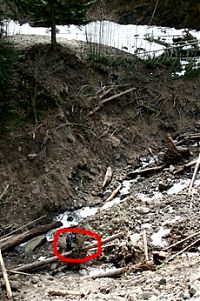 means there's a road on the other side." We set off through the underbrush, over logs and through creeks, while creepers snagged at our feet and wheel spokes. More curses for Andrew's GPS came to mind, unuttered in fatigue, and stagnating there.
Wet feet took us out of the woods several creeks later, and to the horse pasture, and we paused, Andrew looking at his GPS. "Koon's Road should be directly on the other side," he muttered to himself.
I gave a start. The name sounded horribly familiar. Wasn't Koon's Road the very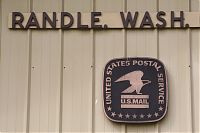 same road where I'd already spent so much time waiting for Andrew? The very same intersection at the foot of the very same hill I'd ridden up 3 times already? "Blast it all!" Here I was again. Here we both were, caked in mud, wet, overheated, and exhausted.
We stopped at a house there at the intersection; an old-timer came out, pistol strapped to his hip; and wheezed, "where you kids tryin' to get to, anyhow?" Little breath was lost in the telling, and yielded the old Maine saying from his cracked lips:
"Ya can't get there from here."
Thanks.
And we were off again to the There along the Here where we had already been.
Comments:
Post a comment:
Commenting is closed for this article.