Subscribe to our blog: RSS | Atom

Thievery, PR and more sponsors!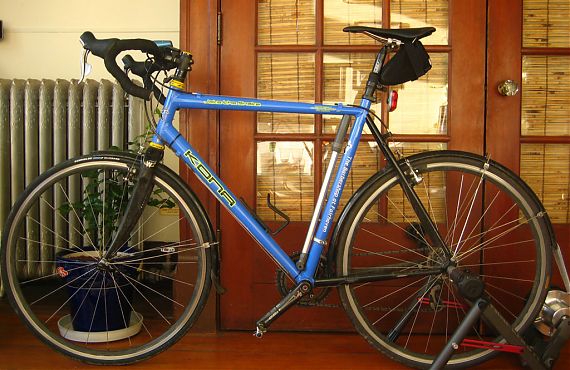 I'll start with the bad news. My lovely Kona "Jake the Snake" bike was pilfered yesterday afternoon (Jan 22, 2009) from a bike rack in Fairhaven. It is pictured above. I was locked to the rack, but the thieves did not even leave the cable-lock behind so there are no clues as to how they defeated it.
$100 reward for anyone with info that leads to its recovery. Please call 911 and email me if you spot it!
Author's Note: This is not one of our round-the-world bikes. Those are being custom-built by our sponsor, CUTLO CYCLES.
Thanks a million to Kathy Bremner of Mercer Island for compiling a fabulous press release! It will be available for download once we add some finishing touches. We will also distribute it
Rohloff, maker of the famous internally-geared Speedhub, is sponsoring The Orphan Ride. We will be using the very best, most reliable drivetrains on the market. Visit Rohloff.de to check out their products.
Big Agnes is also helping us out with deep discounts on camping gear. They make some of the more innovative, lightweight and well-designed products for adventurers. The Big Agnes website is BigAgnes.com.
Post a comment:
Commenting is closed for this article.