Subscribe to our blog: RSS | Atom

A Week and a Lifetime in Bakersfield


We learned that the Highway 166 from San Luis Obispo to Bakersfield was going to be both desolate and not overly bicycle-friendly.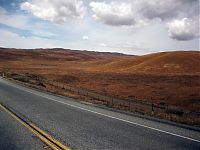 "You guys are crazy! That highway has a bad reputation – lots of crazy drivers and accidents out there. And, there's nothing between here and Cuyama. No water except some watering holes for cows and a dry riverbed," was the description we got from a man on the side of the road.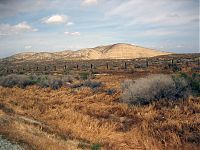 But, to it's credit, there would not be a terrible amount of climbing. So, we set out after spending too much time and money at Trader Joe's.
The back roads to 166 were pleasant. After 25 miles we were on the onramp. The first sign: "75 miles to next fuel stop." The hills were brown, devoid of much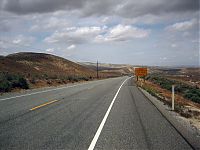 vegetation, and rocky. We passed about three ranches before dark. Our water supply kept up and we lifted our bikes and trailers over a locked gate into a nature preserve for the night. There was one, lone, gnarled tree on the top of the hill that we slept on. The sky was clear and a sea of stars. I made salad in a ziplock bag by shaking spinach, canned salmon, yogurt, curry powder and fresh mango together.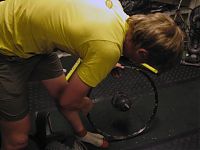 10 miles into the next morning we stopped at The Burger Shack in New Cuyama to fuel up on coffee and replenish our water supply. As we were drinking our coffee and yerba mate we struck up a conversation with a man named Warren. He was in the process of setting up a "Permaculture" sustainable community in the area.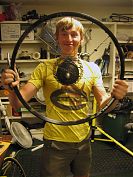 "You guys are more than welcome to come stay a night with us. We are having a class over the weekend for women – teaching them methods of food-forestry and sustainable agriculture. We will feed you!" he said.
Though the whole project sounded intriguing it was the last sentence that sold us, of course!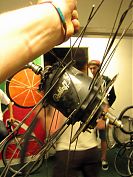 Quail Springs (quailsprings.org) is located about 25 miles away to it was an easy day for us. It was also about 13 miles out of the way. Warren and his sweet wife, Cindy, showed us around the community which was located two miles off of Highway 33 in the mountains. They had a straw bale house and many of the neighbors lived in teepees and yurts.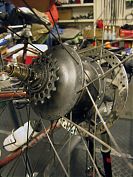 There was running water from the springs and power provided by solar panels. It's a really elaborate experiment and Warren and their friends have done a ton of research into sustainability methods. "We are on the 200 year plan," he smiled as we drank herbal tea. It rained that day and night and we stayed in a greenhouse with the crickets chirping and baby chicks peeping in their cardboard box. The area is beautiful. There are trees and edible plants all over the area, and they have a pond with fish, and goats.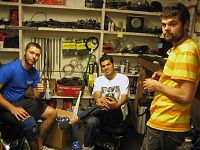 African peanut stew for supper and oatmeal for breakfast with plenty of rich coffee, and we were prepared for the 90 mile ride to Bakersfield!
"Blessings to you!"
"Good luck!"
"It was great to meet you both," our new friends exclaimed jubilantly as we rode away.
Highway 166 quickly (via a 7% grade!) took us down into the San Joaquin Valley. We rode the rest of the afternoon through large farms with fields and orchards, then through Bakersfield to the east side of town. A very diverse side of town it was. Our host, Gilbert, graced us with some fantastic meatball soup! The next day we met the Lopez family and Tony Bryan who held us hostage in Bakersfield for a week. More accurately, they were all so kind to us that we could not leave! So, we took a rest for seven days, every day saying to myself "we'll begin riding east tomorrow…"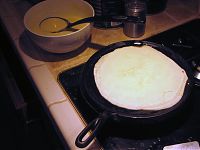 Tony is a criminal lawyer and a genuine scholar of history. We had many a good discussion with him, though my historical ignorance made the talks a bit one-sided. Elizabeth Lopez, Emily, and their friend Jane treated us to a incredible meal at a Basque restaurant. The dishes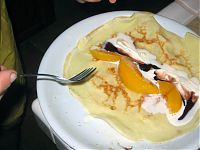 seemed to proceed from the kitchen endless but we finally polished them off…which surprised the waitress. At one point the entire table was so full of dishes that nothing else would fit! The ten mile spin back to Tony's (with an overly firm stomach) was less than comfortable! Emily donated a large, homemade bag of superb chocolate chip cookies. They were polished off in less than twenty-four hours. Cycling: "justifiable gluttony," as Randall says.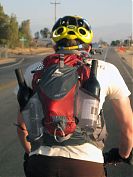 At Bike Bakersfield, a community bicycle shop and cycling-advocacy organization, the staff was very supportive. Randall rebuilt his wheel there on a Tuesday when they are normally not open for public wrenching (we thought we were leaving town that day or the next morning). They are really trying to do some good in Bakersfield by promoting bicycle commuting and recreational cycling. I wish them the best of luck…Bakersfield is not the most bike-friendly town so it will be an uphill-battle. But there is a lot of potential and the group seems to be very proactive and motivated with enthusiasm. Visit their website: bikebakersfield.org
On Saturday , after interviewing with a local television station to promote the Orphan Ride, Elizabeth and her parents had us over for a tremendous, delicious, home-cooked meal at their farmhouse. The evening was concluded with a Scrabble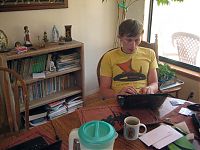 tournament. Elizabeth made Randall and I look like first-graders in the first game, but we retaliated in the second match with myself taking the game and Randall not far behind in the points. The Movius family brought us to breakfast the next day and invited us to stay over at their house in the mountains outside of town. It would have been folly to refuse. Jim, Teresa, and Emily treated us as if we were family and we had a lovely day at their peaceful farm. Since it was Mother's day they had prepared a feast of luscious barbecue, cheese-topped potatoes and brownie-bottom pie. We laughed and chatted over wine and it could not have been a more delightful stay! In fact, we had a difficult time trying to motivate ourselves to leave the next day. But we did.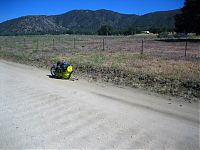 The ride out took us through 30 miles of beautiful, Spokanesque hills dotted with oak trees, cattle, and dried grass. As soon as we turned on to Highway 58 the tail wind aided our uphill grind. I stopped with a flat tire and Randall pressed on. After another three miles the rear flatted again! With twilight looming, I replaced the faulty tube and decided to find a camping spot. I pulled onto a discreet dirt road in the dark and camped under an oak tree next to a gurgling stream. Trains and trucks continually drowned out the sounds of crickets and frogs throughout the night and I finally put in my earplugs. I knew Randall would be at the bakery in Tehachapi that Tony recommended so I pedaled into town and, sure enough, he had been there for hours. A gentleman named Erwin offered to treat us to cream puffs and coffee, and we obliged. The extraordinarily supportive spirit of acquaintances and friends on this expedition has truly been a blessing!
Comments:
Post a comment:
Commenting is closed for this article.